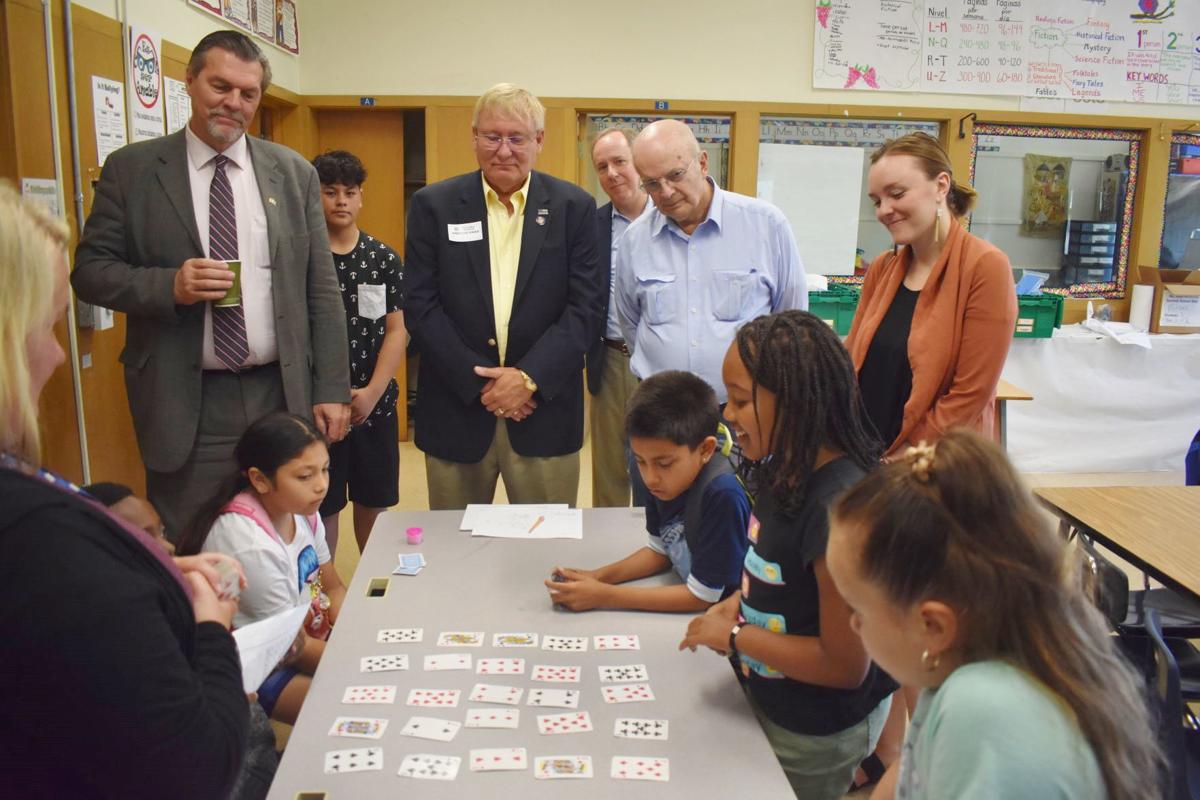 RACINE — Although school is (mostly) out for the summer, Racine-area legislators were called into the classroom at Mitchell School on Monday morning to work on a better relationship with the Racine Unified School District.
A bipartisan group of legislators met at Mitchell for a breakfast meeting to hear from Unified officials about what has been going on with the Academies of Racine program, the community school model and summer programming.
The legislators present included: Assembly Speaker Robin Vos, R-Rochester; state Rep. Greta Neubauer, D-Racine; state Rep. Robert Wittke, R-Caledonia; state Rep. Tip McGuire, D-Somers; and state Sen. Van Wanggaard, R-Racine; and state Sen. Bob Wirch, D-Somers.
It was meant to be an introductory meeting and an opportunity for legislators to get a better understanding of funding sources for initiatives like free or reduced lunch for students and the programming involved with the district's community schools, Knapp and Julian Thomas elementary schools.
Unified's community schools offer programs such as school-based mental health services and extended learning programs. The schools also offer programs for families and adults in their neighborhoods.
The legislators also were able to go in a few classrooms where students were learning as part of a summer enrichment program.
"It was a great opportunity for the legislators to learn more about what's going on with Racine Unified, to build those relationships and to talk about challenges that we may face and challenges that they need to be aware of," Unified Superintendent Eric Gallien said about the meeting.
Gallien also informed the legislators that the district is planning on creating a third community school, but a location has not been finalized.
School Board President Brian O'Connell said he hopes to schedule these types of meetings three or four times a year.
"It's going to be a journey, it's not going to be one event like this and we're done," O'Connell said. "We want to build relationships among them so that we feel that they understand our points. They may not always agree with them, but at least the communication is good and, likewise, they feel if they have a question they can come to us and say 'How does this proposal affect you?' "
Other districts such as the Burlington Area School District have been hosting similar meetings with their legislator. Unified officials believe now is a good time to do the same.
In previous years, O'Connell said, Unified has been the subject of special legislation like the Opportunity Schools and Partnership Program "and sometimes it was done without consultation."
O'Connell said if legislation does come up in the future, particularly if it directly involves the district, the board and administration will have a better relationship with the legislators involved.
See how dollars are spent
Wittke, the previous School Board president, applauded the effort by the district to arrange a meeting, which is something he's advocated for since he was on the board.
"It helps clear up the preconceptions that you have as to what's going on," Wittke said. "It gets you to what are some of the issues and challenges the district faces."
Wittke said this meeting was a good first step and he looks forward to future meetings.
Neubauer said being able to be in the classroom and seeing the students work will help legislators make more informed decisions on education.
"I'm really happy all the legislators from the area were able to be here and see the kids who benefit when we prioritize our schools," Neubauer said. "When you meet these kids, when you see how curious they are, how much they want to be here and want to be learning, I think hopefully we can all take that back to Madison with us and remember every dollar we put towards these kids education means they get programs and services like this."
Wanggaard said it was good to meet some of the new district staff, which will make it easier to work with them in the future now that a relationship has been established.
"I think it's good for legislators to see how the dollars and resources are actually applied and for us to see that there's really a true attempt at solving a lot of these issues," Wanggaard said. "We're getting more input from our administrators and they're working closer with our teachers."
In Photos: Tony Evers reads at Burlington Library
Wisconsin Governor Tony Evers read to a group of children at the Burlington Public Library, June 12, 2019, to kick off its summer reading program. 
"It's going to be a journey, it's not going to be one event like this and we're done. We want to build relationships among them so that we feel that they understand our points. They may not always agree with them, but at least the communication is good." Brian O'Connell, Racine Unified School Board president
"It's going to be a journey, it's not going to be one event like this and we're done. We want to build relationships among them so that we feel that they understand our points. They may not always agree with them, but at least the communication is good."

Brian O'Connell, Racine Unified School Board president