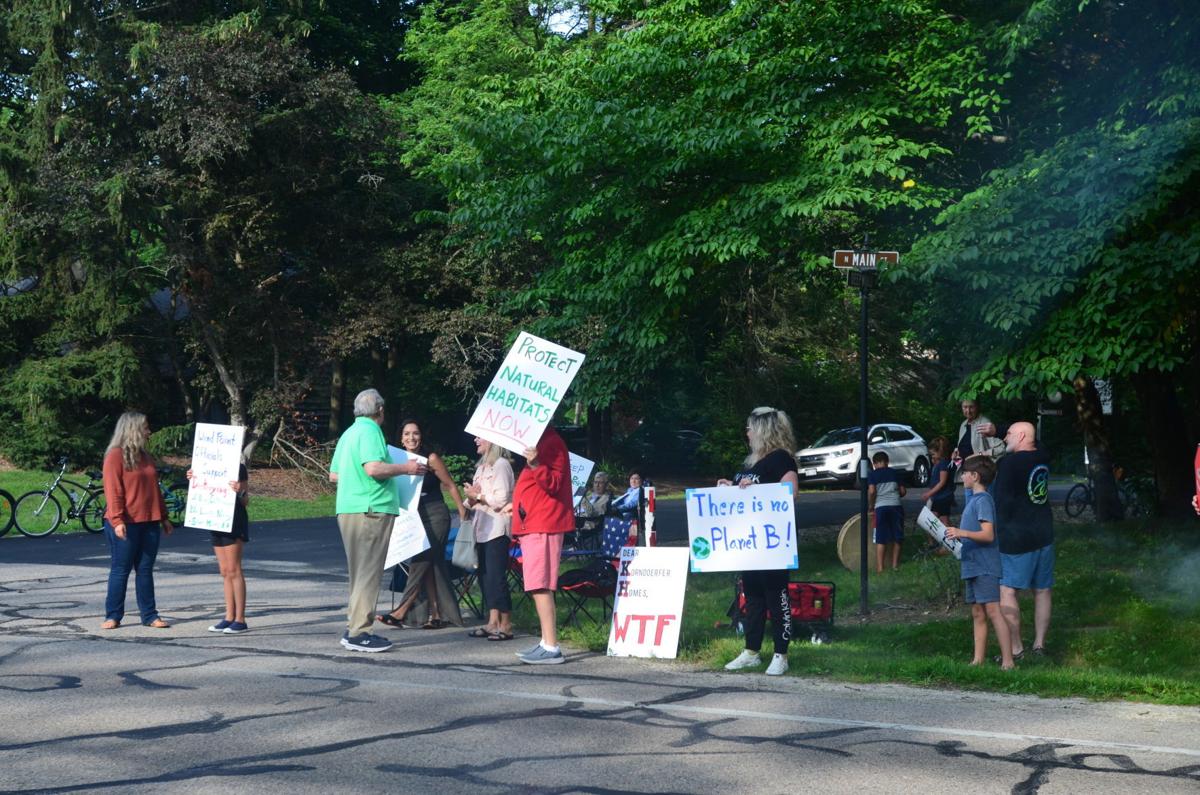 WIND POINT — The closing date for the 4403 N. Main St. property has come and gone, but the saga involving concerned citizens, the developer and the Village of Wind Point is not over.
The village purchased the 4403 N. Main St. property for $110,000 in 2017 and has had its eyes on developing the property since then. The closing date on this property for KEW Investments (an LLC owned by Wolf Korndoerfer of Korndoerfer Homes) was Friday and while it's not set in stone, Korndoerfer intends to begin demolition on the property within the next 30 to 60 days, he said.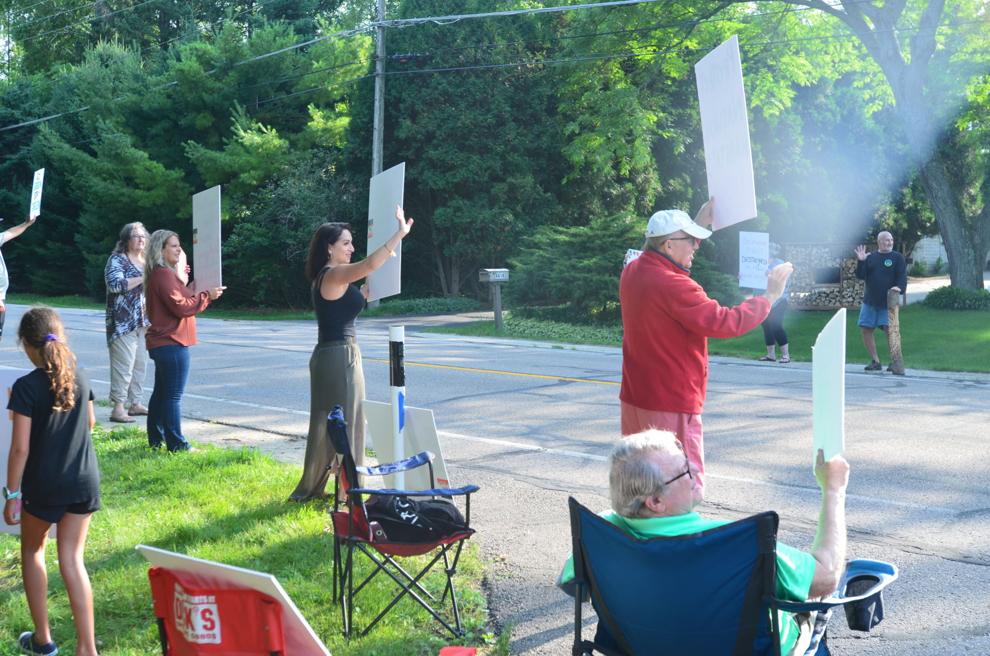 Waving at passing cars
Protestors wave at passing cars Thursday evening near the 4403 N. Main St. property during a peaceful demonstration. At center is Deepwood Pre…
Deepwood Preservation Committee founder and Wind Point resident Kate Maurer invited "fellow nature lovers" and "anyone who supports saving Wind Point nature" to a demonstration along Main Street of opposition to destruction. With about 35 people in attendance, the group held signs and shouted "Save the trees!" to cars driving by. Wind Point resident David "Augie" Augustynek additionally burned sage and played Native American flute music from instrumentalist R. Carlos Nakai through a speaker.
"We're giving a prayer to Mother Earth and the Big Father to help save some of these trees," said Augustynek, who described himself as an outdoorsman who has hiked 500 or 600 miles during his life. "I want to leave things better than I found them. The Village Board has been less than transparent in a lot of things they've said and done."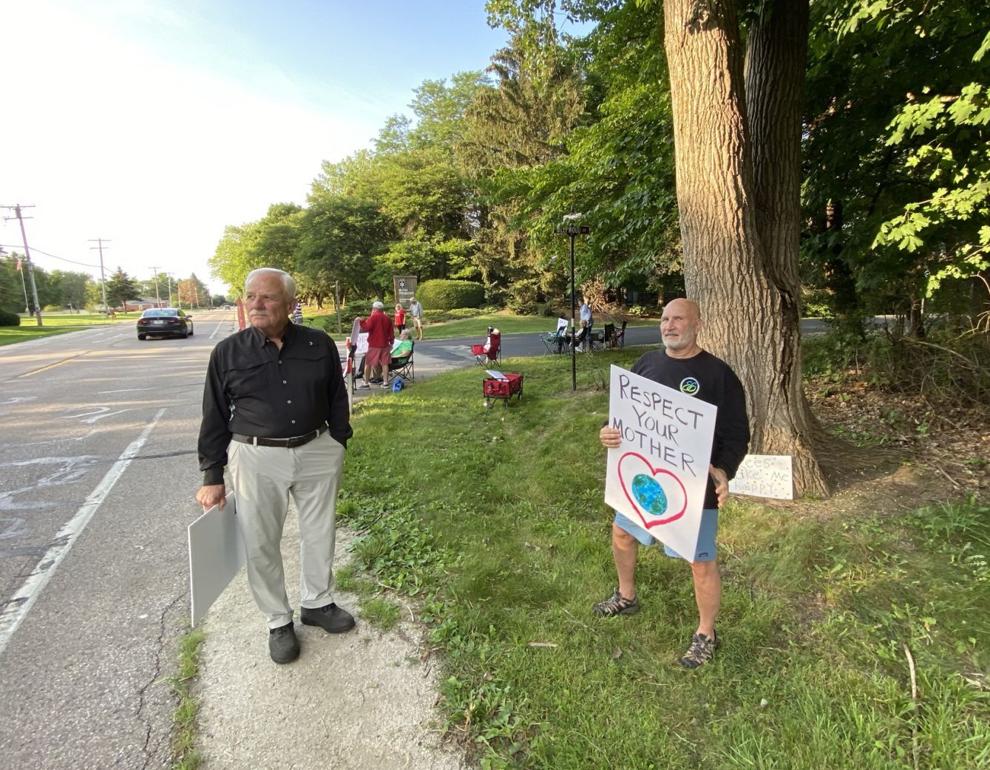 Jerome Becker and David "Augie" Augustynek
Wind Point residents Jerome Becker, left, and David "Augie" Augustynek hold signs Thursday evening near the 4403 N. Main St. property during a…
Wind Point resident Jerome Becker said he attended because of the ongoing "battle with the village," agreeing with a comment from Augustynek that the Deepwood trees are not "junk trees."
"It shouldn't upset me because I don't live here full time, but I just don't like being lied to," Becker said.
Years-long issue
Officials have said that there is no other way the village could raise the tax levy to account for lost tax revenue, except by adding new construction.
The total property taxes to be generated for the four homes over 60 years is approximately $540,000 or $550,000. That gross estimate is money that others in Wind Point will not have to pay, said Village President Susan Sanabria.
"It's been claimed that $9,000 is not enough to compromise trees for, but it's a lot of taxes that the people in Wind Point would have to pay," she said.
Sanabria said a lot of trees within the property are dying or will die, another thought that has been long held by the Village Board.
"Trees can be replanted, just like what has happened in every other section of Wind Meadows," she said.
The Village Board on July 1 approved the sale of the western 30% of the village-owned property to KEW Investments. The remaining 70% of the property will remain in village ownership, on which the village has not yet made a determination. Only work to remove dead trees along the edge of Deepwood Drive in the eastern section of the property is currently planned.
Sanabria said although the eastern side could be developed to bring in more tax revenue, it's unlikely. A lot of that property is not buildable. KEW Investments found that the water table on that side of the area was high and thus it couldn't build homes with basements there.
"No matter what, whether we own it or not, the goal here is clearly to keep it as green space," Sanabria said.
KEW is developing the western portion of the land into four lots. Single-family homes will be built there at whatever pace the lots are sold. Individuals who buy the lots may hire Korndoerfer Homes to build their homes.
The site is zoned for multifamily with an allowable density of about 50 units on the five acres, or 10 units per acre. KEW was originally planning to build 10 single-family homes on the five acres. After working with Deepwood Preservation and the village, KEW reduced the project to four single-family lots. In summary: KEW is building four units on a site that is zoned for 50 units.
"I thought I came up with something that everyone was going to be happy with," Korndoerfer said. "I've spent a lot of time on this. We've come a long way, I thought."
Open space is provided on 72% of the five-acre parcel. A 30-foot tree preservation easement was additionally added along the front of all the lots to preserve the wooded nature of Deepwood Drive.
"With the tree preservation strip we're keeping, I was told by the Deepwood group that was a wonderful combination," Korndoerfer said. "So the fact that they're out saying shame on me, I'm disappointed with that."
The board also approved protective covenants and restrictions for the development, which will handle the requirements for construction and use on the property.
Korndoerfer said he intends to keep the nature of Deepwood Drive and worked "very hard" to preserve it. Korndoerfer is a Racine native and said he's been around the Deepwood property his whole life.
"It was the village's decision to develop the property, not mine," he said, adding that the village has been "extremely cooperative" throughout the process: "They also went along with a compromise to work with the neighbors. It's a very big accommodation."
Protest thoughts
Some drivers passing by the protest honked and cheered, or shouted that they agreed. Others asked the protestors if they had anything else more important to do.
Resident El Reynolds said she's lived in Wind Point for 53 years and has seen deer, birds and other critters in the Deepwood space.
"This just seemed shocking, not the right thing," she said. "We have so little left of green space."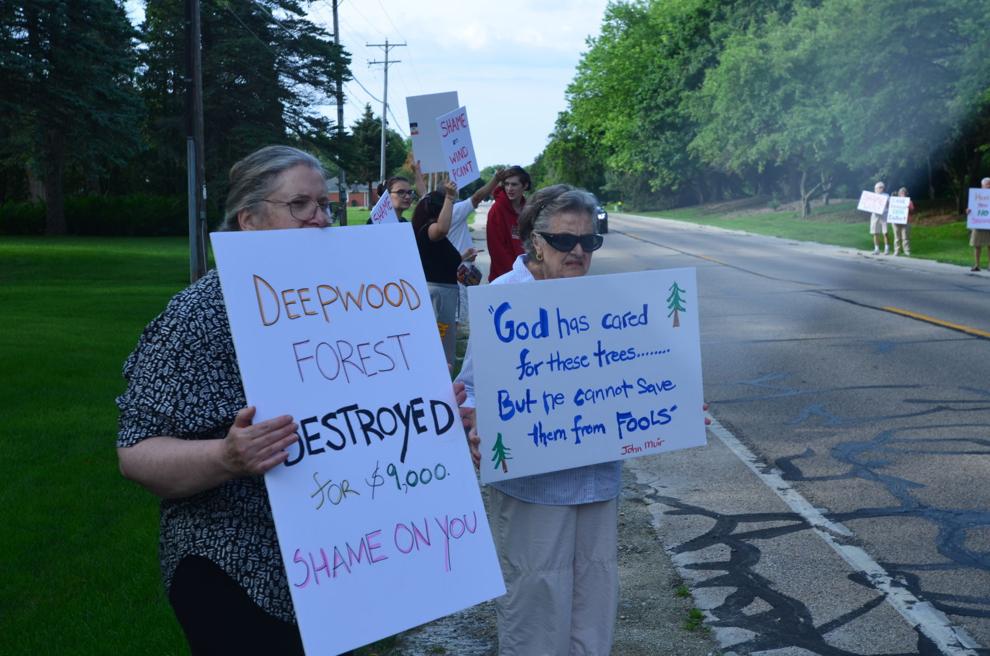 Sarah and El Reynolds
Wind Point residents Sarah, left, and El Reynolds hold signs Thursday evening near the 4403 N. Main St. property during a peaceful demonstration.
Added her daughter, Sarah Reynolds: "We just can't believe the village is doing this for so little tax revenue. It's disappointing."
Although the Reynoldses acknowledged there's not much they can do to change the village-approved development from happening, El said she hopes to bring about awareness with the protest.
Maurer, who said she was happy with the turnout, echoed those thoughts: "We just want to let everyone know that there are people still opposed to this development. If Korndoerfer goes and cuts down trees, there's no going back to fix it. You can replace or replant them, but they're not going to be what this is."
Sanabria said she expected the protest to happen and would never object to anyone's right to free speech.
"A development almost never happens without objections from some quarter of the population. I think that's just very common that that happens," she said.
"The village has gone to great lengths to do its best to accommodate the concerns of the neighboring residents. There (were) 35 people there; there's 1,700 people in the village. The majority of the community thinks it's pretty clear, looking at this project, that the decision to move forward is a balanced one."
In photos and video: Nature lovers protest 4403 N. Main St. development
Watch now: Deepwood Preservation Committee and friends protest 4403 N. Main St. property development
Protestors hold signs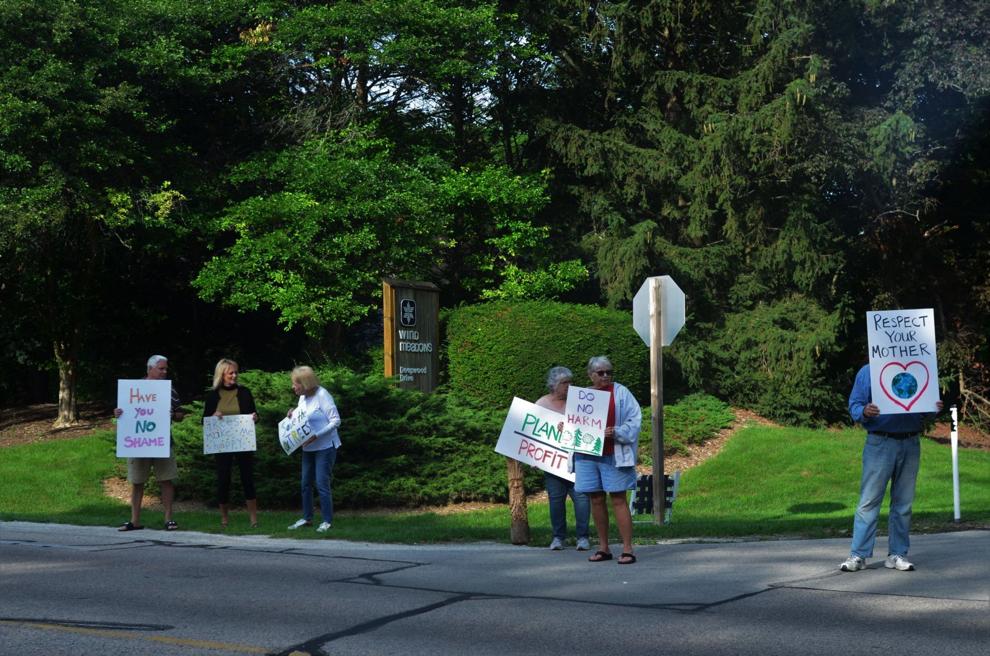 Protesters hold signs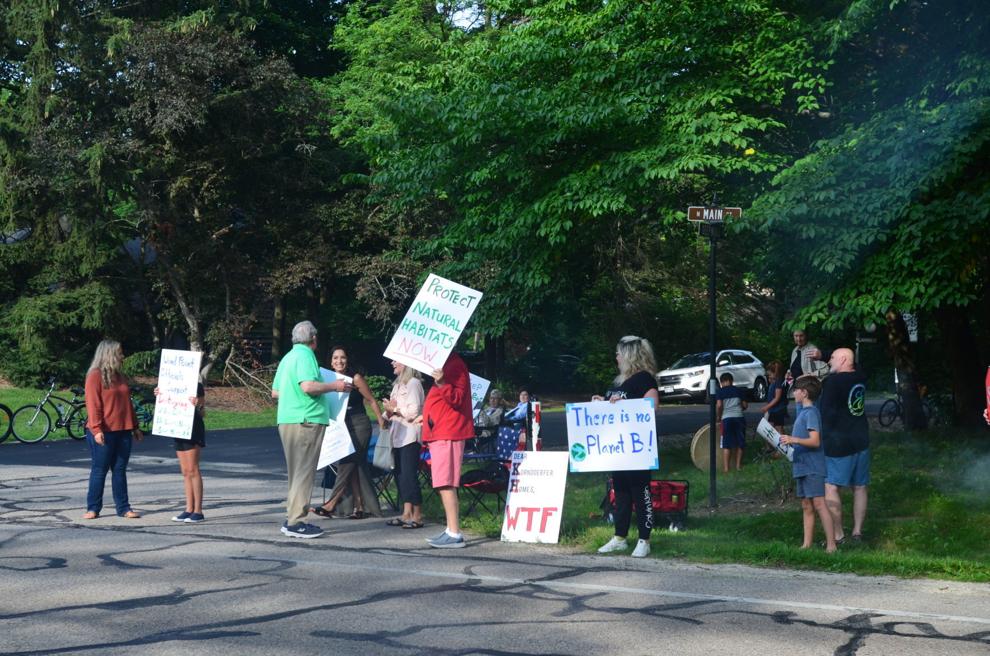 Protestors hold signs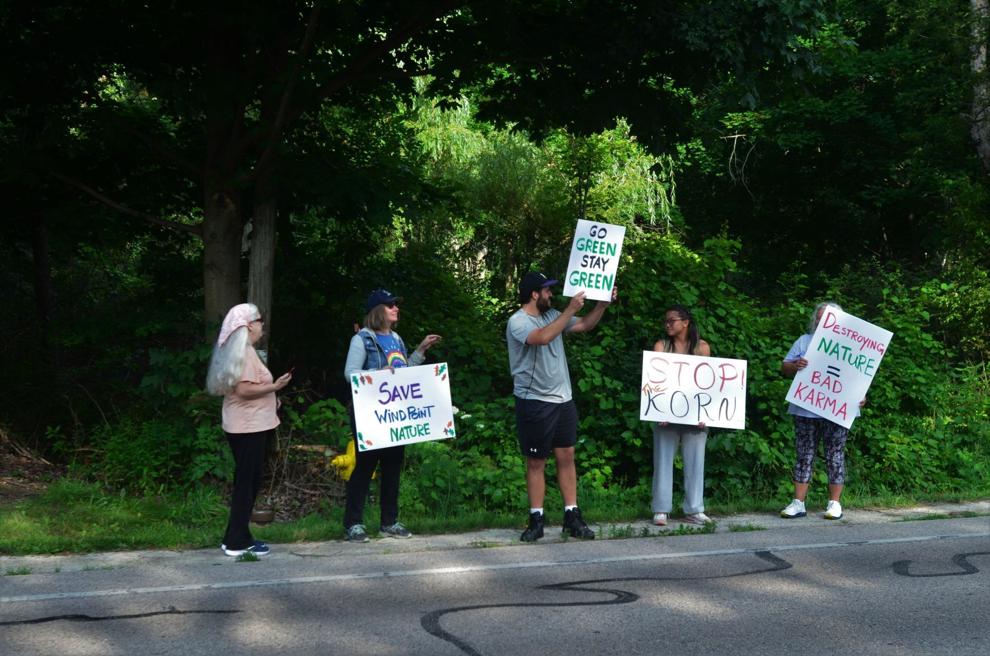 Protestors hold signs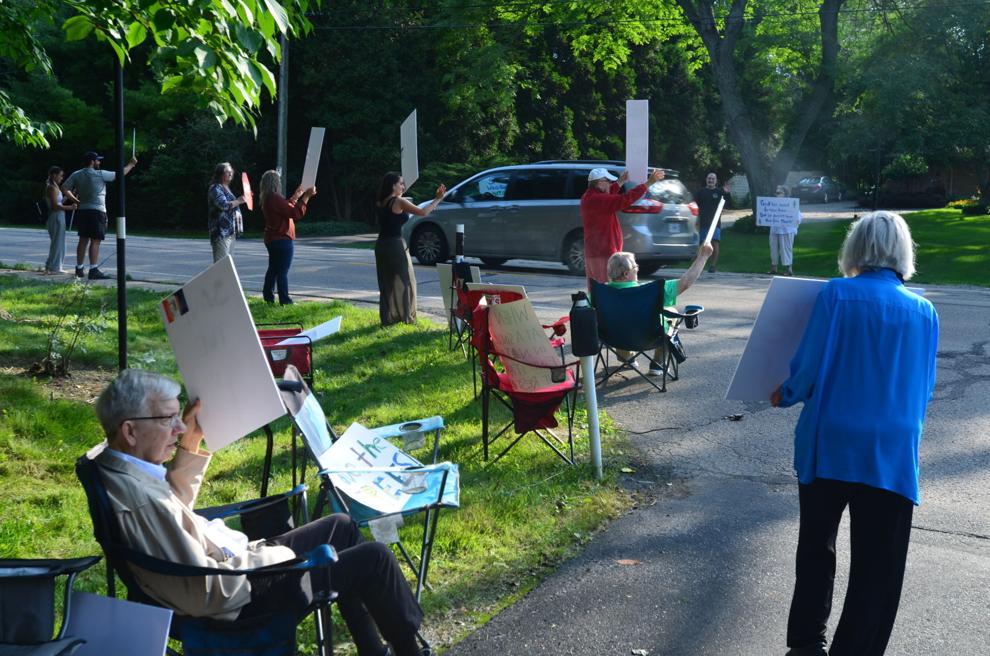 Waving at passing cars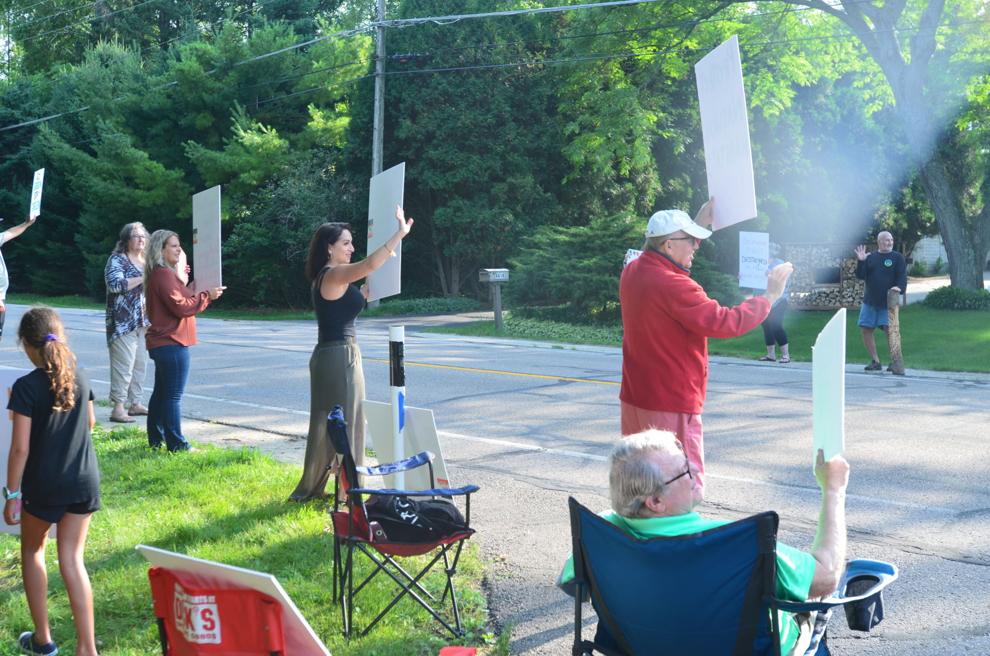 Protestors hold signs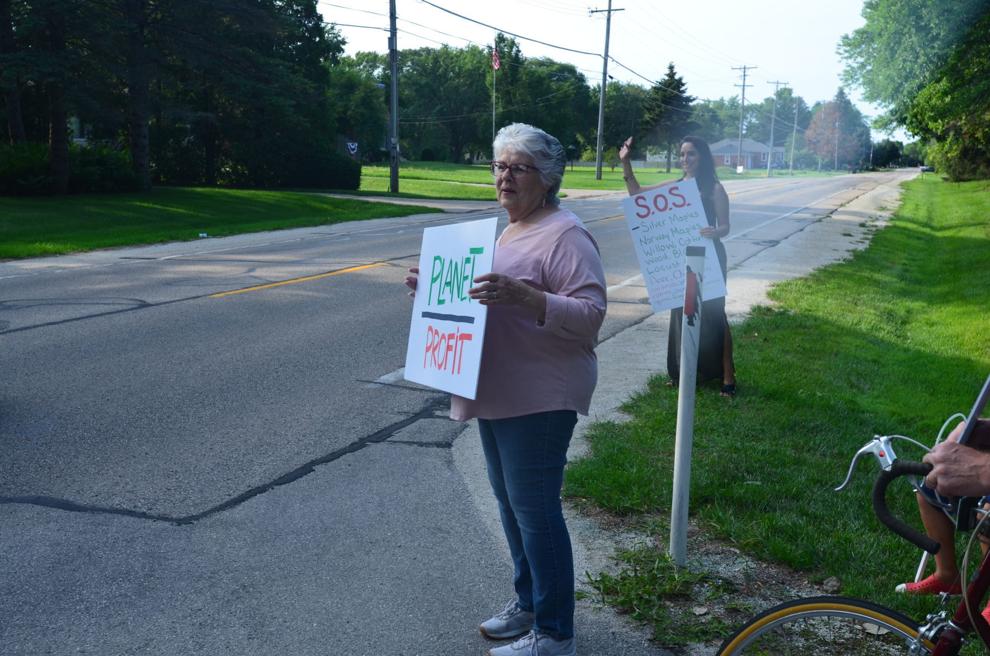 Protestors hold signs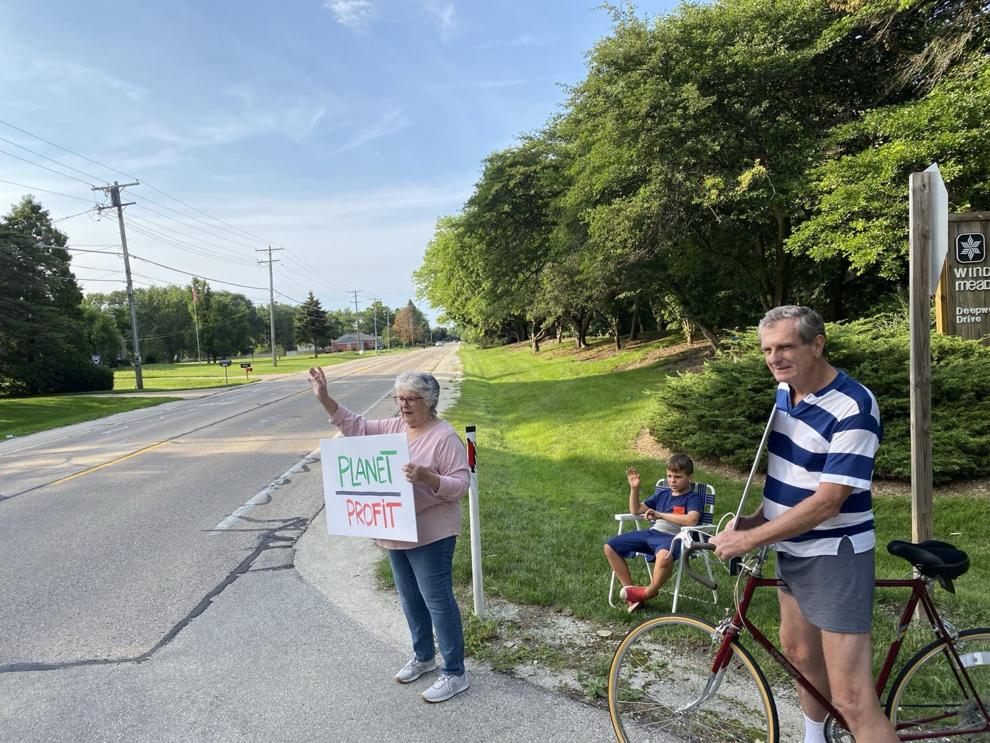 Barbara Hammes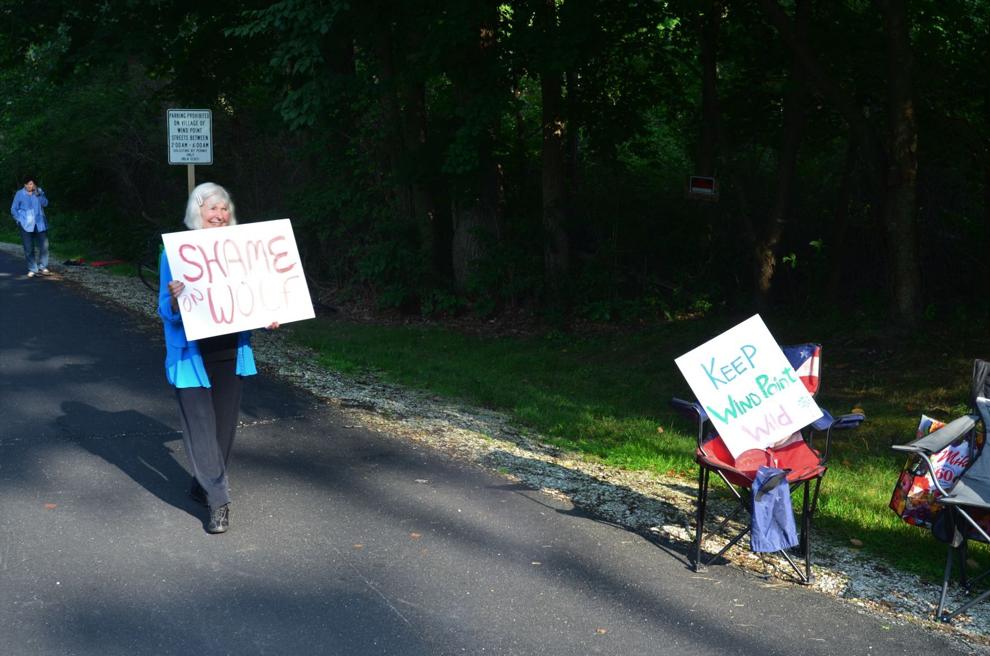 Barbara Hammes and John Kopulos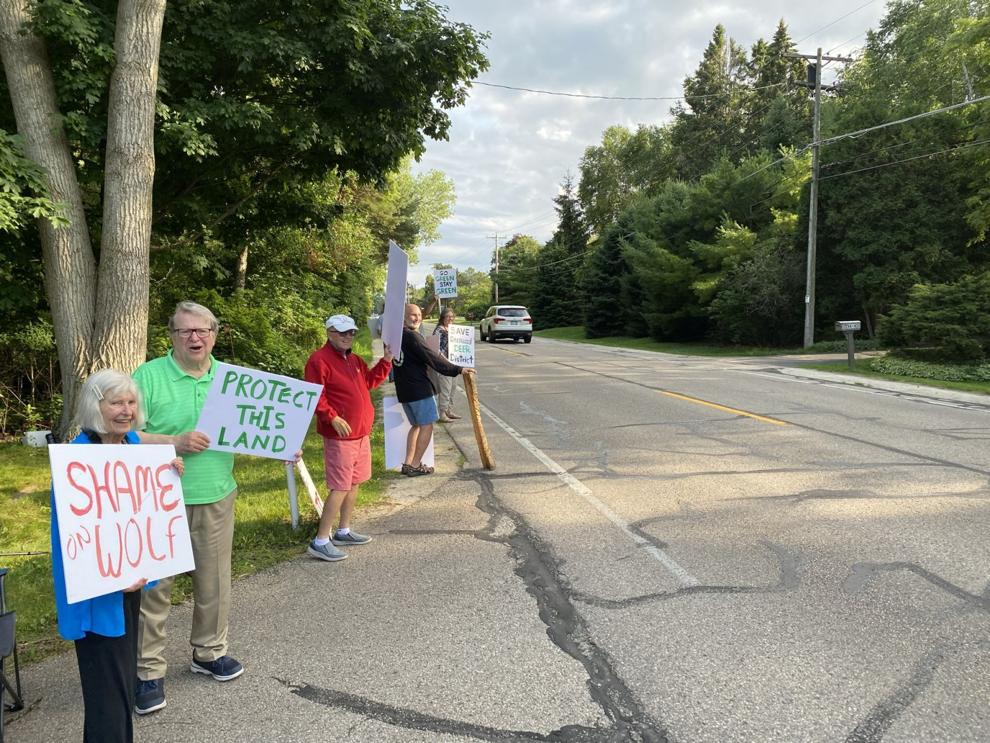 Sarah and El Reynolds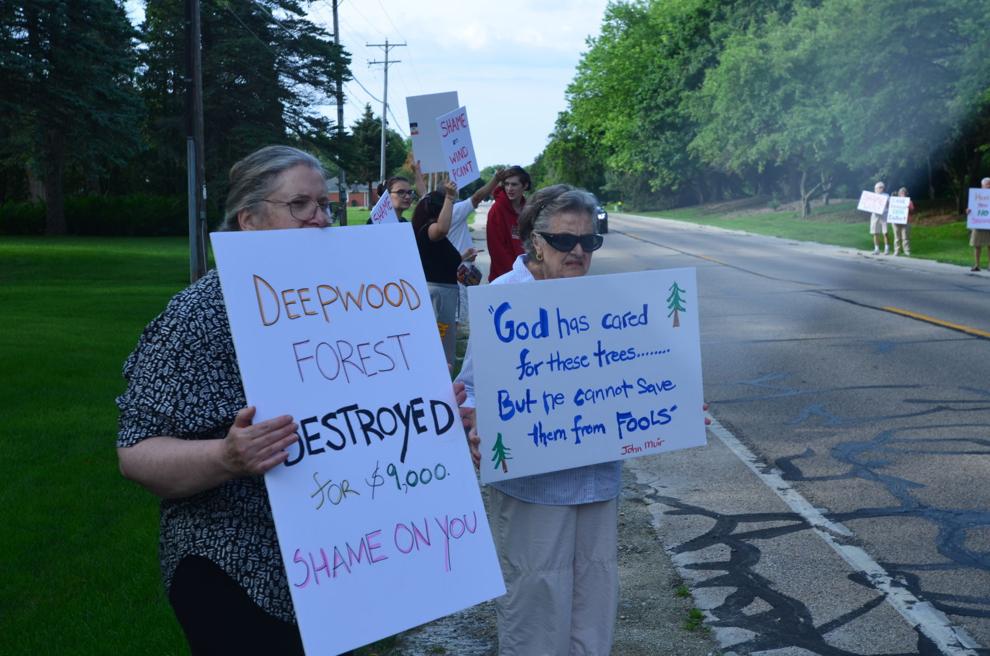 Protestors hold signs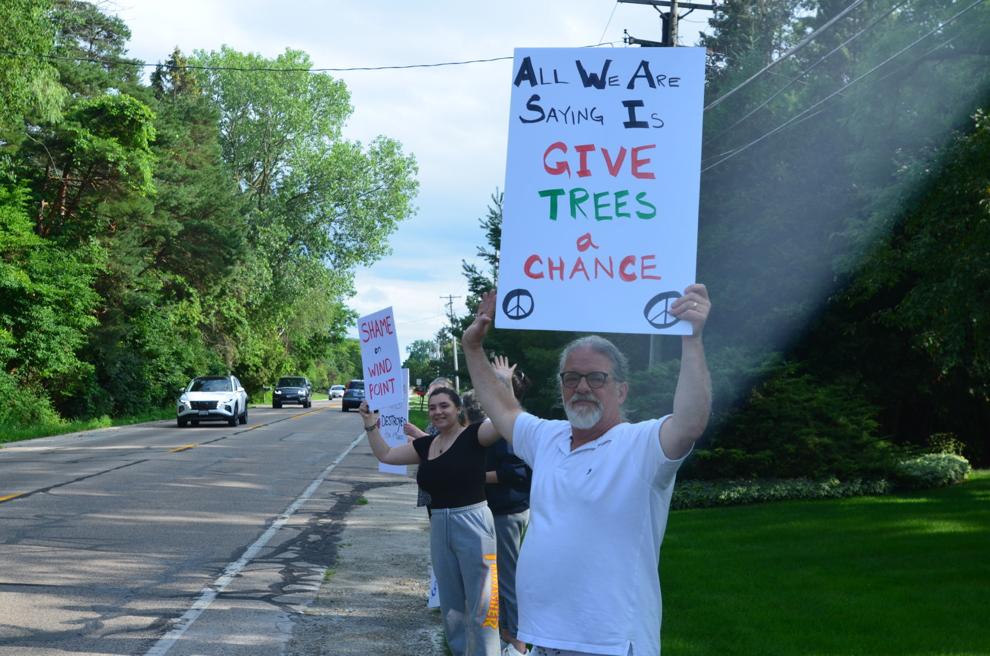 Terry Barham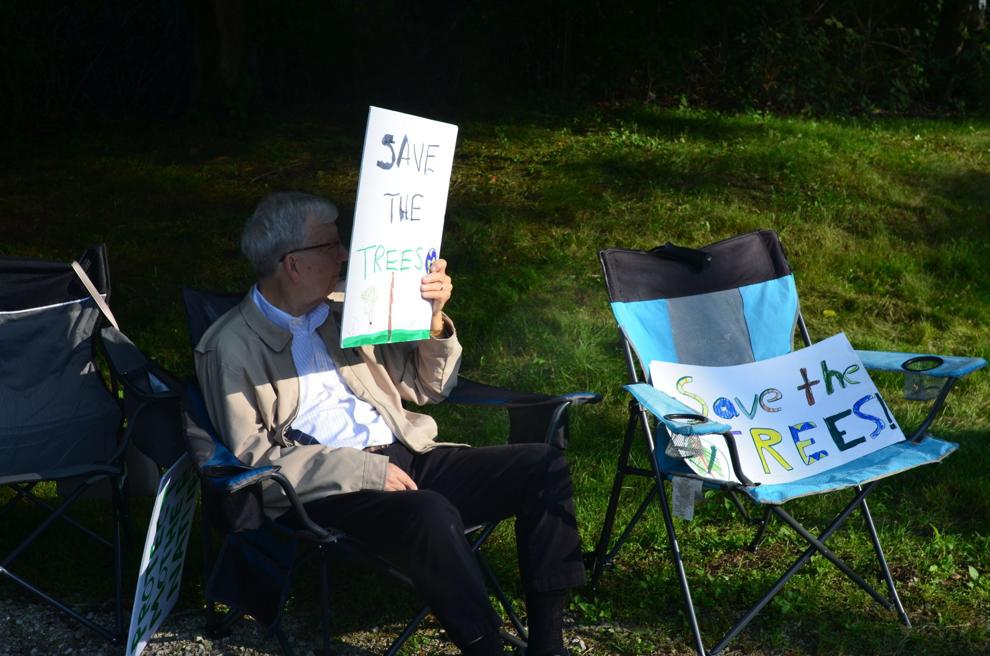 Burning sage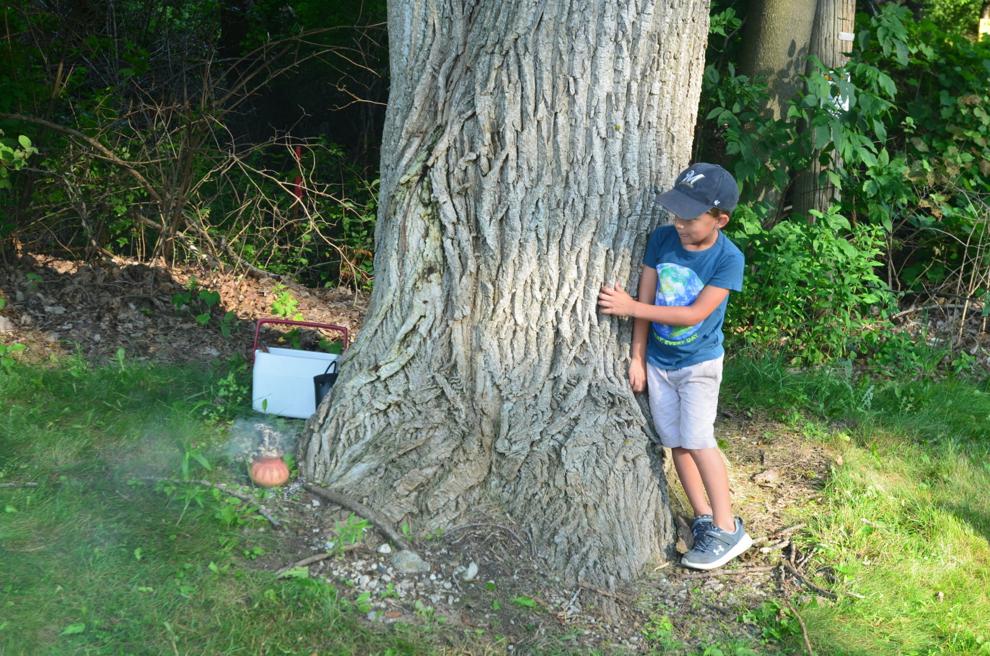 Protestors hold signs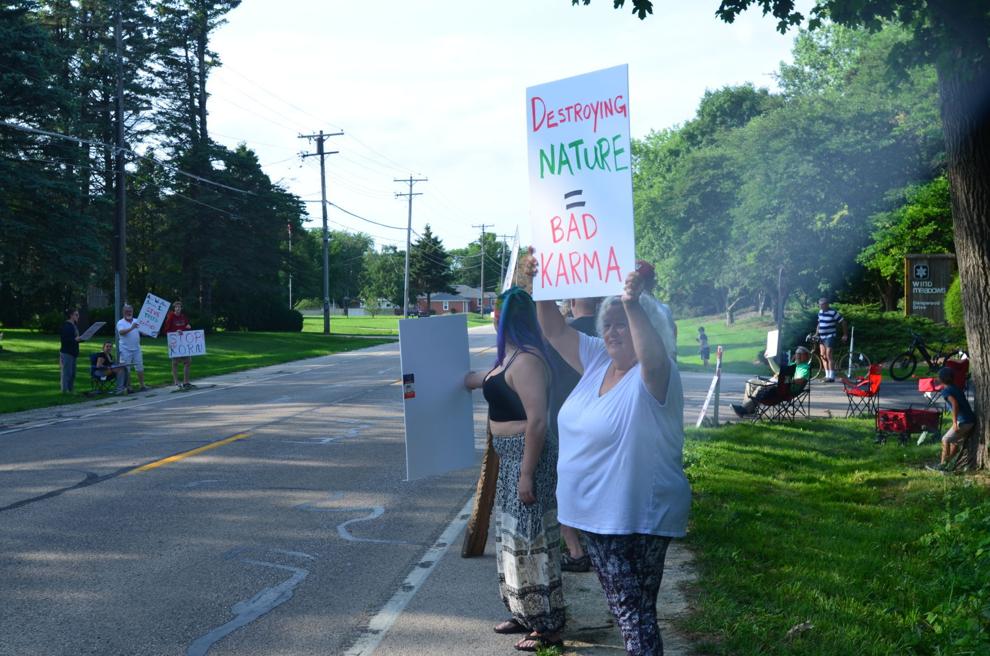 Protestors hold signs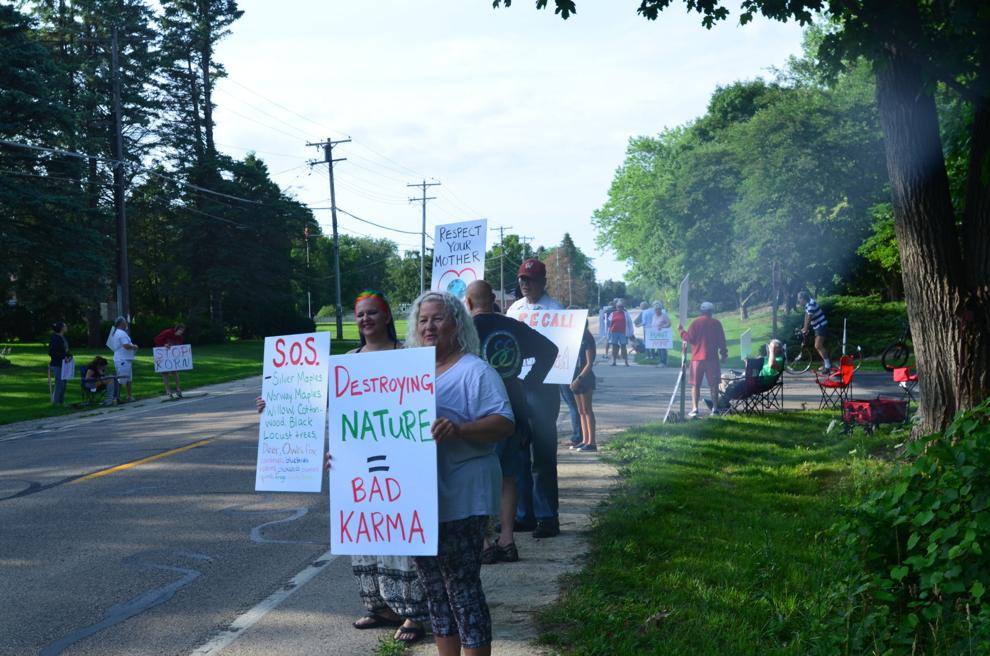 Jerome Becker and David "Augie" Augustynek