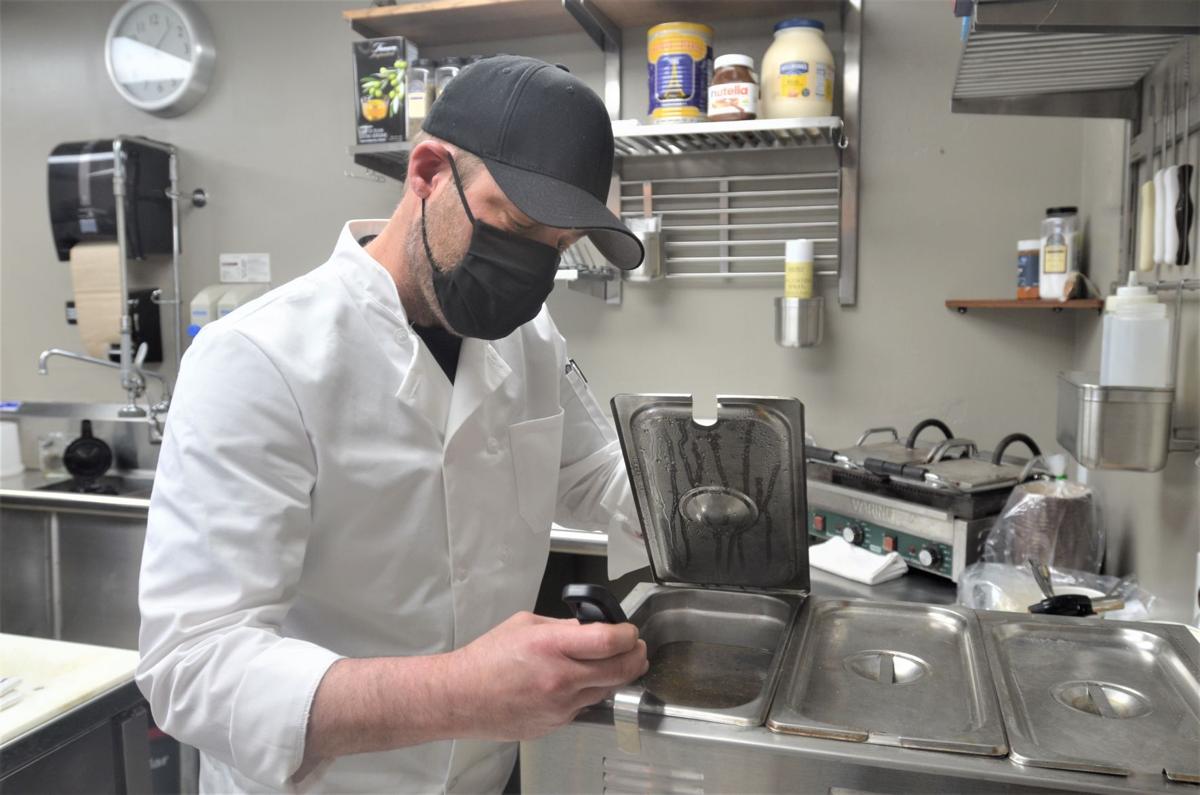 CALEDONIA — There are few things as chic as the idea of spending brunchtime at a French cafe: the vanilla aroma of a café au lait, the melt-in-your-mouth taste of a buttery croissant and of course, the sound of the language of love.
Just $5 gives you full access for 5 months to exclusive content from The Journal Times and journaltimes.com. The incredible deal won't last lo…
And while visiting an authentic, French cafe may be a plane ticket away, for those living on the east side of Racine County, it's just a stone's throw. Café Rendez-vous is a new cafe inside Milaeger's, 4838 Douglas Avenue, which held a soft opening on Saturday, May 8.
Multi-colored macarons sit inside the bakery case at Café Rendez-vous on Sunday. The cafe is heavily inspired by France. 
A French spin on the classics
Owners Tina and Clark Mitchell have a deep devotion to all things French, especially after taking numerous vacations and spending anniversaries there. It was clear to them what sort of restaurant they would open up if they ever got the chance.
"We love France," Tina said. "We love the food and the culture."
Tina said she'd even gotten close to minoring in the language in college, which was evident in her fluent pronunciation of what was on the menu — like "jambon beurre baguette," or a ham and cheese sandwich.
Other offerings on the menu include chèvre tomate baguette avec herbs de provence (a baguette spread with herbs, olive oil and topped with goat cheese and roma tomatoes), quiche and soup of the day and coffee drinks like lattes and cappuccinos.
They're the perfect snacks for hungry shoppers who may spend hours browsing the store, said Kara Kading, a manager at Milaeger's.
Customers stand in line and look at the menu at Café Rendez-vous on Sunday, May 9. 
Something also very common in France, Tina said, is not using genetically modified organisms in their food, which makes a lot of the options healthier than others.
For example, Tina, who has lupus, could not eat American-made brie and bread because it triggered inflammation. But when her and Clark took trips to France, she ate it all the time without worry. She believes it was due to the lack of GMOs in French cuisine.
"What a great opportunity to bring that to our community," Tina said. "It's not just a ham sandwich, but it's using grass-fed butter … I wanted to bring that healthier food to the table."
'Nourrir, cultiver, fleurir'
There was a cafe at Milaeger's before — Java Garden — but when the pandemic struck, it couldn't be open as much, which prompted Milaeger's management to think about what else could take over.
Tina Mitchell, right, who owns Café Rendez-vous with her husband, Clark, talks to some customers/friends who came to visit last week. 
"We thought, wouldn't it be so much fun to let someone else run the cafe?" Kading said.
Tina was at Milaeger's one day, shopping for plants, when Kading approached her and offered advice on how to care for them. At the time, there was a sign up at the empty cafe, advertising it was open for lease.
Not too long after they first met, Tina called about the lease. Kading, coincidentally, was the one handling it. They became quick friends.
"When you grow, we grow and the community grows," Kading recalled saying to Tina when they were first talking about opening the cafe. Another coincidence is those words align with the motto at Café Rendez-vous: "Nourrir, cultiver, fleurir" which means "Feed, grow, blossom."
Sprouting into new directions
The seed still has just been planted for the cafe, which means the Mitchells have plenty of ideas. One idea is to partner up with Milaeger's and grow herbs by the cafe's outdoor seating that can be directly used in the food.
"It's all about just following your passion," Kading said.
Shawn Niemeic, Tina Mitchell's sister, helps out at the cafe on Sunday, May 9. Mitchell said a lot of her family members showed up over openin…
Tina said the cafe is dedicated to Clark, whose parents have died, but would have loved to see him open the restaurant. "I wanted to show him, you could do it," she said.
The cafe has also given Tina and Clark the chance to revitalize their lives after the pandemic: "I started to get a little down … Then bam! I feel alive again, opening the restaurant."