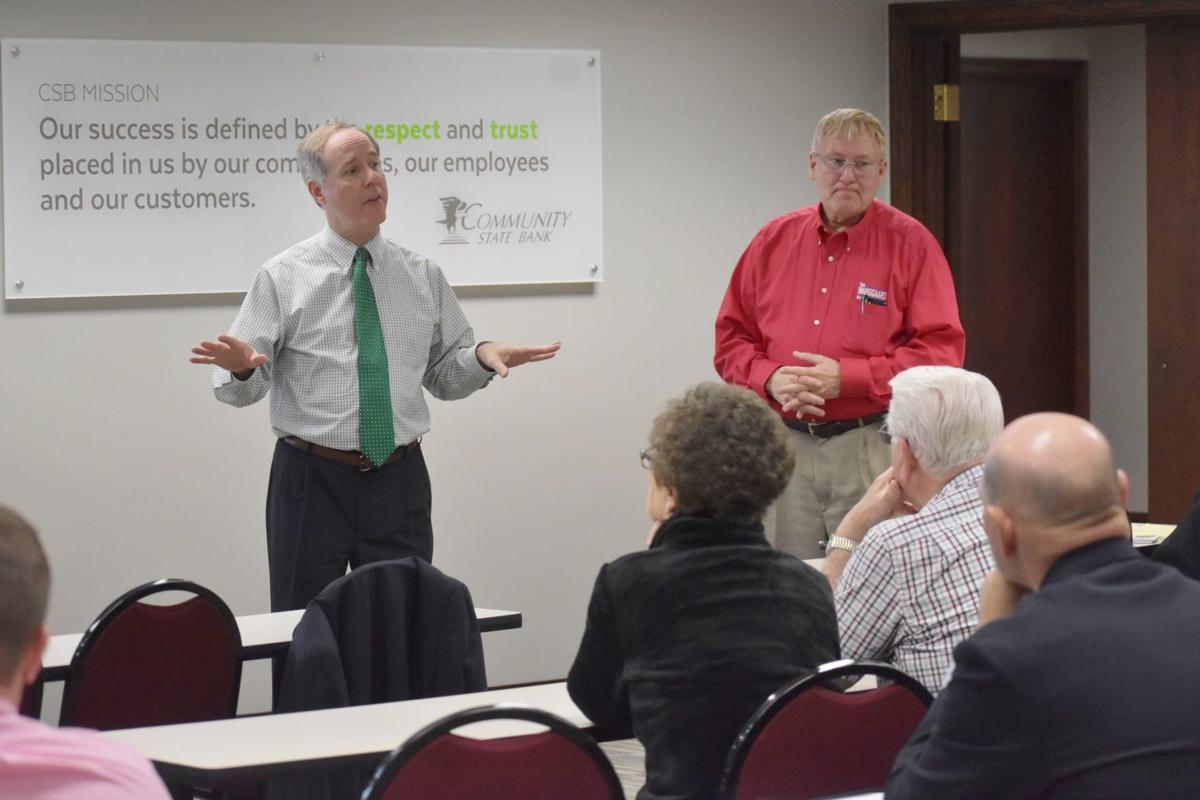 UNION GROVE — Legislators and Gov. Tony Evers have been hosting listening sessions across the state to inform the residents of some of the provisions in the 2019-21 biennial budget and to gather support on one issue or another.
On Thursday, Assembly Speaker Robin Vos, R-Rochester, and state Sen. Van Wanggaard, R-Racine, hit the road and hosted three listening sessions — in Burlington, Union Grove and Mount Pleasant — to hear from their constituents on the budget.
While Vos and Wanggaard might not agree with the Democratic governor, one thing hangs over their head — the power of the veto.
"Gov. Evers has the most powerful line-item veto of any governor in the country," Vos told the crowd at Community State Bank in Union Grove, adding the governor can veto individual words in the budget. "He can take something that we pass saying something 'The State of Wisconsin may not,' and he can veto out 'not' and so (it reads) 'The State of Wisconsin may…'"
Vos added that Evers cannot allocate more money than what is passed.
So while Republicans control the Assembly and Senate, Evers has the power of the veto, and both sides are trying to come to some agreement over the proposed budget before voting on it this summer.
"There are some good ideas in there; there are some ideas that I think are not so good," Vos said.
One of the biggest parts of the proposed budget covers education. Evers is proposing a large increase in spending for education, to the tune of about $1.4 billion, including roughly $600 million on special education.
Vos called the increase in education spending a "laudable goal" and believes there is some room for compromise.
"That is a huge increase," Vos said. "I worry that if we only funded special ed or all the K4 education, you might not have enough money for the university system, raises for public employees, corrections, so I am confident we are going to do an increase for public schools, I just don't know if we can do it at the level Gov. Evers proposed."
Evers wants to get back to the state funding two-thirds of public education and Vos believes that could be done.
"I feel pretty confident that we'll get to the two-thirds funding," Vos said. "We will also do an increase in special education funding."
Vos also believes compromise can be made on foster care.
Areas of disagreement
Where there is some disagreement between Vos and Evers is on welfare and overall spending.
"Under Gov. Evers' budget he actually makes it easier to stay on unemployment and you can do it longer," Vos said. "I think that's a bad idea."
Vos said the state has roughly $1.8 billion of new revenue coming in this year without increasing taxes and added Evers wants to use that to fund capital projects in the proposed budget.
"Gov. Evers took that money and also raised taxes by a little over $2 billion and plans to borrow $2.4 billion just on vertical construction," Vos said.
Vos said in the past the state has borrowed roughly $1 billion for building projects and would like to stay near that level and suspects what will end up passing is going to be less than Evers' proposal, "but still a pretty hefty number."
Besides local legislative listening sessions going on throughout the state, the Joint Finance Committee has also been holding public hearings and will make its recommendations to the full Legislature on the budget. Evers and Democratic legislators have also been conducting budget hearings, including a workshop, breakout format meeting on April 10 in Kenosha.
If things go smoothly, the Legislature and Evers could have the biennial budget passed and signed in July. However, that is not guaranteed. During the last budget cycle, under Republican Scott Walker, the budget did not get passed until September.
"There are some good ideas in there; there are some ideas that I think are not so good."

Assembly Speaker Robin Vos, speaking about Gov. Evers' budget plan