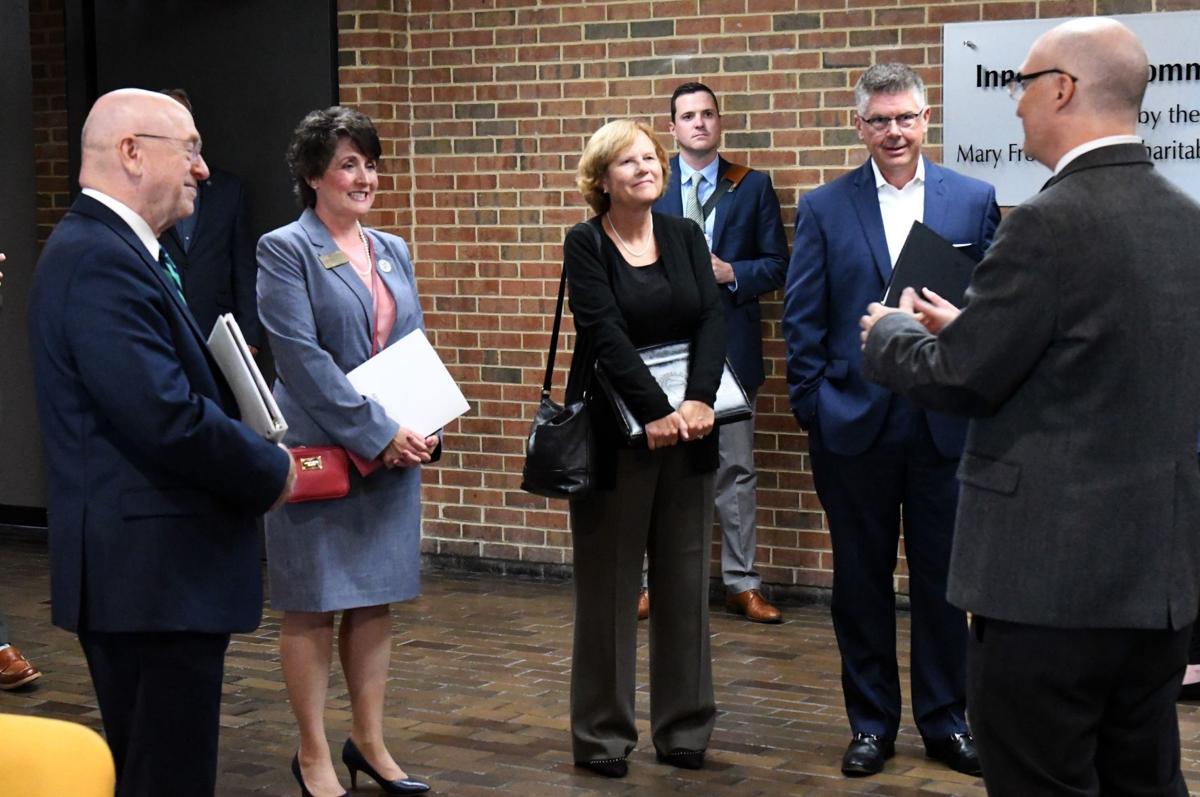 SOMERS — University of Wisconsin leaders are working this fall to make sure everyone knows the impact the UW System has on the communities it serves.
UW representatives, including UW System President Ray Cross, Regent President Andrew S. Petersen and Regent Janice Mueller visited Parkside on Monday for the system's first of a series of All In Wisconsin tours.
"We're really harnessing the economic value, the civic value of our campuses in their regions," Petersen said.
He added that he's long thought the UW System needed to improve on showcasing the value it contributes to communities across the states and at telling its own story.
First thing Monday morning, UW representatives had breakfast with 55 business and civic leaders to speak about new program development and internship and cooperative learning opportunities.
In a tour of the campus for area media, Parkside showcased some of its business partnerships that provide students with real world experience.
New this year is Parkside's GIS Factory, modeled after its App Factory. In these factories, students work on projects for real-world, paying clients.
You have free articles remaining.
Currently, students in the GIS Factory are working to map out vegetation around the Root River to help with sustainability plans and may assist on a sewer project with Somers. The University just finished a new and expanded GIS lab at Parkside.
Through a partnership with the company Shimadzu, Parkside trades in outdated equipment in its SC Johnson Integrated Science Lab to the company and pays only the difference for new equipment. In exchange, Shimadzu sends potential buyers from the region to Parkside to check out the equipment in action, which is more efficient than sending the equipment to the potential buyer to be assembled, then disassembled and sent back after it's tested.
Current projects going on out of the lab being run by students include development of a new film to package bread to keep it from molding and the testing of hemp plants prior to harvest to ensure the THC levels don't surpass the mark to classify them as marijuana.
In the Digital Design & Fabrication Lab, a colorful display of student creations was laid on a table, including whimsical glasses, sculptures, and other works of art made from metal.
Students first sketch out designs for these creations, input them into a CAD or computer aided design program and then translate that into fabrication on various machines. The lab, which opened last fall, is equipped with a plasma cutter that cuts steel, a laser cutter, a 3D printer and a milling machine.
Parkside Chancellor Debbie Ford said that the university was founded on community partnership and wants to continue promoting and growing them.
"There has never been a time when partnerships are more important than they are today," Cross said.
UW plans to continue its All In Wisconsin Tour by visiting its campuses in River Falls, La Crosse, Oshkosh, Eau Claire (with Stout), Superior, Stevens Point and Whitewater by mid-December.
This story has been edited to reflect that the GIS Factory is still in talks with Somers regarding the sewer project.