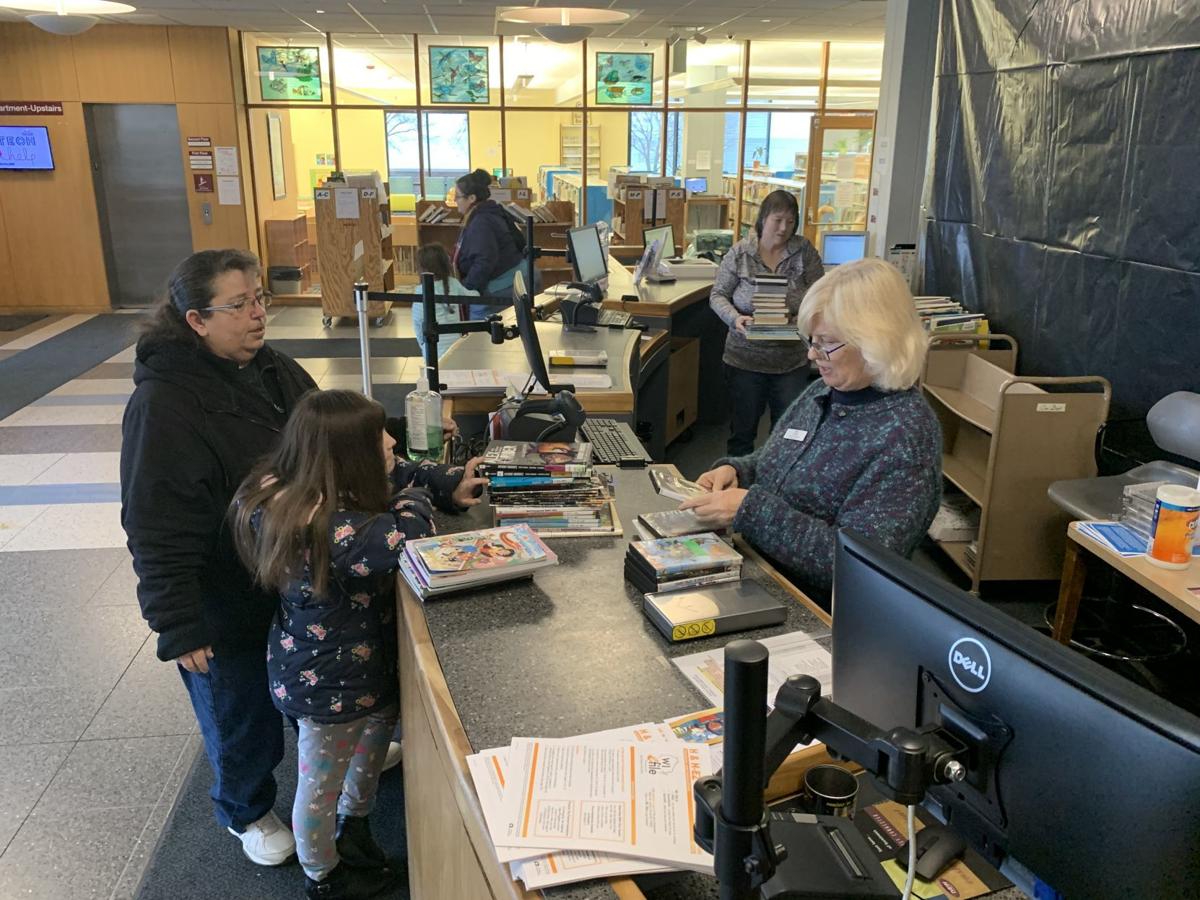 RACINE COUNTY — The following is a list of closures and cancellations affecting Racine County organizations, educational institutions and facilities.
It is strongly encouraged for people to call ahead before going to a scheduled event.
Events
All AARP Foundation Tax-Aide sites are closed until further notice.
Spectrum School of the Arts classes and workshops will be postponed until further notice.
The Downtown Racine Corp. has extended the deadline for students to apply for the summer Downtown public art project to April 10. Students or school groups that would like to be considered to be an artist may email lfarrington@racinedowntown for an application or visit racinedowntown.com/events.
The Downtown Customer Appreciation Days for March 20-21 have been postponed to May 8-9.
HOPES Center of Racine's Raising HOPES with Talent fundraising for March 21 at the Siena Center is postponed. A new date will be announced in the future.
The Racine Literacy Council has postponed their March 21 Open Door event to May 9. 
Racine Area Manufacturers and Commerce's annual dinner has been rescheduled from April 2 to Aug. 25. In addition, the office is closed until further notice. Members can still call 262-634-1931.
Mount Pleasant egg hunt set for April 4 is canceled.
Implicit Bias Training scheduled for April 4 at First Presbyterian Church has been postponed.
The Eco-Justice Center's 15th Anniversary Celebration on April 4 has been postponed. For more information, contact Sister Rejane Cytacki at rejane@ecojusticecenter.org.
Downtown Racine Corp.'s Beer and Bacon Walk has been postponed to Nov. 7.
CNH Industrial Racine's 20-Year Club event has been canceled for this year.
The Racine Theatre Guild is postponing all of its 2019-2020 season performances and activities.
Lakeside Players in Kenosha has postponed its 2019-2020 current season performances and events.
The Mary Lou & Arthur F. Mahone Fund has postponed its Reaching for Rainbows Pursuit of Excellence Gala that was scheduled for April 23 at Carthage College.
Educational institutions
Students will be taking classes remotely until April 14.
Return with online classes.
Return with online classes.
Government closures
Waterford Village hall is closed to the public until further notice
All county buildings are closed to nonessential services, people should call ahead before going. 
The Union Grove Municipal Center is now temporarily closed to walk-ins but the office will continue to be operational. Community members are asked to conduct village transactions using the dropbox located outside the entrance to Village Hall or by telephone during normal business hours. Certain payments are also accepted online.
All non-essential Union Grove Village meetings are canceled. The next regularly scheduled meeting is set for April 13.
Melanie Reichert, Union Grove Municipal Court judge, has canceled March and April court dates. Hearings will be rescheduled for May and June court proceedings.
Union Grove public works and utilities staff are continuing to provide services but will be temporarily stop all meter change outs and water leak checks on private properties. Public works and utilities facilities are closed to visitors.
The Village of Wind Point office is closed.
Visitor restrictions
Public in-person visits canceled until further notice
Temporary visitor restrictions, two at a time, no one with symptoms of illness allowed to visit
No visitors with limited exceptions
Senior living facilities on lockdown
St. Monica's Senior Living
Ridgewood Care Center
Parkview Senior-Living Community
The Bay at Burlington Health and Rehabilitation Center
Oakridge Healthcare Center
Religious
Milwaukee Archbishop Jerome E. Listecki has dispensed Catholics from their obligation to attend Sunday Mass due to concerns about the spread of Covid-19. The dispensation will cover masses for Sundays March 22 and 29. Masses will still be celebrated across the 10 counties of the archdiocese, but the obligation to attend Sunday Mass will be lifted, leaving attendance to people's individual judgement.
The Rt. Rev. Steven Andrew Miller, Bishop of Milwaukee, has directed the clergy and churches of the Diocese of Milwaukee to suspend public worship indefinitely. On March 31, he will reassess the situation in light of developments and give directions for the future. He expects this closure will remain in effect through Holy Week and Easter, and that traditional gatherings for that season will be canceled or postponed until the time of social distancing can end.
Mount Pleasant Lutheran Church — ELCA, 1700 S. Green Bay Road
Sunday 8:30 a.m. service will be offered on the church's Facebook page.
Messiah Lutheran Church, Racine
All worship services suspended until further notice.
Covenant Presbyterian Church, 40 Ohio St.
No worship services, meetings, fellowship events or outside groups will be at the church for the rest of this month.
First Presbyterian Church, 716 College Ave.
St. Patrick Parish will have no public celebration of the Mass through April 3. All non-essential parish gatherings between those dates will be postponed. This includes the ACTS fish fries, Cristo Rey Café, practices and rehearsals for choirs and other parish-related performances and meetings of parish groups. 

St. Patrick's meal program will be closed until further notice.
Sunday morning worship service will be live streamed on the Grace Church Facebook page, each Sunday at 9:30 a.m. Visit graceinracine.com for links and additional information. All weekly activities are canceled.
First United Methodist Church 
The church, 742 Main St., including its Grief Share meeting, is closed until further notice. 
Other changes
In an attempt to balance public health concerns and the needs of guests, the center will be closed for day activity space. They will serve pastries and coffee in a "to go" format from 7:30-8:30 a.m. and will serve lunch in a "to go" format from 11:30 a.m.-12:15 p.m.
Thread by Thread clothing ministry is closed until at least April 15.
All VITA sites are closed until further notice.
These sites are located at Gateway Technical College, 1001 Main St.; Case High School, 7345 Washington Ave.; Workforce Solutions, 1717 Taylor Ave.; Knapp Elementary, 2701 17th St.; Racine Public Library, 75 Seventh St.
Schools of Hope sites will also be closed until further notice.
Schools of Hope does programming at Wadewitz, Knapp, Julian Thomas, Olympia Brown and Waller elementary schools.
City of Racine Community Centers and the Racine Public Library
A date for them to reopen has not yet been established.
Union Grove's Graham Public Library
The library is closed and tentatively plans to re-open if schools re-open on April 6. This is subject to change based on recommendations from local health officials.
Racine Heritage Museum and Archive and Research Center
Closed to the public until further notice. All programming during that time, including the 2020 annual members meeting, has been canceled.
Racine Symphony Orchestra office
Racine Symphony Closed. Staff is reachable at 262-676-2941 to emailing staff directly. Updates can be found at www.racinesymphony.org. 
Closed to visitors until further notice.
United Way of Racine County
Office will be closed through April 3, with staff working remotely. 
The Racine Family YMCA's Riverside and Sealed Air Branches will be closed through March 29. Fitness activities, classes such as swimming lessons, school-age child care, and sports leagues will be suspended during this time. In addition, Adult Open Gym at the George Bray Neighborhood Branch will be canceled.
Anderson Arts Center & Kemper Center
The Kemper Center and Anderson Arts Center will remain closed to the public until April 24. At that time, the situation will be reassessed. Watch for updates at kempercenter.com and andersonartscenter.com.
Toys for Tots
Effective immediately, all South Shore Fire Department stations are temporarily not accepting donations for Toys for Tots.
K-12 schools
All K-12 schools are closed; tentatively reopening April 6.
Racine Unified School District
Closing starting March 16; schools will be open Monday to allow staff and families to collect necessary belongings including medications.
All closed; online learning tentatively to begin Thursday, March 19
Siena non-educational staff are still instructed to report to work on Monday but faculty and educational support staff (including teachers) will not report.
Burlington Area School District
No school or virtual learning on Monday
Virtual learning (maximum of three hours per day) to run from Tuesday through Friday.
Virtual learning to resume Monday, March 30
Closed starting Tuesday; students can attend classes like normal on Monday and collect their learning materials; teaching staff will meet Tuesday to plan ahead
No school through at least Thursday, March 19
Virtual learning to begin Friday, March 20
Closed. Teachers will contact students/parents through their normal media channels about what to do next.
No school classes will be held starting March 16, but the school will be open for students/parents to pick up materials
Virtual/continuous learning opportunities expected to continue during temporary shutdown
Concerned about COVID-19?
Sign up now to get the most recent coronavirus headlines and other important local and national news sent to your email inbox daily.