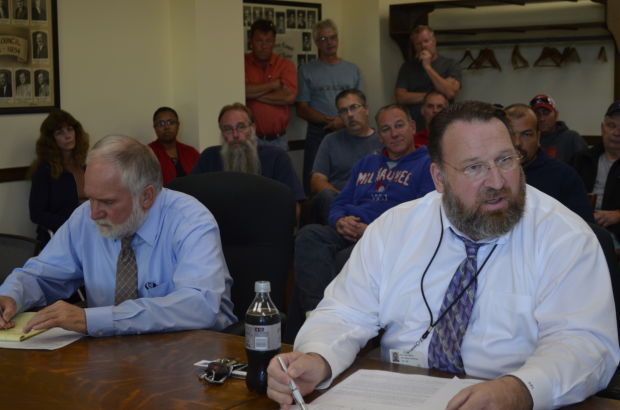 RACINE — Racine police officers and firefighters hired on or before June 30, 2011, could end up paying health insurance deductibles of $6,450 or $12,900 under a plan recommended 3-0 by the City Council's Finance and Personnel Committee on Monday.
Seated in a room filled with current and retired firefighters and police officers, Deputy City Attorney Scott Letteney and City Administrator Tom Friedel told committee members that the deductible hikes were the administration's best attempt at getting about $2 million in benefits savings they need to help close a looming budget deficit.
The proposed deductibles, which still must be considered by the full City Council, are 21 times higher than what the officers and firefighters represented by Racine Firefighters Local 321 and Racine Police Association currently pay. Police and firefighters currently pay deductibles of $300 for single plan and $600 for a family plan. Under the proposed plan, those deductibles would jump to $6,450 for a single plan and $12,900 for a family plan.
An impasse
Looking to address a projected budget deficit of between $4 million and $6 million, administration officials began contract negotiations with the police and fire unions — the only employee groups still able to bargain for benefits under state law — seeking about $2 million in concessions.
The hope, Letteney told committee members in July, would be that the city would able to get that money by convincing the unions to contribute to their Wisconsin Retirement System accounts.
Officials had hoped the unions would agree to a deal that called for them to contribute their employee share, as other city employees do. But union leaders felt differently. They said that requiring the employees to contribute to their WRS accounts would be tantamount to a 7 percent pay cut, and were offering other concessions.
With budget time approaching and negotiations with both unions at an impasse, Letteney explained that the only way to achieve the savings they need, at least at this point, was require the high deductibles. The city is headed to mediation with both unions, which could take months and possibly lead to arbitration, and it soon needs to give its plan information to the company that administers its health care plans.
The city is barred from discussing health care plan design or impact with the unions under state law. Since it has not been able to achieve the WRS savings through its negotiations thus far, health care cuts without bargaining are the only avenue available in time to meet budget deadlines, he said.
"I can't tell you for sure with this group, but I will say that finance has calculated that this plan, per employee, saves almost the same amount of money as (having) each employee pay their full employee share of the WRS contributions," he told the committee.
WRS contributions
Under the administration's proposal, only those police and firefighters hired on or before June 30, 2011 would be required to pay the high deductibles. Act 32, which became law on July 1, 2011, requires any employee hired after June 30, 2011 to pay their WRS employee share.
The only city employees currently not paying their WRS contributions are the 200 to 250 employees in AFSCME Local 67, which represents public works and parks workers, as well as a smattering of other city staff. Their contract expires on Dec. 31 as well, but under Act 10 — which essentially eliminated collective bargaining for all public employees except police and firefighters — they can only bargain for base wages. As a result, Local 67 employees will begin paying into their WRS accounts on Jan. 1.
The main reason the administration is seeking the $2 million in concessions, say officials, is because the city has reached a long-established limit on the use of reserve funds, and can't dip into savings to cover costs next year.
Reached by phone on Monday night, Racine Police Criminalist Todd Hoover, the president of the Racine Police Association, called the proposed healthcare plan "punitive" because it hits retired officers just as hard and working ones.
"If they have an issue with the Police Association not paying to their pension they should be working with us," he said.
Capt. Jeff Peterson, president of Racine Firefighters Local 321, said the administration had "one-upped" the state of Wisconsin with the tough requirements.
"They are swinging the hammer they got, and they will swing it until they get everything they want," Peterson said.
Get local news delivered to your inbox!
Subscribe to our Daily Headlines newsletter.