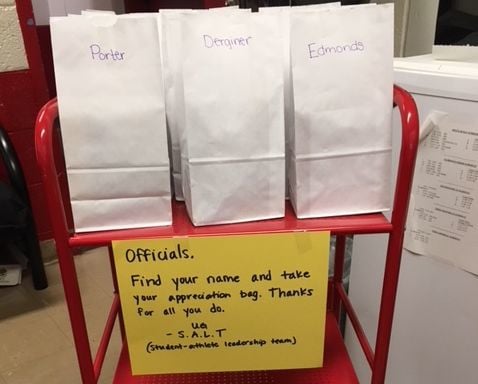 UNION GROVE — A gift bag with snacks and gum, along with a "thank you" note, can help save high school athletics.
At least that's what students and faculty at Union Grove High School are hoping.
For the last several weeks, the referees for winter sports have been getting gift bags from Union Grove High School as a sign of appreciation for their efforts.
"We do need them to be able to play the game that we love," said Anne Sireno, volleyball coach and physical education teacher. "It's hard to get officials. It's hard to get them to come do the game."
Sireno, along with physical education teacher Emily Paskiewicz, helped organize the Student Athlete Leadership Team (SALT), which helps provide volunteer opportunities to student athletes.
Union Grove has had to cancel several games over the last few years because there was no one to officiate the games.
Recently, the Wisconsin Interscholastic Athletic Association made a statement urging parents to be more respectful toward officials.
In December, Sireno and Paskiewicz took some students to a WIAA Sportsmanship Summit in Stevens Point, where they learned there is a shortage of officials across the state.
"We also think officials get the bad end of the stick," Sireno said. "A lot of people yell at them, so we're doing this sportsmanship movement."
Putting the bags together
At that summit, they heard that some schools were giving gift bags to referees to show their appreciation for officiating their game and they decided to try that at Union Grove.
"We have brought it up to our students that we need to make sure that we're nice to the officials and that our parents are nice to the officials so that we keep having officials so that the kids could still do the sports that they love," Paskiewicz said.
Athletic Director David Pettit said "people don't understand what goes into officiating and feel that it's OK to scream and holler at them.
"We've been trying to get people to understand that there's not that many people going into the officiating business," Pettit said. "Therefore we probably need to start treating them better as fans and appreciate them more. And again, they're not making a lot of money."
The student athletes for girls and boys basketball, along with wrestling were each tasked with writing two hand written notes to the officials that go beyond a simple "thanks for officiating."
You have free articles remaining.
"That's kind of the best part," Sireno said. "They get a note from a student saying 'Thanks for all you do'… without them there wouldn't be a game."
Currently, the gift bags are funded with money from the teachers and students, and consists of snacks, gum and a bottle of water. In the past, officials only got water.
Sophomore swimmer Ashley Maier said the initiative is already having an impact.
"Everyone now is treating them more fairly and not yelling back at them as much as they used to," Maier said.
Principal Tom Hermann said he's received several emails and calls for officials, some from outside the state, thanking the school for what they're going.
"We have people in this building that we want to train up to be leaders, they have leadership potential," Hermann said. "But we need to do something. We needed to do something that was more forthright in terms of helping them grow as leaders."
Pettit said the school wants to make sure the officials know they are appreciated.
"We just want to make Union Grove a place where officials want to come and feel comfortable with and give our kids the opportunities they deserve," Pettit said.
Union Grove also hopes that more schools do similar acts to show the officials they're appreciated.
"I really hope other schools follow the trend because it's something really special that I think is needed," Paskiewicz said. "A lot of officials take away time from their family and their friends and their own lives to come out and let us still do the sports that we do, and they definitely need to have some gratitude toward them because there's not that many of them out there."
Coaching, officiating class
Starting in the fall, Union Grove will be offering a class to students called "Sports Education Leadership" to teach kids how to become coaches, officials, how to use the scoreboard and announce games.
"It will also, I think, bring some more respect toward their coach and toward the officials because they're going to understand how hard it is to make those calls and pick who's going to play and trying to make playing time evenly," Paskiewicz said.
The class will focus on football, basketball, volleyball and softball.
Paskiewicz said the school will also provide opportunities for students who want to get a job officiating or working as an announcer at games. The WIAA does allow for high school students to apply to become officials.
"It will also, I think, bring some more respect toward their coach and toward the officials, because they're going to understand how hard it is to make those calls and pick who's going to play and trying to make playing time evenly," Paskiewicz said.
"We have brought it up to our students that we need to make sure that we're nice to the officials and that our parents are nice to the officials so that we keep having officials so that the kids could still do the sports that they love." — physical education teacher Emily Paskiewicz
"We have brought it up to our students that we need to make sure that we're nice to the officials and that our parents are nice to the officials so that we keep having officials so that the kids could still do the sports that they love."

— physical education teacher Emily Paskiewicz