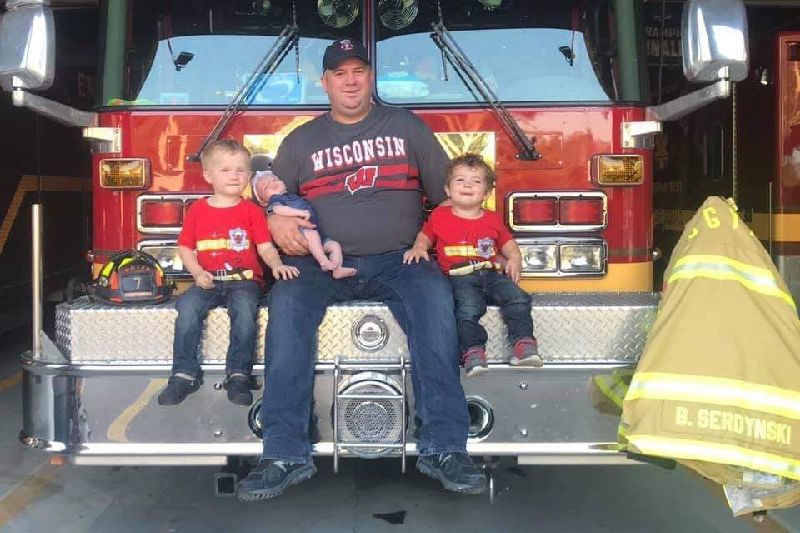 UNION GROVE — Brian Serdynski was a reliable and dedicated public servant, father and friend.
Those whom he leaves behind remember him as selfless, never complaining and for his commitment of a large chunk of his life to serving on the Union Grove-Yorkville Fire Department.
The Fire Department has a hole in its roster as the department's members are mourning the loss of one of their own. Serdynski died early Saturday morning at his Union Grove home, about two weeks after suffering a heart attack during an emergency call. He was 38.
"We lost an anchor in the department," Village Trustee Ryan Johnson, an assistant chief on the Fire Department and good friend of Serdynski's, said Sunday. "We lost an anchor in a friendship, and we lost a great man in our community."
Serdynski suffered the heart attack Oct. 19, was released from the hospital Oct. 21, saw his cardiologist last Wednesday and was cleared to return to duty, Fire Chief Tim Allen said Sunday. The death was a sudden and huge blow to the department, Allen said.
"Brian was always willing to do whatever you asked him to do," Allen said. "Always helped out whenever things needed to get done at the station or if we had some community event, he was always there to help. Never complained. I guess he was just kind of more like a big teddy bear."
Johnson and Allen were among the first responders called to Serdynski's home at about 2 a.m. Saturday. Serdynski's wife, Rachael, had begun CPR because he had no pulse.
Despite about an hour of effort, first responders from Union Grove-Yorkville and Kansasville were unable to revive Serdynski.
"We did everything we could for him," Johnson said, his voice wavering. "We gave him every medication we could give him, and he definitely didn't give up right away. Every time that we thought we needed to stop, he gave us a sign that he was trying to come back, and we continued to work."
Family, friends
Johnson said he and Serdynski had become close friends over the years. Serdynski was previously on the department, took some time off and then came back five years ago.
"He was all about giving to everybody," Johnson said, recalling how he would bring his own children to Serdynski's house during trick-or-treating. "While they had the small handful that they would give away to other kids, my kids always had a big bag waiting for them."
Because Serdynski suffered the initial heart attack while on an emergency call, Serdynski's passing is being considered a line-of-duty death, Allen said.
Serdynski leaves behind his wife and three children under the age of 4, Allen said.
"Rachael and the kids were his life," Johnson said. "I couldn't even tell you how long Rachael and him had been together, but that family just meant so much to him."
"Show support for the family," Johnson said. "Money's going to be a huge help, but showing support for Rachael, the family, the kids, the family of the Union Grove-Yorkville Fire Department — we're all in a difficult time here. … We're a small town. We all feel these things; we all grieve these things together."
Get local news delivered to your inbox!
Subscribe to our Daily Headlines newsletter.