RACINE — Racine Unified's community service fund has nearly quadrupled in the last year, with the district showing a willingness to spend more on services that benefit the whole community. But there's a $5.2 million price tag on that.
Racine Unified's community service fund has increased from $1,474,696 in 2017-18 up to $5,222,945 budgeted in 2018-19, $5 million of which is coming from property taxes. Only $1.1 million in property taxes was put toward the CSF in 2017-18.
A community service fund — also known as Fund 80 — can receive revenues from a tax levy set by the district with few restrictions on how much can be taxed, making it easier to finance than other parts of the budget. However, community service funds can only be spent on services that benefit the community as a whole — the funds can't be used solely on programs for students enrolled in RUSD.
"Fund 80 is used to account for activities such as adult education, community recreation programs, elderly services, preschool programs, et cetera," explained Shannon Gordon, RUSD's chief operating officer.
Besides adult education programs, this includes family-engagement initiatives, the community mental health program, some custodial costs and public athletics programs.
"We absolutely believe it benefits the community to support all families, not just our RUSD families," said Stacy Tapp, RUSD's chief of communications and community engagement.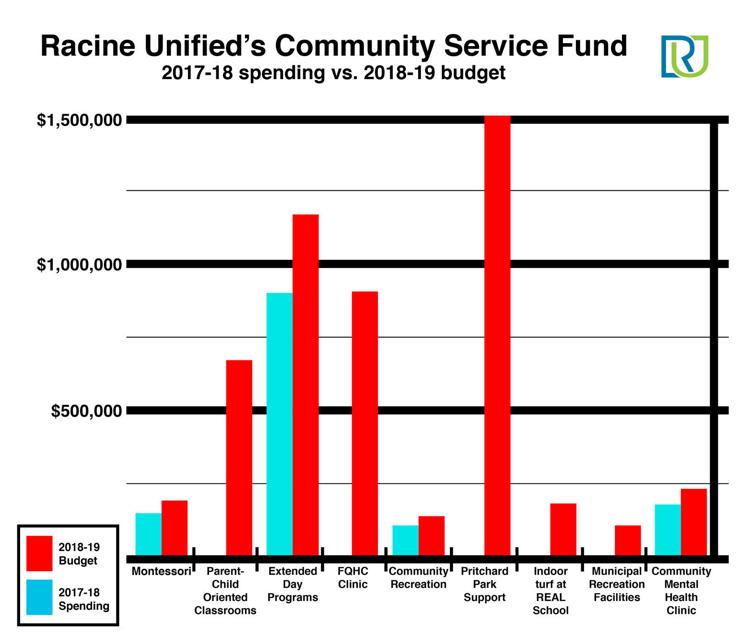 Why has the levy increased so much?
There used to be a maximum on how much a district could put into its community service fund, but that restriction was removed five years ago. Racine Unified hadn't really taken advantage of that freedom until its most recent budget.
The causes of the ballooning of Racine Unified's CSF are threefold, according to Unified Chief Financial Officer Marc Duff:
1. New projects, which is the biggest contributor.
2. Dwindling federal aid.
Although Duff had expected the district's total property tax levy to drop nearly 3 percent (from $10.02 per $1,000 of assessed value, down to $9.72 per $1,000 of assessed value) ahead of the 2018-19 budget, it fell by only 0.2 percent (down to $10.00). The difference between the estimated savings and the real savings for taxpayers, on a $100,000 home, would be $28.
Duff blamed this lack of a dip, in part, on the district's $1.5 million contribution to the planned Pritchard Park sports complex, which is the largest single addition to the district's CSF this year.
Also contributing to the sharp uptick are new undertakings such as the $175,000 budgeted for new turf at the REAL School Sportsplex; the $900,000 for a federally qualified health center; and $665,047 for Parent-Child Oriented Classrooms, where parents spend one day a week with the teacher and their pre-kindergarten-age children.
"We think it's exciting that many of them are new initiatives," Duff said. "I think we wanted to pursue the use of the Community Service Fund to meet a number of the community needs, set up more partnerships, provide greater opportunities to the community for different programming and then, in addition, start more of our partnerships within our different municipal governments."
Federal funding has been rolled back too, according to Duff, which forces Racine Unified to foot bigger bills in order to keep alive programs already in place.
For the 2017-18 school year, Racine Unified spent $894,096 on its extended-day programs — i.e., before-school/after-school programming. $1,162,062 has been budgeted this year, an anticipated 30-percent increase that Duff mostly blames on the district having to compensate for shrinking federal grants.
"For a while (after-school programs) were funded by federal grants, and some of those are phasing out. And so we've funded our after-school programs … through the Community Service Fund," Duff said.
It's a similar story with funding Montessori pre-kindergarten education. Last school year, $140,286 was spent on this program. In 2018-19, RUSD anticipates spending nearly $185,000.
"What many people don't understand is our Montessori school starts at age 3," Duff said. "The state does not have a structure to support education in kids at age 3, so they don't aid us for it."
Without Fund 80, Duff said, keeping these programs going would be impossible without sacrificing something in the classroom.
"We don't have the resources within our general fund, because otherwise we'd have to cut things in the classroom to be able to fund (programs) outside of the school day," Duff said.
Several Racine Unified employees have said they expect this level of community spending to continue, both as a result of new projects and a refusal to cut back on ongoing offerings, despite rising costs.
At a School Board meeting Monday, Gordon said that the district is in talks with multiple "community partners" on potential new projects, although the details can't be shared yet. She hopes announcements on these projects will be made in June.
"We are exploring community partnership space opportunities to help expand the community schools model (already in place at Knapp Elementary)," she said, "and we're looking at other recreational opportunities where we see a barrier (for some community members)."
Putting soccer fields in areas where there aren't such facilities already is among the ideas that are being kicked around, Gordon said.
"The whole community is stronger when we work together in partnerships. So when we can partner with the county or City of Racine, it's a win-win for the families," Duff said. "It helps the whole community, and being a partner in that, I think, is important."
"I think, especially right now, with the economic developments and everything happening to move Racine forward, we all can see the benefits of partnering and working together to improve the entire community," Tapp added.
Comparisons
Of the districts in southeast Wisconsin, Racine Unified is the most willing to use its Community Service Fund — excluding Milwaukee Public Schools, which at 75,000 students has an enrollment more than four times that of Racine Unified (18,555 students).
The revenue for the MPS Extension Fund is more than $27 million, with $20 million coming from a tax levy. The largest spending slice out of that fund — $11 million — went into "playgrounds and facilities" in 2017-18. Another $2.5 million went to summer programs, $3.3 million was put into recreation facilities and $1.5 million was devoted to the MPS Partnership for Arts and Humanities.
Kenosha Unified's and Racine Unified's CSFs had mirrored one another over recent years, until RUSD's rose sharply in its most recent budget.
In 2017-18, Kenosha's CSF levy was approximately 36 percent bigger than Racine's — KUSD currently has about 25 percent more students than RUSD. But in 2018-19, KUSD's CSF levy of $1.5 million is less than one-third the size of RUSD's $5.2 million.
Kenosha Unified hasn't considered an increase of that scale out of fear of abusing its tax levy capability, according to KUSD Chief Financial Officer Tarik Hamdan.
"We have not looked at adding something like that," Hamdan said. "Fund 80 is a little bit of a tricky thing … ultimately, you're beholden to your stakeholders."
The School District of Beloit is considering levying its Fund 80 for the first time to start some youth sports programming, but doesn't use it at all right now.
The Burlington Area School District isn't currently levying for its Fund 80, BASD Superintendent Peter Smet said. BASD uses other revenues, like fees to join out-of-school programs, to fill its CSF. Burlington's total Fund 80 expenditures hover at about $190,000 per year.
The Union Grove High School District levied between $50,000 and $100,000 yearly between 2001 and 2012, but doesn't anymore, save for $100,000 for the 2014-15 budget. The money in the fund is used for lighting athletic fields during non-school events and staffing the fitness center during public-use hours, UGHS Superintendent Alan Mollerskov said.
"It's pretty limited," Mollerskov added.
Case High pool
The idea of using Fund 80 money to pay for a new pool at Case High School — a multimillion-dollar topic that has been a thorn in the side of Racine Unified's budget for years preceding the pool being declared unsafe in fall 2018 — has been suggested. However, a state Department of Public Instruction spokeswoman said doing so could be a headache.
If Fund 80 money is even partially used to fund the construction of a pool within a district school, then the pool would need to be open to the public to some extent.
One option would be creating a new community facility that Racine Unified students would have access to, but Tapp said decisions on rectifying the Case pool situation are likely still a long way off.
"We absolutely believe it benefits the community to support all families, not just our RUSD families."

Stacy Tapp, Racine Unified spokesperson
Get local news delivered to your inbox!
Subscribe to our Daily Headlines newsletter.