RACINE — Donaisha Bell wants to be a firefighter.
The 18-year-old single mother hopes firefighting will be a stable (albeit occasionally dangerous) career with steady income and good benefits — good enough to support herself and her 2-year-old son, Za'karion. She plans to start taking classes at a community college next year.
In the past two weeks, Bell has taken on two jobs, working part time at a daycare and full time at an assisted living facility. But she's still living in an overcrowded shelter.
Racine's homelessness problem hasn't gotten any better.
There have been more people living at the city's primary homeless shelter, Homeless Assistance Leadership Organization, 2000 DeKoven Ave., than ever before. Plans to stem the tide are flying around at state and local levels, but there's no silver-bullet solution.
Ending up homeless
The overarching problem here is easy to identify but has proven nearly impossible to correct: a lack of affordable housing.
It seems like that has always been the problem, said Ron Thomas, a former alderman who has been a leader in Racine's homelessness initiatives for nearly 30 years. He is president of the Homelessness and Housing Alliance of Racine County, one of Wisconsin's four Continuums of Care, which coordinates homeless services in Racine County.
"It seems like it's been a problem for decades. Affordable housing, working with landlords, et cetera; it all ties in," Thomas said. "If we can get the affordable housing that's there, then we can get more people off the streets."
HALO staff said that families, primarily single mothers with kids, kept showing up at the shelter throughout the summer when they didn't have any other place to go. Usually, HALO is only over capacity during the winter.
There's a fear that summer rushes could become the new normal.
Bell, along with her mom and Za'karion, left their duplex in early 2019 because they couldn't afford rent and didn't want to get evicted.
After living with a family friend for a few months, Bell and Za'karion left because "it was a bad situation."
They've been living at HALO since August. It's the second time Bell has been homeless.
"I've been by myself since March," said the teenager, who was still able to graduate from Park High School in June.
On top of her two jobs, Bell has a side hustle of beautician work: mainly dyeing and styling hair, along with doing makeup, for friends and acquaintances. But her income is still below what would be needed to secure stable housing without government aid.
That's why the native Racinian is packing up and moving to Waukegan, Ill., about 25 miles south, where she can hopefully get help.
Finding a home
In April, Bell applied for a housing voucher in Waukegan, and her name was entered into a lottery. On Oct. 4, her name was picked. Through the voucher, she'll be responsible for spending about 30% of her monthly income on rent, with the federal government covering the rest.
Despite having always lived around Racine, Bell is going to move. She needs a place to live, preferably not in a shelter.
Her case manager once told her: "You have the mindset. You really want to go somewhere. You don't want to be in this situation."
"I'll be OK," she said, sounding fearless. "My mind is set to be something."
But, for the moment, Bell and her son are still homeless. And they're far from the only ones in that situation.
Another story
Kenyatta Gibson, 44, arrived at HALO in midsummer with five of her children and one grandchild, ages ranging from 2 months to 17 years old.
Gibson is from Madison. She moved to Racine earlier this year to be closer to family, but "it didn't work out," she said. "If I'd known the things I know now, I never would've come."
Working five days a week as a caretaker at a nursing home, Gibson uses her free days to try to find someplace big enough for her family that she can afford. So far, no luck.
"There's no help," she said.
A lot of the stories shared by HALO's new arrivals have similar threads: They were escaping a bad situation, couldn't make rent and didn't want to get evicted; they actually were evicted, or didn't have any family members who could support them.
"When you've got individuals who have been evicted once or twice or whatever, it is difficult for them to find housing. And then where are you going to go?" Thomas said. "If you've got a vehicle, you're going to live in your vehicle. Otherwise, you're going to quite possibly end up on the street — unless there's a family, a friend, a neighbor or what-have-you."
Gibson has one eviction on her record, but Bell's record is clean. And neither has a criminal history in Wisconsin, court records show.
Not enough room
In mid-September, 183 people were living at HALO; the shelter's maximum capacity is supposed to be 120. Between the second week of May and beginning of October, it was over capacity for an unprecedented 20 consecutive weeks, putting a strain on resources and space. Thomas called the situation "a crisis."
The shelter didn't even have enough spare cots to give everyone a somewhat-comfy place to sleep.
"There's just not enough room for everybody," said Client Support Specialist Jeanette Fiorita.
On the morning of Oct. 4, only about a dozen people were in the building, excluding staff and volunteers. Most everyone else was at school, work or looking for work.
A wide hallway on the men's side was lined with plastic tubs and overstuffed garbage bags. There hasn't been enough room in the normal storage space, so guests' personal items have to be stored out in the open.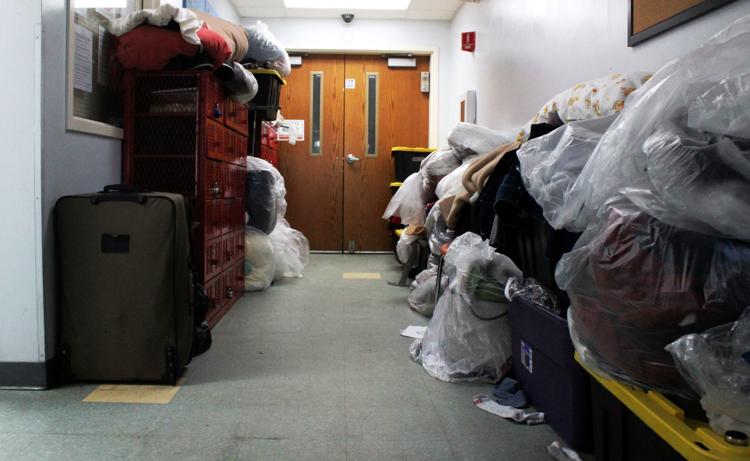 A couple of men lounged in front of the TV, watching an Adam Sandler movie. One man napped in a wheelchair. A couple of voices could be heard echoing from inside the bathroom. A young mother napped on the couch with her baby across her belly. A woman, in so much pain due to a medical condition she could barely walk, wondered out loud why the hospital released her.
The case managers do what they can but now have more cases to manage and fewer homes to put clients in. The landlords who are friendlier to tenants with red flags —criminal record, eviction history, unstable job situation, etc. — tend to have their properties filled more quickly.
"We're just waiting on places," said Bob Sus, HALO's shelter coordinator. "If they have anything on their record — an eviction or anything — it's almost impossible to find a place."
Get local news delivered to your inbox!
Subscribe to our Daily Headlines newsletter.