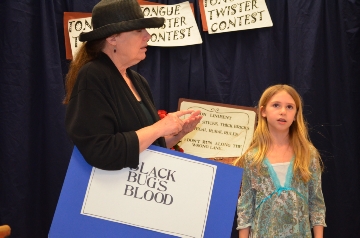 BURLINGTON — Nine-year-old Delaney Schampine stared up at the ceiling in concentration on Saturday, her eyes blank but squinting slightly.
She took a deep breath and then began repeating the phrase "toy boat" over and over and over again.
Delaney said it 11 times before her mom called out "stop," not because she was annoyed but because time was up. Delaney had been participating in a tongue twister contest at Burlington's Logic Puzzle Museum.
The museum, located at 533 Milwaukee Ave., hosts the contest annually because tongue twisters are "a puzzle to solve with talking," explained museum Director Judith Schulz.
The contest has people say a single tongue twister as many times as they can in 10 seconds. If they mess up and their "tongue twists," they're done even if there is time left, Schulz explained.
"Some years we have 50 people. Some years seven," Schulz said. "We have fun no matter what."
Two people came Saturday: Delaney and her mom, Renee Krause.
Krause, a 43-year-old photographer, was tasked with saying "lemon liniment." It came out "lemon liminent" on her first try.
"It should not be this hard!" she said, laughing before trying again. She then made it through the phrase correctly seven times before fumbling her words.
Krause and Delaney, both of Trevor, each got prizes for taking part in the contest. Delaney won seashells, which Schulz told her she could "sell at the seashore." Krause got a jar of pickled jalapeños, to represent a "pack of pickled peppers," Schulz said.
The mother and daughter took part in the tongue twister contest on Saturday because they'd been planning to visit the Logic Puzzle Museum and its gift shop, complete with old toys, anyway.
"I wanted to show Delaney what I played with" growing up, Krause said. The contest was an added bonus.
---
Tongue Twisters To Try Out:
• Thin sticks, thick bricks.
•Don't run along the wrong lane.