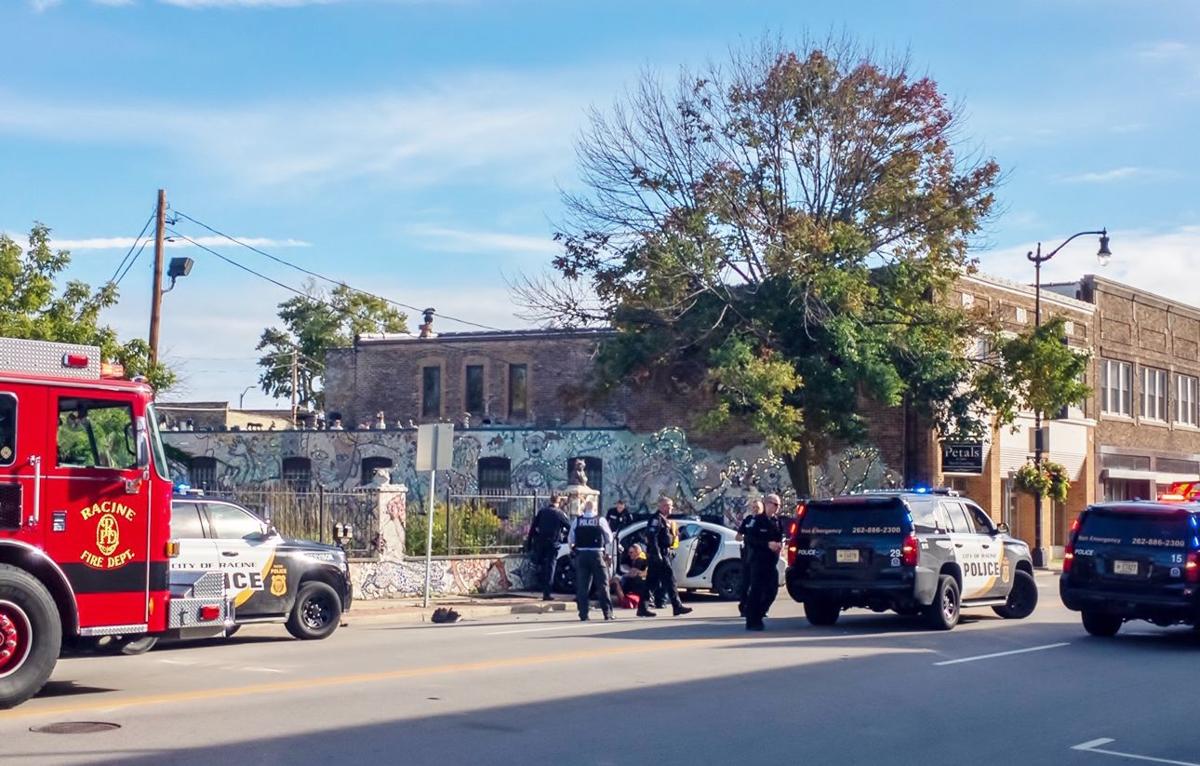 RACINE — At least three people were injured, one of them potentially seriously, after a suspect reportedly fleeing a traffic stop Friday afternoon crashed into two vehicles — forcing one into a building — and then struck a bicyclist in the city's Uptown area.
The suspect then crashed his vehicle into a wall and reportedly tried to flee on foot before he was apprehended and taken into custody, police said.
Police and fire units were dispatched just before 3:30 p.m. for a report of a car that hit the side of the D&D Vacuum store in the 1300 block of Washington Avenue.
A Journal Times reporter who arrived on scene shortly after emergency crews were dispatched observed a man lying on the pavement near a bicycle; a white Volkswagen Jetta crashed into the side of D&D Vacuum; and a Cadillac sedan in the intersection of Washington and 14th with damage and airbag deployment. A third vehicle was on the sidewalk south of Kabab and Grill, 1327 Washington Ave., where it had crashed into a wall.
The reporter said parts of vehicles were scattered all about the scene. Damage to the Volkswagen was described as severe and damage to the other vehicles was described as moderate to severe. The extent of damage to the structures was not known as of late Friday afternoon.
Racine Fire Department paramedics rushed the bicyclist to Ascension All Saints Hospital and gave a trauma alert to emergency room personnel. He was later transported to Froedtert Hospital in Wauwatosa, where police said he was being treated for non-life-threatening injuries.
You have free articles remaining.
Two other victims of the incident were taken non-urgently to Ascension All Saints.
According to a news release from the Police Department, just prior to the chain of crashes, Racine Police investigators had made a traffic stop a few blocks west on Washington and Memorial Drive. That driver, who witnesses said was operating a Dodge Charger, fled from police headed northeast at a high rate of speed and crashed into the vehicles that were turning west from 14th Street.
According to Carl Hodge, the driver of the Cadillac, he was waiting in his vehicle waiting to turn west onto Washington. A coworker was driving the Volkswagen and was in front of Hodge's vehicle when they were struck by the Charger. The impact sent the Volkswagen into the side of D&D. Hodge's vehicle stayed in the intersection.
The Charger then continued northeast, crashing a short distance away into a decorated wall just southwest of Kabab and Grill. Terry Scheckles, who co-owns D&D, said the driver of the Charger then left his vehicle on foot but he was quickly apprehended.
Police released no further information Friday but asked anyone with information about the incident to call the Police Department Investigations Unit at 262-635-7756 or anonymously via Crimestoppers at 262-636-9330.
Police had Washington Avenue closed between 13th Street and Ann Street while they investigated the scene.
Christina Lieffring and Pete Wicklund of The Journal Times contributed to this report.