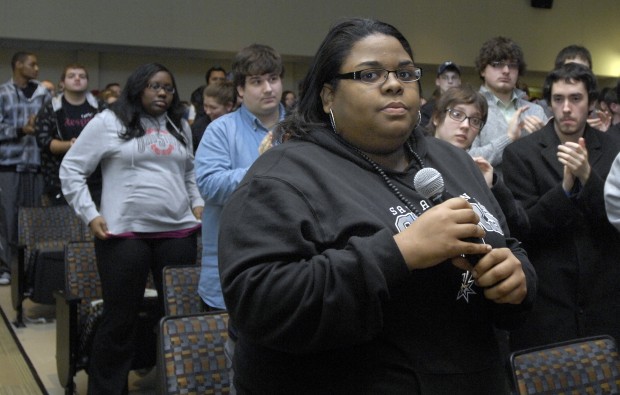 SOMERS — The recent threats against students at the University of Wisconsin-Parkside may have been  ruled  a  hoax by authorities, but the fear they sparked and underlying racial tension that surfaced are real, several students said Saturday.
"I think a lot of people feel like I should be relieved it's over, but it's not. Look at how scared everyone was. They traumatized people. They messed with people's lives," said 22-year-old Aubriana Banks from Beloit, a senior studying criminal justice and ethnic studies, who found a noose-like form of rubber bands Wednesday and reported it.
Then on Thursday, Banks reportedly received a threatening note and a second noose on her door, and things escalated that night when fliers listing several black students by name and threatening they were going to die in two days were found. The university, at 900 Wood Road, held all-campus meetings, heightened security and launched a criminal investigation.
On Friday, a student reportedly confessed to authorities that she created the "hit list" in order to draw greater attention to the issue. Authorities said her identity is being withheld for her protection and told students the threats were a hoax.
"The confession from the student does not mark the end of this story, but rather a continued emphasis on efforts to have our campus remain one that respects and celebrates diversity," Chancellor Deborah Ford said in a message to students.
Senior Diversity Officer Ed Twyman said previously in response to initial reports that incidents like last week's were not uncommon on any college campus.
Of the student body of about 5,300,  about 25 percent are students of color, according to Twyman.
You have free articles remaining.
On Saturday, The Journal Times talked to students on campus, some of whom still wore "No Hate" stickers on their foreheads.
Armani Peterson, a junior studying English, said he's still trying to sort through his feelings about what had happened but said, "I feel quite ashamed — not just for African-American students but for all youths in general — that someone would take the steps that they did to get the attention."
Expressing some concern about possible perception, a few students said one individual's actions do not reflect the entire community.
"Don't classify me just because of what one black female did," said Jasmine Anderson, a junior studying physical therapy.
Several students believed the incidents were catalysts that brought to surface racial undertones that had already been there, echoing similar comments others had made Thursday during all-campus discussions.
"We already knew about stuff like this on campus," Peterson said.
There were and still are racial tensions not just on campus but also in the community, said Aaron Clutter, a first-year transfer student studying digital arts. Then, after the incidents on campus, it became more palpable, he said: "There was almost like a social awkwardness."
Rather than play "the blame game" or point out people's races, students appealed for the community to really come together.