SOMERS — Leslie Maj saved up for about 10 years to afford to move to her rural home in Mount Pleasant, just west of 56th Avenue on the north side of Highway KR.
Now, after living there for less than two years, she feels she is being forced out as the Wisconsin Department of Transportation moves forward with its plans to widen Highway KR.
"They're taking it all from us," Maj said.
Maj was one of about 170 area residents who attended a public hearing Thursday evening at the Somers Village Hall about a widening of Highway KR from 400 feet east of Highway H to just east of Old Green Bay Road, a total area of about 2.8 miles. The DOT project would replace the existing two-lane rural road with a four-lane urban road.
As the project is currently planned, 68.9 acres of residential and agricultural land would need to be taken through eminent domain to make room for the expansion. More than two dozen property owners stand to lose land to the project, with most of the land being on the Racine County side of the highway. Additionally, four homes and one business — all in Mount Pleasant — would need to be torn down.
Thursday's meeting was the first time residents were able to make verbal and written comments about the project to go into the public record. They were also able to make statements in private with a court reporter.
Maj's house is currently about 250 feet from the highway, she said, and the DOT estimated about 200 feet of her yard would be taken for the project. But getting that number was not easy, she said, because DOT representatives have been "very, very cagey and not very transparent" about how much land would be taken.
Retired couple Everett and Crystal Fink, who could lose a portion of their 10-acre Mount Pleasant property to the project, said they could not get a straight answer of how much of their land will be affected either.
"I don't know — you look at these maps — I'm no map engineer, designer," Everett Fink said. "When you see a line, is it 10 feet?"
Landowners may not know exactly how much land is being taken until the final project plans are released in late March or early April, said Brett Wallace, director of DOT system development for the Foxconn Technology Group project. Racine and Kenosha counties are responsible for acquiring the land and will make offers to property owners later in the process, he said.
Project plans
The KR improvement project is not just to add two additional lanes. There would also be a bike path, left turn lane, median, railroad overpass and frontage road. In all, the project carries a projected cost of $59 million, to be shared by Racine and Kenosha counties and the DOT.
You have free articles remaining.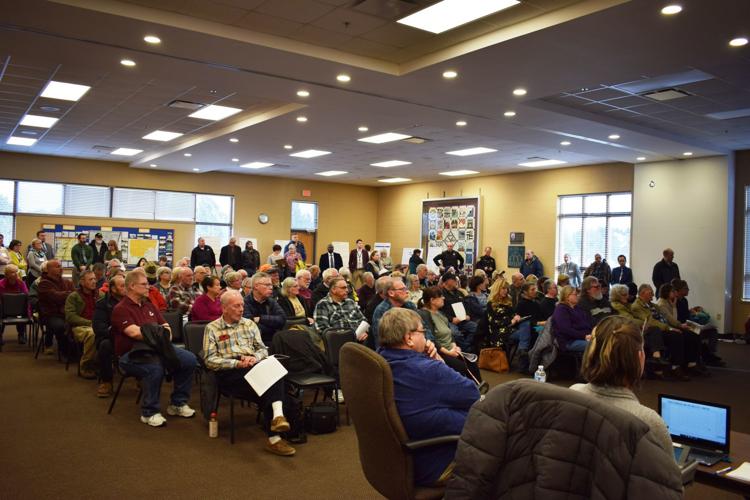 Road safety is a chief concern for the DOT with the project. The existing roadway handles 9,000 to 9,500 vehicles per day, according to DOT estimates, and that number is expected to double by 2042. The project area has no bike or pedestrian paths, and there is a high rate of car crashes in the area — 140.2 crashes per 100 million vehicle miles, while the state threshold is 115.9 crashes per 100 million vehicle miles.
Construction is expected to begin in mid-2020 and last through most of 2022.
The expanded highway could lead to a loss of some of the area's rural charm as more traffic passes by, said Todd McCrossen, who has lived on the Mount Pleasant side of the road for four years. He and his wife stand to lose about half of their front yard.
"If they build it up and put more lanes in, it's going to get busier," McCrossen said. "We moved here for the quiet. Even on a busy day, it's quiet."
Public comments
Ten area residents gave public testimony at Thursday's hearing, all of them speaking against the project and many urging the DOT not to do the project yet because of uncertainty surrounding the Foxconn development. Each speaker earned a round of applause from the audience.
Jeannine Brokmeier of Somers started a petition for the DOT to put the project on hold until the Foxconn project pans out more. As of 6:30 p.m. Thursday, 51 residents had signed the petition.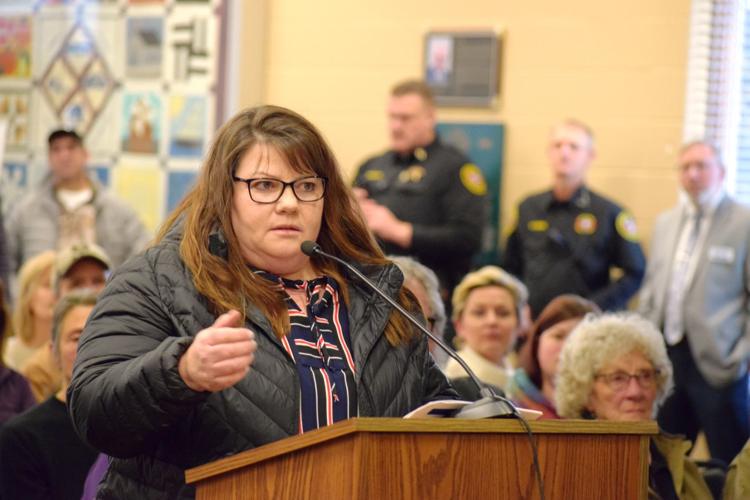 Kimberly Mahoney, a Mount Pleasant resident who lives in Foxconn Area 1 and fought the village's eminent domain claim of her house, spoke and encouraged residents affected by the Highway KR project to hire attorneys.
"These people who have been hired by your village or your town or the county are pros," Mahoney said. "They will lie to you, they will bully you, they will throw out statutes and a lot of times it's not true."
One man, Tom Miller, said his family would lose 10 acres "if we're lucky."
"With the power of eminent domain, what power do we have?" Miller said.
"With the power of eminent domain, what power do we have?" Tom Miller, landowner on
Highway KR
"With the power of eminent domain, what power do we have?" 

Tom Miller, landowner on Highway KR