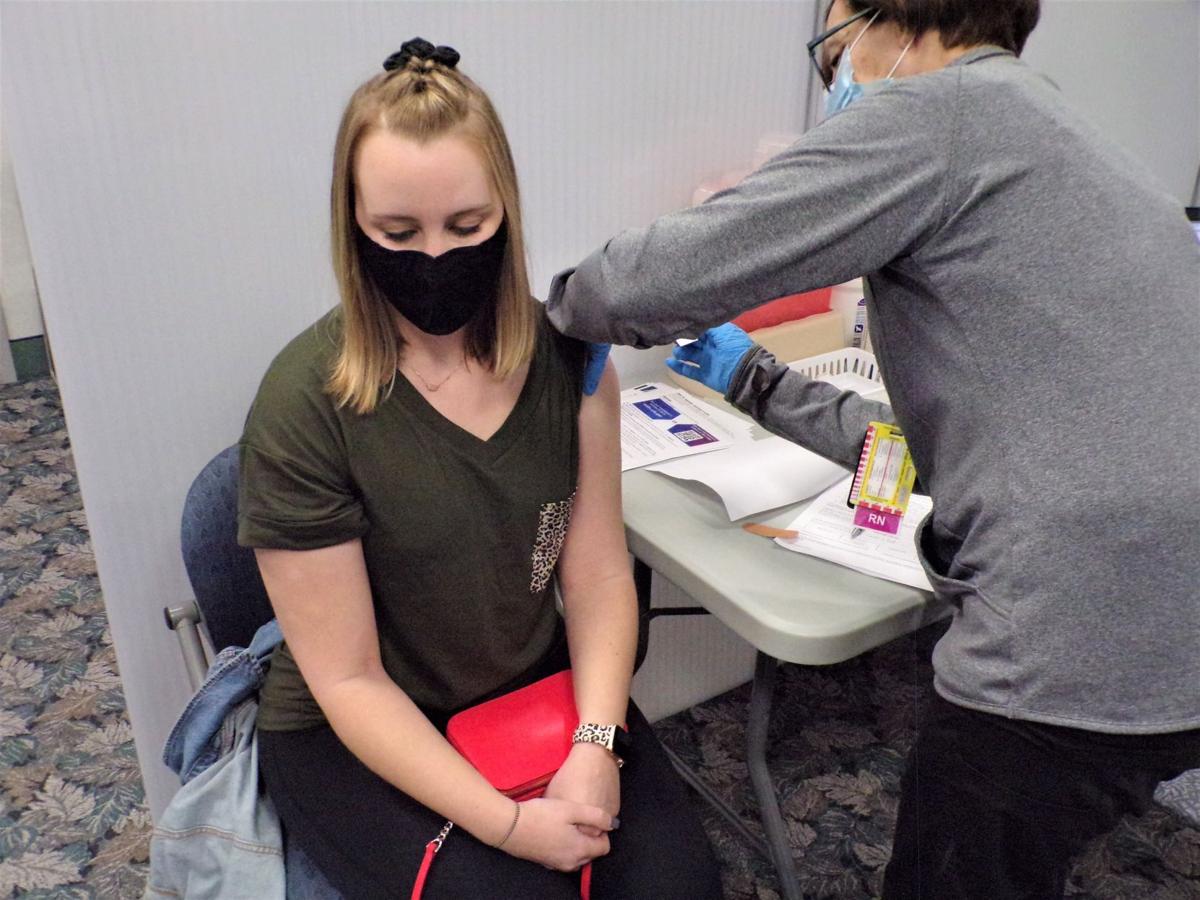 RACINE — "Fifty seconds," said Christine Emmons, teacher at Horlick High School, as she counted down to zero on her phone's timer in the waiting area of the vaccination clinic at Ascension All Saints Hospital.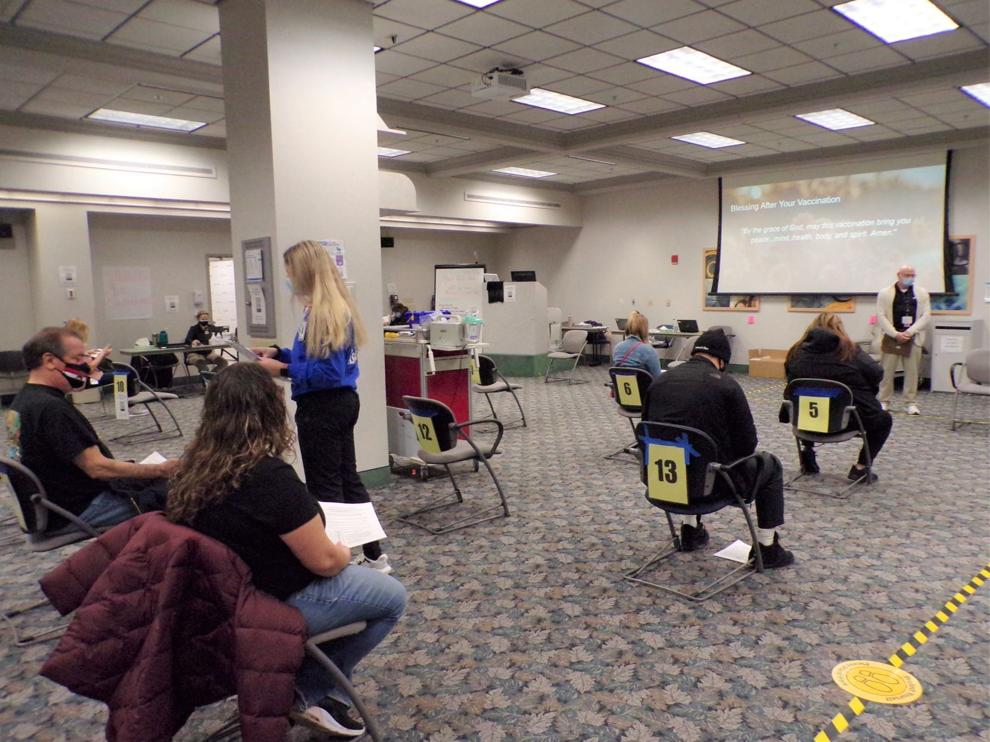 She and her husband, Chad Emmons, who also teaches at Horlick, had been waiting for nearly 15 minutes — the allotted observation time after getting their vaccines for physicians to monitor them for any significant adverse reactions, which remain rare.
They were among almost 400 teachers and school staff members in the area who made appointments to receive their vaccine on Saturday at All Saints, 3801 Spring St. The clinic was open from 7 a.m. to 5 p.m.
"Everyone's been very happy," said Margaret Hennessy, pediatrics physician at All Saints who was there at the clinic. "It feels like the beginning of the end. Getting vaccinated is something you can do when you feel so helpless."
The Pfizer vaccine was distributed Saturday. No one who received the vaccination had to pay for it out of pocket, Hennessy said.
"I've heard stories of, 'My parents have been vaccinated, now it's my turn, and I can finally hug them again,' " said Melissa Fisher, All Saints director of operations. "Feedback has been positive."
'Good to be reassured'
There were several booths for patients to receive the vaccine. In the far corner, pharmacist Kevin Petersen prepared doses to give away.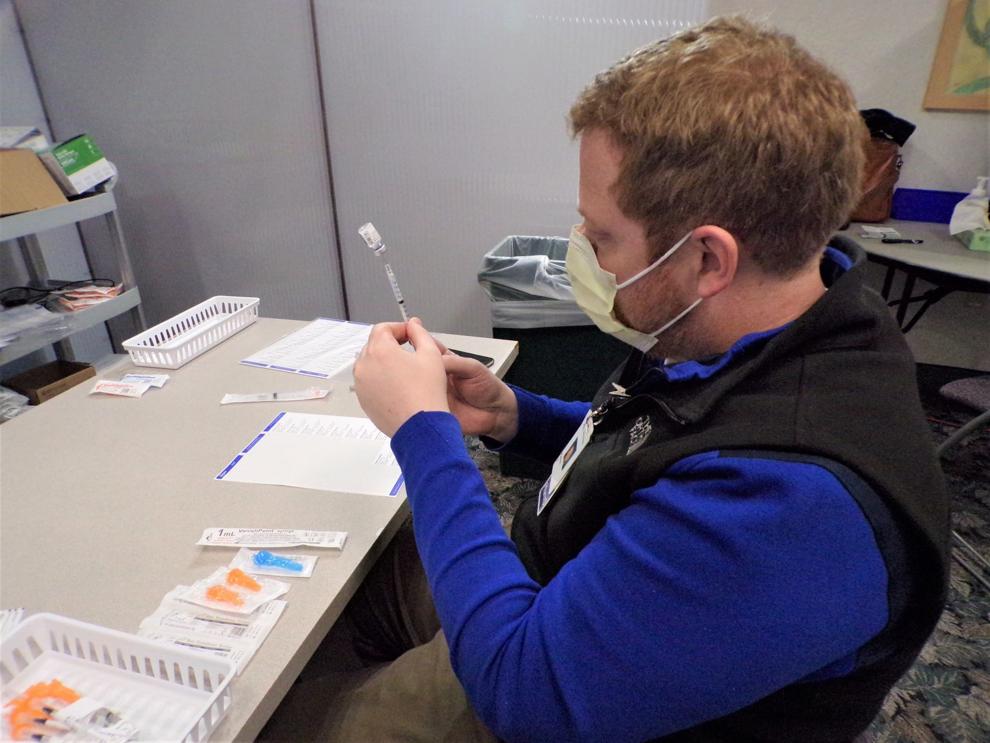 "It has to be exact, otherwise you could risk losing doses," Petersen said as he measured out the vaccine. "There's more steps and more regulation."
He added that it takes him around 10 minutes to fully squeeze six doses from one Pfizer vial — which were originally predicted to have only five doses each but actually had just enough for six, significantly extending vaccine resources.
But the teachers and school staff members who were receiving the vaccinations were excited and pleased there was almost no wait.
Susan Hetchler, who works at the cafeteria at Mitchell School, said it's nice to be back. She is getting the vaccine "to stay healthy."
Hetchler, 55, said her getting the vaccine is another way to not spread COVID-19 to others, and also to not get it from others.
Bailey Lundy, a fourth-grade teacher at Gilmore Fine Arts, said she felt good after getting the vaccine.
"We're all trying to end the pandemic so we can all be face-to-face with our kids again," said Lundy, 24.
Andrew Lee, a fifth grade teacher at Wadewitz Elementary School, said he wanted to continue working to get all of his students back together.
"Getting vaccinated, it was the responsible thing to do," Lee, 44, said.
Receiving the vaccination was also a relief for Michael Patt, 58, a custodian at Horlick High School who has health conditions.
"It's good to be reassured that you're less likely to catch it (because of the vaccine)," Patt said. "I'm still going to wear my mask and be safe."
Christine and Chad Emmons were scheduled to get the vaccine at about the same time, Chad said.
"We do the flu shot together, this is nothing different," he said.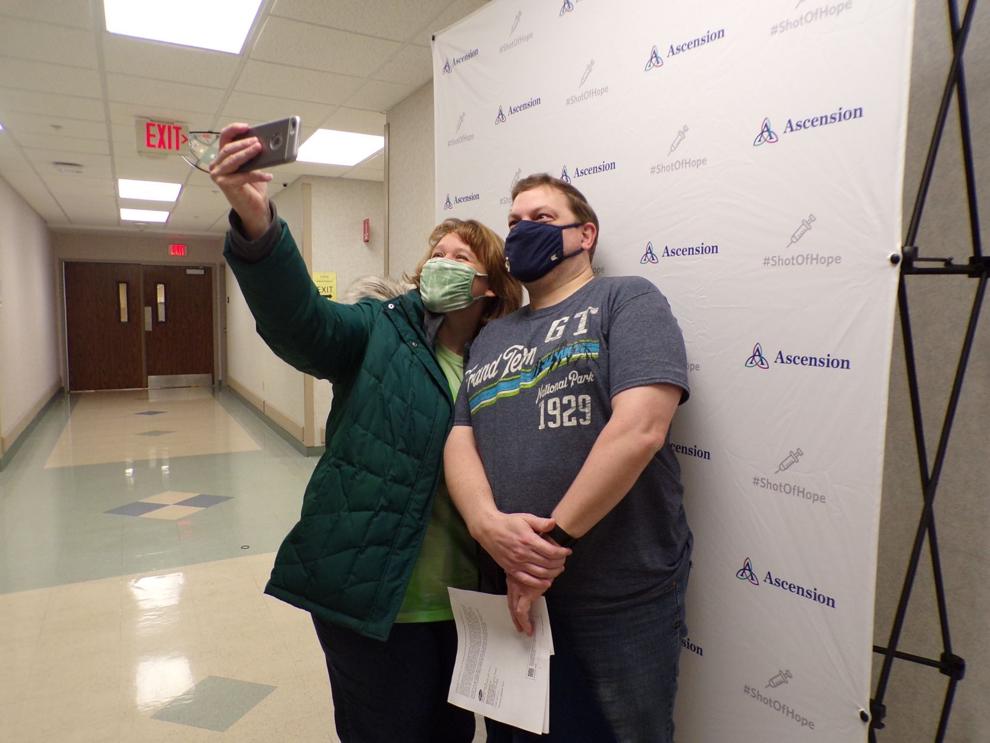 When they finished up, All Saints had a small background in the exit hallway of the clinic for patients to take selfies. The Emmonses headed straight to it.
"I'm smiling under here," Christine said as she snapped a selfie with Chad.