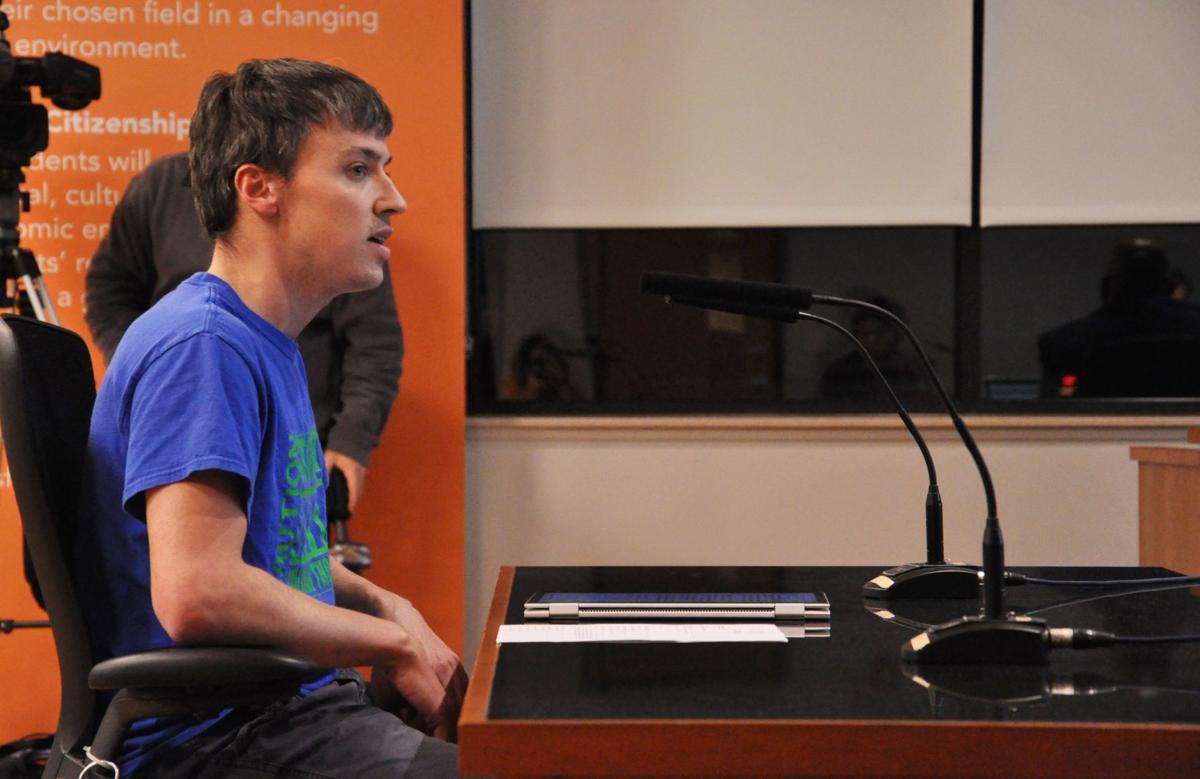 RACINE — Concerned parents and teachers spoke directly to the Racine Unified School Board on Monday, voicing their frustration with the movement of principals between three of the district's schools.
The shifting of principals last month, between Julian Thomas Elementary, Mitchell K-8 and Goodland Elementary schools occurred shortly after more than 70 teachers at Mitchell filed a grievance alleging students were out of control, and that there had been violent incidents against staff.
Due to the district's middle school transformation that took place this fall, Mitchell has about 300 more middle school students this year than it did last year. The grievance claimed the school doesn't have the staff to adequately handle all of them.
Five people spoke about the principal swaps, and others in the audience were evidently there to support those who spoke.
Goodland Elementary School teacher Sonali Knotek spoke during Monday's School Board meeting of the impact made by moving former Goodland principal, Janet Colvin, to Julian Thomas on short notice. Colvin replaced Demetri Beekman, the former Julian Thomas principal, who was moved to Mitchell to replace its former principal, Esteban Malacara. He will take Colvin's spot at Goodland.
Knotek said Goodland was identified by the state as a failing school seven years ago, and since then millions of dollars have been spent to turn it around. She said Colvin's presence over the past three years gave the school some stability after it had gone through several principals in a short time prior to that.
"This was abruptly and unceremoniously stopped three weeks ago, and now we are on to the fourth principal in seven years," Knotek said.
To prevent actions like this in the future, Knotek said that Racine Educators United, the union representing the district's teachers and teaching assistants, is asking the district to publish standards showing how it will take into account the interests of students, parents and staff members when considering principal reassignment.
Travis Eales, a teacher at Julian Thomas, said the district administration owes the public an explanation for how the principal swap benefits each of the three schools.
You have free articles remaining.
"Why did this happen?" Eales asked. "About 2,000 students and all of their families were affected by this decision."
Parent concerns
Steve Avila, parent of a student at Julian Thomas, said the school had been getting stronger with Beekman at the helm.
"We stuck around because of Beekman," Avila said.
He said he hoped to see Beekman come back to Julian Thomas, but acknowledged that probably wasn't realistic.
Test scores at Julian Thomas have increased every year since Beekman became principal there in 2015, and several teachers who spoke to The Journal Times in October attributed those results to Beekman.
Last week, Unified spokeswoman Stacy Tapp confirmed that Unified hopes for a similar turnaround at Mitchell, with Beekman at the helm.
Nancy Hernandez, mother of a Mitchell Middle School student, said the movement of the principals has interrupted the consistency that is a key to student success. She said the move of Malacara, the principal from Mitchell, ripped an adult who had gained the trust of some of the students out of the school.
"With the recent events that have been happening over at Mitchell School, parents are concerned about their children's personal safety," Hernandez said.
She opined that the issues at Mitchell could have been dealt with without moving the three principals.
Superintendent Eric Gallien did not respond to any of the public comments during Monday's meeting.