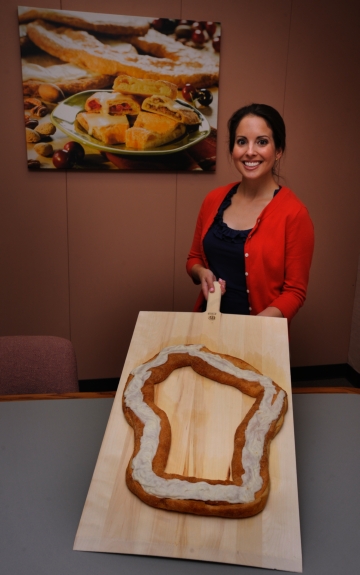 RACINE — As of last Sunday, it's official — kringle is now the state pastry of Wisconsin.
That title sounds delicious to Cindy Bendtsen, whose family owns the 3200 Washington Ave. bakery of the same name.
"It's an awesome thing," she said. "I've been telling customers, 'Did you know this is happening?' And they're like, 'Well, it's about time!' "
With Bendtsen's Bakery coming up on 80 years in business, Bendtsen agrees it's high time that Racine's well-known treat gets officially recognized statewide. And like several other area bakers, she said, Bendtsen's has an eye on how to integrate "state pastry" into their marketing strategy going forward.
The new title got added to the state budget last month by Racine Rep. Cory Mason, a Democrat, who hoped his fellow legislators would have a taste for compromise.
He was right. Despite being a non-fiscal item put forward by the minority party, naming the state pastry was one of few items to win resounding bipartisan support in an otherwise-contentious budget process.
Mason has also said carefully chose the "state pastry" title, so the kringle doesn't compete with Wisconsin's proposed state dessert, the cream puff.
Gov. Scott Walker signed the kringle's new title into law last Sunday in Pleasant Prairie, where local bakers from Lehman's, O&H Bakery and more were on hand to give the governor and others a taste of the newly titled treat.
"We did go down and presented kringle to the governor while they were signing the budget," said Mike Haney, general manager of Larsen's Bakery, 3311 Washington Ave. "It is very cool, and we're very proud, as far as a bakery in Racine being represented."
Haney, like other area bakers, sees the possibility for new marketing strategies now that the already popular treat has gotten official statewide recognition.
"It's hard to tell now, but I would think that, yeah, on our website, some of our marketing — I think it will (be part of advertising and branding)," he said, when asked. "I don't think it will be an immediate change, but I think that over time it will be."
O&H Bakery is already trying to capitalize on the pastry's new statewide status.
Step one? Bake a giant, cream-cheese kringle in the shape of the state.
"We had some fun with it," laughed O&H co-owner Eric Olesen on Monday.
Although they don't know how far they'll take the new "state pastry" title yet, the bakery is already launching a contest where in-store O&H customers could win one of the large, "party-sized" Wisconsin-shaped kringles, Olesen said.
O&H debuted the celebratory confection at the budget-signing last Sunday.