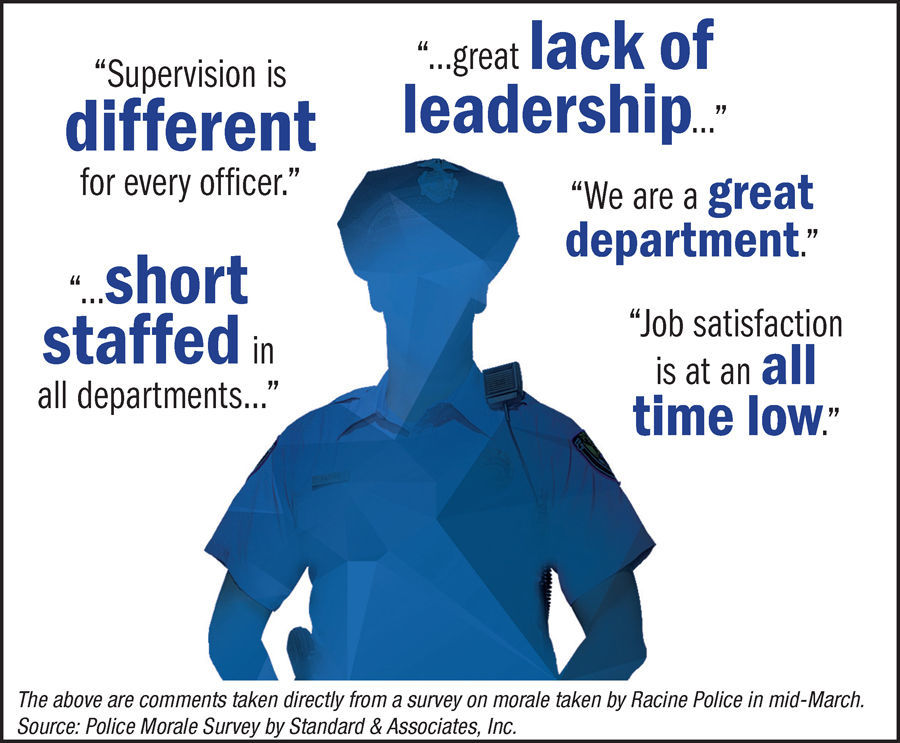 RACINE — Poor morale and lack of leadership came up as two of the biggest issues facing the Racine Police Department, according to a survey completed earlier this year that was recently released to The Journal Times.
The survey was conducted in mid-March, about two months after the fatal police-involved shooting of Donte Shannon. It was completed at the request of the city's police unions: the Racine Police Association, representing officers; and the Staff Officers Association, representing supervisors. The results show that "absolutely horrible" morale was a frequently identified issue.
Union officials declined to talk to The Journal Times directly but answered questions about the survey through the state's police association.
Jim Palmer, executive director of the Wisconsin Professional Police Association, said the police unions wanted to gain insight about the struggles the department faces in attracting and retaining officers.
"The two associations intend to use the survey results, which they have only begun to process, as a collaborative tool to help develop long-term competitive strategies to attract and retain officers and otherwise enhance the city's overall capacity to keep the community safe," Palmer stated.
He said the police associations funded the approximately $6,000 survey.
It was conducted by Chicago-based Stanard & Associates. The survey consisted of 103 questions spanning 18 categories. Although officers shared some positive feedback, they also complained about management, working conditions and overall department morale.
The Journal Times reviewed only an overview about the survey results. The full report was not given to The Journal Times.
Howell responds
In response to the survey results, Racine Police Chief Art Howell said in an email that his management team was continuing to review and process the information in the report.
He also said, "While I do not wish to question or otherwise challenge the integrity of the survey process at this early stage, a number of process-related questions should be reviewed and addressed in advance of drawing conclusions associated with the data contained within this report."
Howell went on to say that "in the spirit of reflection" he has taken the first steps toward having an external management study conducted by the International Association of Chiefs of Police. The City Council would need to approve funding for the study, which Howell said he feels would help the department. No cost estimate was provided.
Survey comments
Officers provided mostly positive responses to questions about community policing, labor relations and working with their fellow employees. According to the results, 73 percent of respondents provided favorable feedback about community policing. About 85 percent agreed they could count on their co-workers and feel free to communicate with their union representative.
"A number of participants affirm that they are 'honored' and 'enjoy working with (their) fellow employees,'" the overview states.
On other topics, however, officers' feedback was more negative.
About 67 percent of responses regarding working conditions were negative, and 73 percent of feedback about compensation was unfavorable — something Howell said he worked with officials on in advocating for recent raises officers received.
About working conditions, Howell stated, "Serving as a law enforcement officer in the current anti-police climate (nationally) is challenging. The adverse national climate can have an adverse impact on one's perspective."
Howell also said the condition of the Safety Building, where the police department is located and which was brought up as a concern among officers, has been an issue for some time, and planning is underway to construct a new building.
Judging management
More than 80 percent of responses regarding management effectiveness were also unfavorable. A majority of officers who commented on the topic described management as out of touch with the "rank and file," according to the overview.
Pertaining to that criticism, Howell said, "It is not uncommon for visionary leadership to be misunderstood."
Stanard also stated that "many" officers provided negative feedback about Howell's availability and about his handling of the January shooting.
Howell stated that he was concerned about communication when he took over as chief in 2012.
"One of the first steps I took upon my appointment was the unprecedented decision to bring the union leadership to the table during the senior command briefings (weekly interaction)," he said. "One clear area where this shared management partnership and communication has paid off is in the area of grievance avoidance."
He also said: "As is well known, I have an open-door policy, and I spend a great deal of time at the Safety Building. My work day is extended on a daily basis as I often allow members to make unscheduled visits to my office. This is not only allowed, it is encouraged."
Overall, about 44 percent of the responses were favorable, including comments from people who said they enjoy the job and that it has a lot to offer.
Fifty-one percent of the responses were unfavorable, and 5 percent were "not applicable."
The overview identifies only a breakdown by percentage of favorable versus unfavorable responses in each category. It does not show the specific questions included in each category, nor how many responses were submitted on a per-question or category basis.
Leaders question results
Keith Rogers, chairman of Racine's Police and Fire Commission, declined to be interviewed about the survey but said in a statement that the commission "endorsed the survey process conducted by the City of Racine Police Department."
"As with any anonymous survey of this magnitude, it is expected that not all comments will be positive," Rogers stated. "It can take considerable effort to separate negativity based on fact and that which is heavily based on perception. We trust that Police Department and city leadership will work together to use the survey experience to move the department in a favorable direction."
Howell said by email that he is committed to addressing "legitimate areas of concern," and that "it is equally important that we work to identify any respondent content or comments that are uninformed, malicious or not based in fact."
Mayor Cory Mason declined multiple requests for an interview about the morale study. He said in an email Wednesday, "I will be meeting with the police unions and other RPD personnel to discuss the survey. It is my hope that we can all learn from the information that it provides"
Previous survey
Some of the survey results mirror feedback provided in a union survey on department morale in 2000. At that time, according to an archived Journal Times article, department staff also indicated a morale problem, along with complaints about department leadership.
The recently retired police chief at that time, Richard Polzin, questioned the validity of the survey, saying it may have been created by disgruntled employees and completed by people who had complaints.
"When there are 205 people working in an organization, you can't satisfy the needs of them all," Polzin reportedly said. "Sometimes people are upset. Sometimes people are disciplined."
Editor's note: This article has been updated to correct the spelling of Stanard & Associates' name.
"As is well known, I have an open-door policy, and I spend a great deal of time at the Safety Building. My work day is extended on a daily basis as I often allow members to make unscheduled visits to my office. This is not only allowed, it is encouraged." Art Howell, Racine Police Chief
"As is well known, I have an open-door policy, and I spend a great deal of time at the Safety Building. My work day is extended on a daily basis as I often allow members to make unscheduled visits to my office. This is not only allowed, it is encouraged."

Art Howell, Racine Police Chief