A recently published nationwide survey supports what local law enforcement leaders have been saying for months: The public often underestimates the dangers of driving while high.
Of the 2,582 drivers surveyed by the American Automobile Association (AAA) in 2018, 13.5% of American drivers said they felt that driving within an hour of using marijuana was only "slightly dangerous" or "not dangerous at all."
In comparison, only 1.2% of those surveyed said that driving while over the legal limit for alcohol consumption was "slightly dangerous" or "not dangerous at all."
"A lot of people don't realize the amount that it (marijuana) impairs them," said Nick Jarmusz, director of public affairs for AAA Wisconsin. "There's this misperception that marijuana is not as dangerous or impairing (as alcohol). … Knowing the amount the public believes that misperception is important."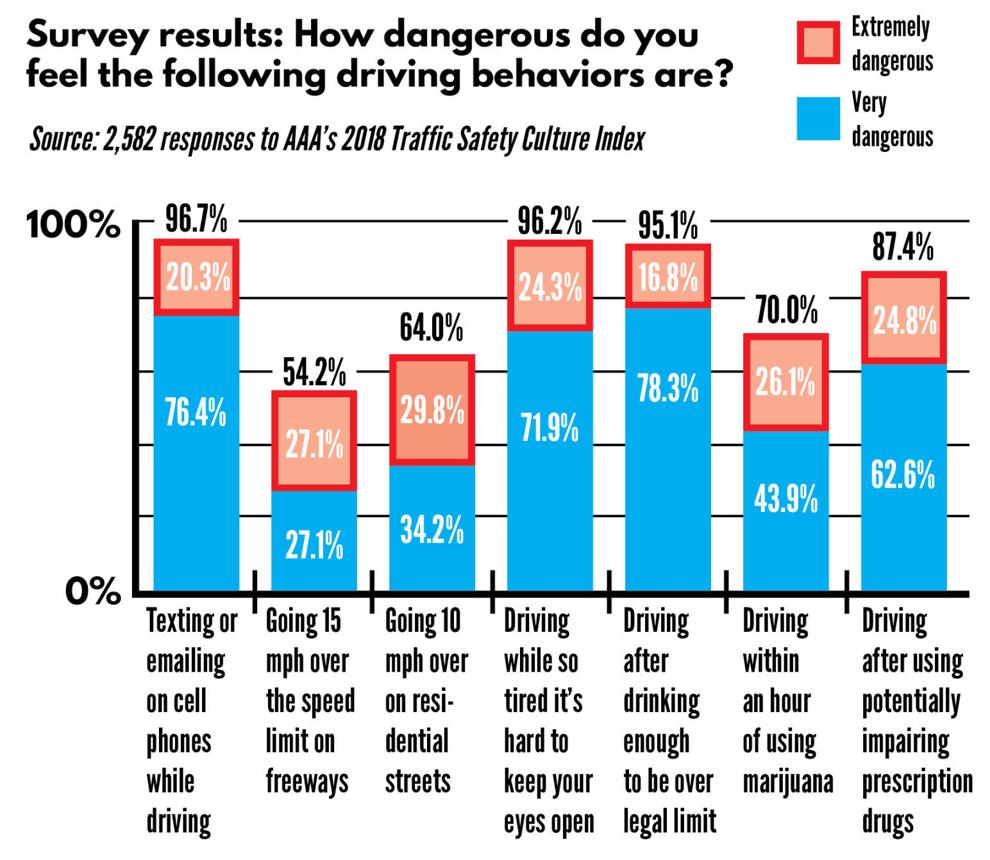 Local thoughts
"We have a threat to public safety if marijuana were to become legal in this state," Marschke told The Journal Times on Friday. "It doesn't matter whether marijuana is legal for recreation or medicinal purposes; when that is mixed in with operating a motor vehicle, it really poses a threat to public safety. That is my concern going forward."
Despite the information revealed in AAA's study, the nonprofit doesn't have an official stance on legalization of marijuana.
"For the general public, we hope they would understand the effect of marijuana on driving," Jarmusz said. "Policymakers have to have an understanding of the scope of the problem ahead of us, in terms of the general education needed."
Some local officials, including 2nd District Racine County Board Supervisor Fabi Maldonado, say that "the benefits of legalizing it outweigh the negatives of keeping it illegal."
However, Maldonado, who is an advocate for the full legalization of marijuana, also said, "I am not advocating for anyone to drive high. I think that cannabis should be used and regulated like how alcohol is regulated ... Alcohol is legal, and you see in the newspaper all the time, people getting their fifth or sixth OWI."
Weed vs. booze
Despite the higher rate of people believing that driving while high is relatively safe, drunken driving is still considered to be much more common — and might still be more dangerous.
"There's a lot of similarities in terms of what the impairment looks like (between marijuana and alcohol): slower decision making, poor judgment, narrowing the field of vision," Jarmusz explained.
Still, the research around marijuana's effect on driving is far from conclusive. The CDC's research didn't account for how high the drivers in question were, because there's no equivalent to BAC testing for drunkenness with a Breathalyzer, for how much THC, the active ingredient in marijuana, is in someone's system.
"In 2016, there was a (Society for the Study of Addiction) study that showed that the frequency in fatal crashes in the State of Washington (where marijuana was legalized six years ago) who tested positive for THC alone, or THC in combination with alcohol and other drugs, increased 111% percent from the previous four-year average," Marschke said.
"There's no BAC for THC; 0.08% is the standard blood-alcohol concentration for operating while under the influence (of alcohol), but there is no '0.08' for marijuana," Marschke said.
The Texas A&M Transportation Institute wrote the following in February 2018: "Research by the AAA Foundation for Traffic Safety in 2016 said that the share of drivers in fatal crashes who had used marijuana more than doubled from 8 percent in 2013 to 17 percent in 2014. That's significant, but it's important to note that the study was limited to Washington state, where recreational pot use was legalized several years ago. No other states (pot-legal or otherwise) were examined."
Seeming to contradict what AAA and the Society for the Study of Addiction found, a 2017 study published in the American Journal of Public Health found that there wasn't any significant link between marijuana use and fatal crashes in Washington and Colorado between 2009 and 2015.
"It doesn't matter whether marijuana is legal for recreation or medicinal purposes; when that is mixed in with operating a motor vehicle, it really poses a threat to public safety. That is my concern going forward." Sean Marschke, Sturtevant police chief
"It doesn't matter whether marijuana is legal for recreation or medicinal purposes; when that is mixed in with operating a motor vehicle, it really poses a threat to public safety. That is my concern going forward."

Sean Marschke, Sturtevant police chief