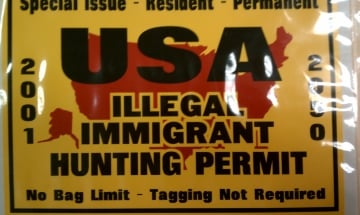 YORKVILLE - A planned protest at a gas station decrying the sale of bumper stickers reading illegal immigrant hunting permit' has since become an event to honor the store owner for his swift action to remove them.
"I'm not in a business of offending my customers," said Bob Basil, owner of Citgo Auto Truck Plaza, 611 S. Sylvania Ave.
Immigration rights group Voces de la Frontera had planned to picket Basil's business at 2:15 p.m. today but has since changed the plan to present him with a civic business award.
"Beyond appreciating him, we think it's an opportunity to encourage similar businesses to be more morally responsible," said Christine Neumann-Ortiz, Voces executive director.
Basil said that on Wednesday he started receiving phone calls over a bumper sticker depicting a hunting permit on illegal immigrants sold at his gas station. Voces de la Frontera had planned to do the rally, Neumann-Ortiz said, after a customer informed them of the stickers.
"These messages promote hate crime, incite violence and are racially charged," she said.
By Thursday, however, the two parties resolved the issue.
Basil said that once he learned of the stickers, he immediately halted their sales and removed the sale rack. They were among a batch of bumper stickers he ordered during an April tradeshow in Madison and he began selling the merchandise last week.
The sticker came in a variety pack of about 100 different kinds. Basil said the sticker in question was not among the samples he saw at the tradeshow, adding the stickers have since been returned to the vendor.
Neumann-Ortiz said Basil's actions should be an example for other business owners.
"These stickers can be found online and there's no doubt they're sold in other gas stations," she said. "When you're selling materials like this, do the right thing and pull it."