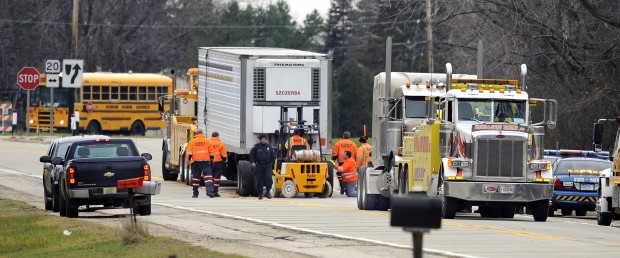 YORKVILLE - The Wisconsin State Patrol on Tuesday released the name of a Kenosha man who died Monday after the car he was driving collided with a semi at highways 20 and C in Racine County.
Neil Volling, 35, was driving a white car westbound on Highway 20 when it struck the rear tandems of the loaded semitrailer. The crash happened at about 8:35 a.m. Monday near the Ives Grove Golf Links, 14101 Washington Ave.
Volling was pronounced dead at the scene, along with his dog, according to the state patrol.
Racine County Medical Examiner Tom Terry said that it appears Volling died from multiple traumatic injuries and his cause of death will be listed as accidental.
You have free articles remaining.
The semi driver, Mark Szczerba, 51, of Kansasville, wasn't injured, according to the state patrol.
State Patrol Sgt. Gaetano Martino on Tuesday said no tickets or citations have been issued.
"It's still under investigation," he said.
Crash investigations may last between a day and more than a week, he added.
State Trooper Matthew Barlar on Monday said the loaded semitrailer was eastbound on Spring Street, also known as Highway C, when it came to a stop at Highway 20 before pulling out onto Highway 20. At that time, the semitrailer was struck by the car.
According to the Wisconsin Department of Transportation, 18 people have died in vehicle crashes in Racine County between Jan. 1 and Sunday. These preliminary figures show an increase from the 10 traffic-related deaths in 2010.