RACINE — A small group of Racine Unified special education students returned to their classrooms last Monday. After Thanksgiving, those students will go back to virtual learning, due to a public health order issued last week by the City of Racine Health Department.
The order, issued by the city's Public Health Administrator Dottie-Kay Bowersox on Thursday, calls for the closure of all public and private K-12 school buildings from Nov. 27 to Jan. 15.
A select group of special education students whom the district determined could not properly be served from home had been learning at their school buildings since the start of the year. Unified stopped that practice on Oct. 8 after rising cases of COVID-19 put Racine County in the "very high risk" category, per the Central Racine County Health Department. The district initially said that students would be eligible to return to in-person lessons once the area dropped out of the "very high" risk level.
Racine County has since moved into an even more serious, newly created risk level called "critically high." That designation is for counties that have at least 1,000 active COVID-19 cases for every 100,000 residents over the previous two weeks. Racine County's case rate as of Sunday was 1,497.7.
However, the district decided to bring about 200 special education students back into the classroom anyway, with precautions in place, after receiving guidance from the Wisconsin Department of Public Instruction on legal requirements for providing instruction to special education students.
According to Chris Bucher, communications specialists for DPI, the department provided all districts with the same guidance: They must continue to provide a free and appropriate public education or FAPE by delivering specially designed instruction, as laid out in the student's Individualized Education Program.
Special education students are required to have an IEP, determined by a group of stakeholders including the student's teacher and guardian. IEPs lay out specific needs and requirements for that student, such as a certain amount of one-on-one time or allowing the student more time than others to finish tests. IEPs also contain goals for each student.
Angelina Ortiz, 13, was part of the small group of special education students who started the school year in person. This setup allowed Ortiz to have a one-on-one aide by her side at Jerstad-Agerholm Middle School, something that is required in her IEP. When the district decided to stop in-person learning for special education students in October, due to increasing cases of COVID-19, Ortiz's father started working part-time, changing his schedule so that he could assist her with schoolwork in the mornings.
Angelina's mother, Raquel Ortiz, said her daughter is not capable of learning virtually without someone sitting right beside her to keep her focused.
"While most students are able to receive FAPE effectively through distance learning options, some students with disabilities are not," the DPI said in its guidance to school districts. "These students are simply not able to make the required progress solely through distance learning. Consequently, some students with disabilities require in-person instruction and/or related services in order to receive FAPE as required by both state and federal law, regardless of the manner in which instruction is being offered to the general school population."
Raquel Ortiz said that when her daughter was learning from home, Angelina was in a virtual classroom with six or eight other special education kids and they were all being taught the same subject matter at the same time.
"Special-needs students learn at different paces," Ortiz said.
She said she can tell it's difficult for the teacher when Angelina, for instance, is still learning basic addition and subtraction and other students have moved on to counting money.
"I wish teachers were able to give students more individual, versus group time," Ortiz said. "That would be more effective for her because she'd be doing things on her level."
But after Thanksgiving, just like all other special education students who had been learning in person, Angelina is set to return to virtual learning due to the new public health order. Although Raquel said her family is lucky to have workplaces that are flexible and understanding about their schedule changes so that one of them can always be home with Angelina, the continual changes are difficult for her daughter to deal with.
"Monday was really hard for her," Ortiz said. "Lots of crying and now we are preparing for being home again. Angelina is one of those kids who needs consistency and when things are not her routine it's really hard for her."
Even so, Ortiz said her family is trying to make the best of the situation. Angelina did enjoy participating in gym and art classes from home, her mother said, and she received individual attention during occupational and speech therapy.
A large crowd and lots of press coverage for a School Board meeting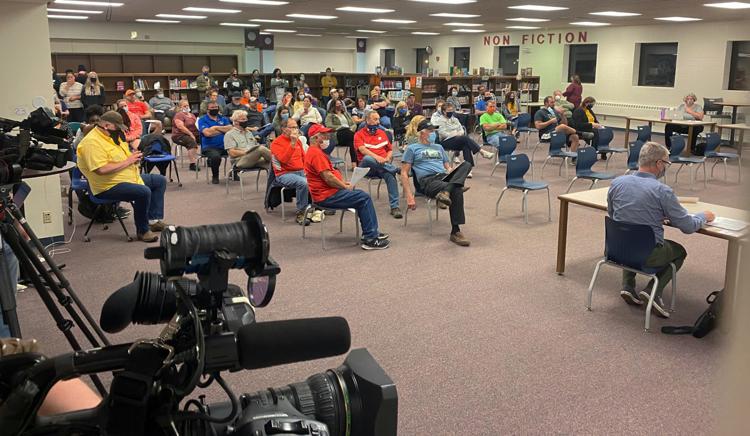 Before the meeting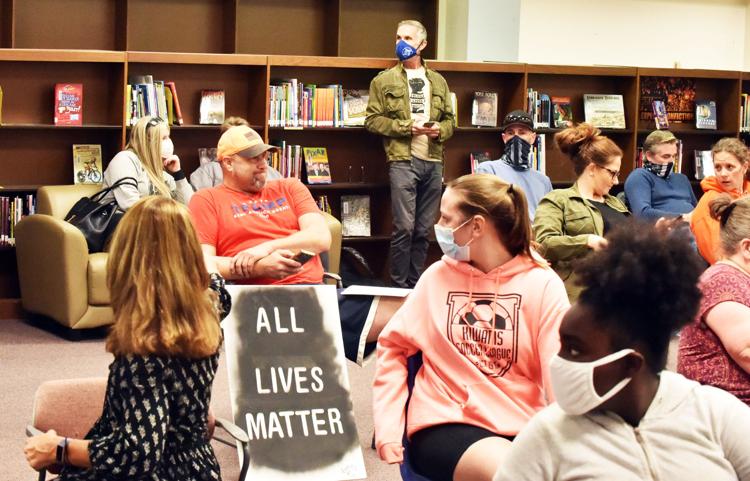 Two men in Party for Socialism & Liberation shirts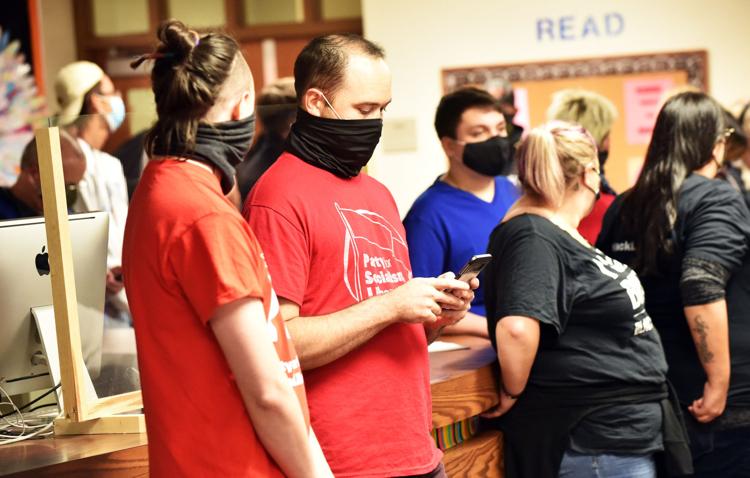 Burlington School Board member Taylor Wishau wears a Thin Blue Line mask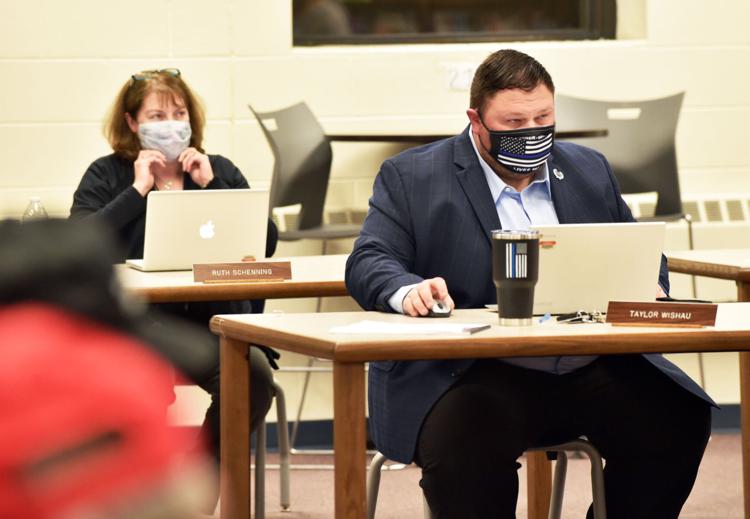 Black Students Matter sign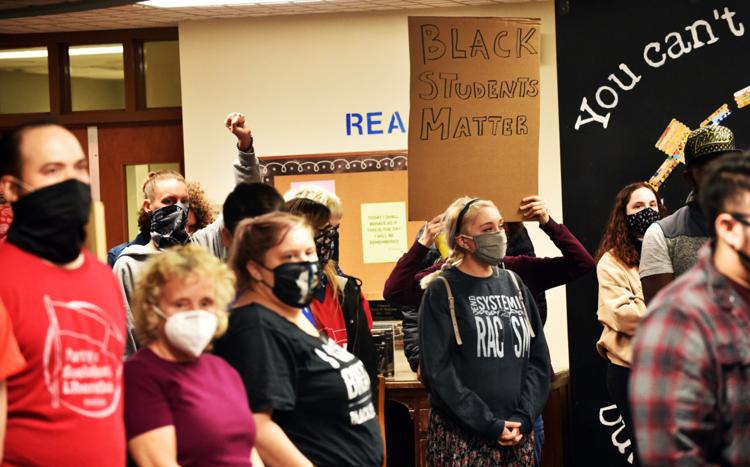 Laura Bielefeldt with her fist in the air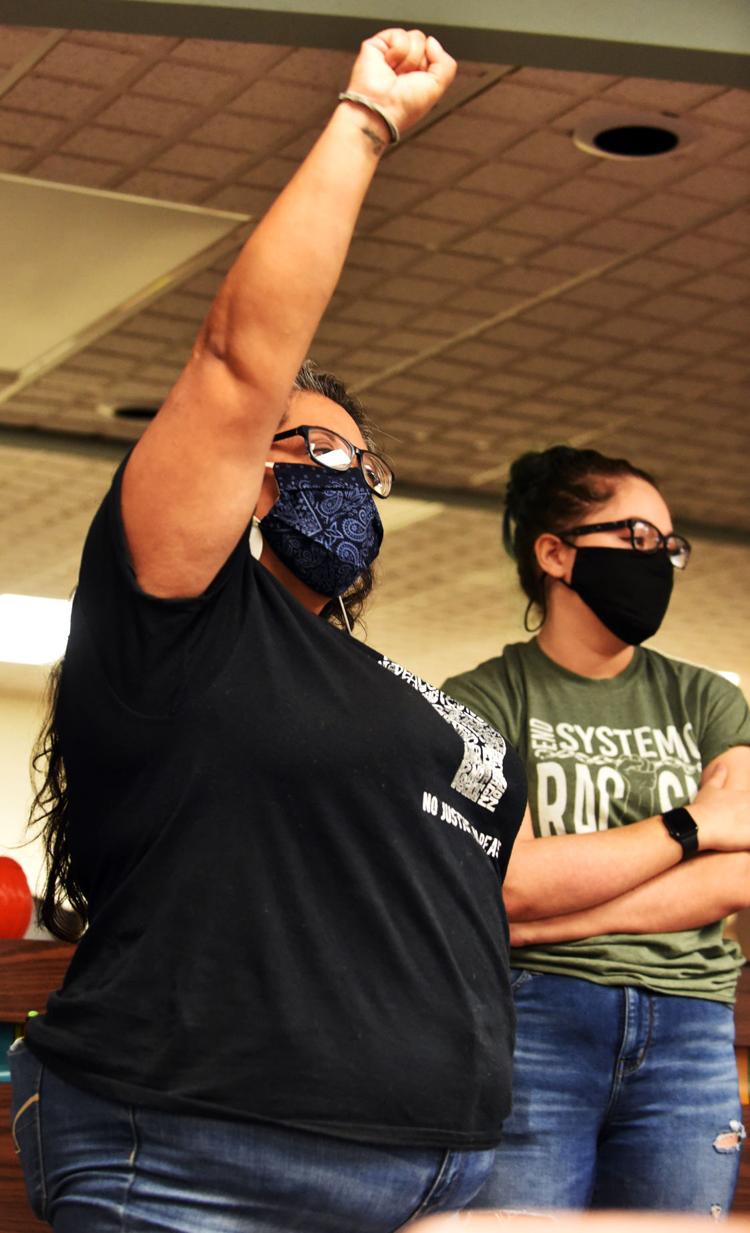 Fists in the air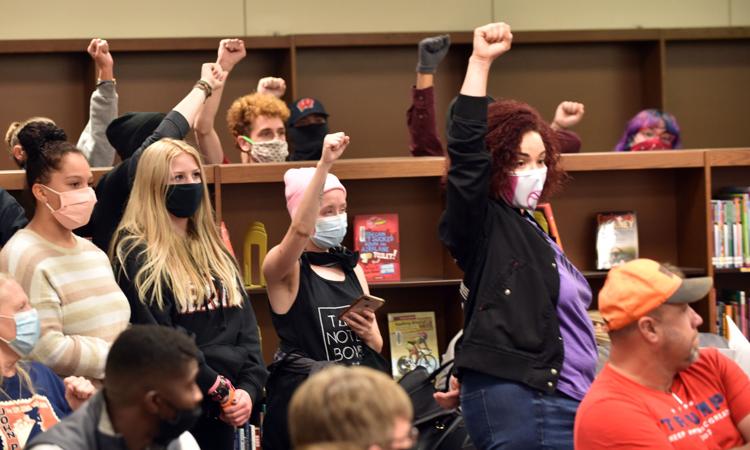 Fists in the air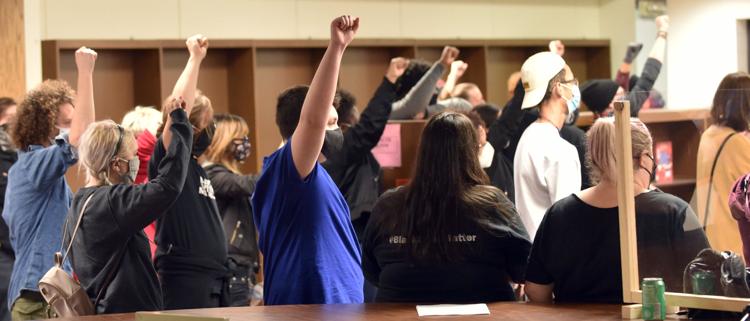 Arguments continue throughout public comment portion of meeting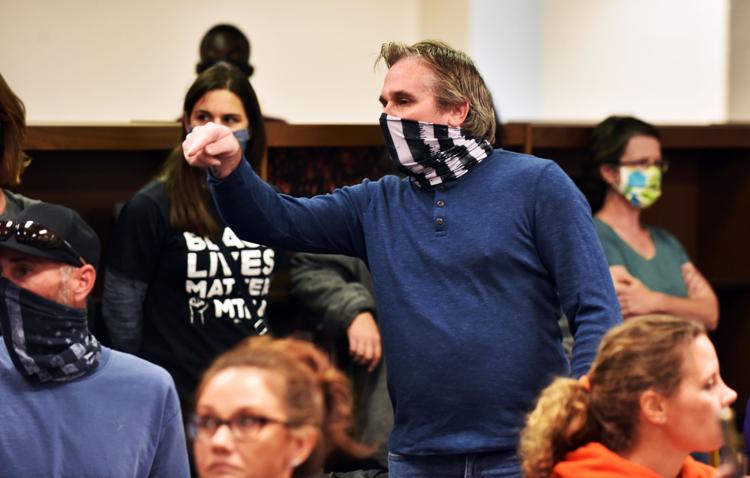 Press looks on as comments are made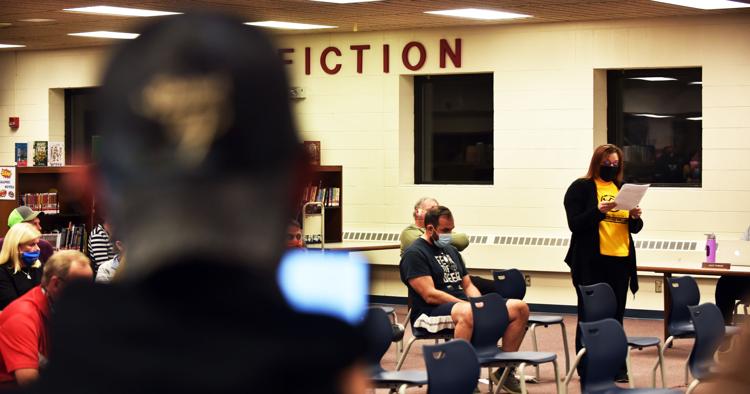 Former Burlington Area School Board member Philip Ketterhagen speaks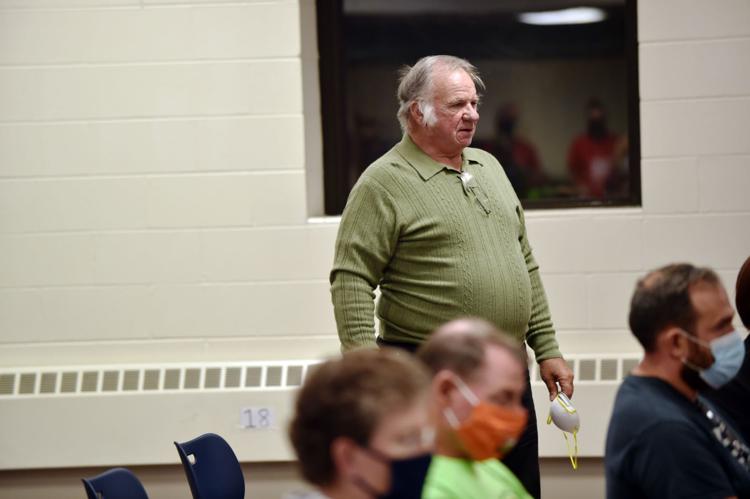 Public comment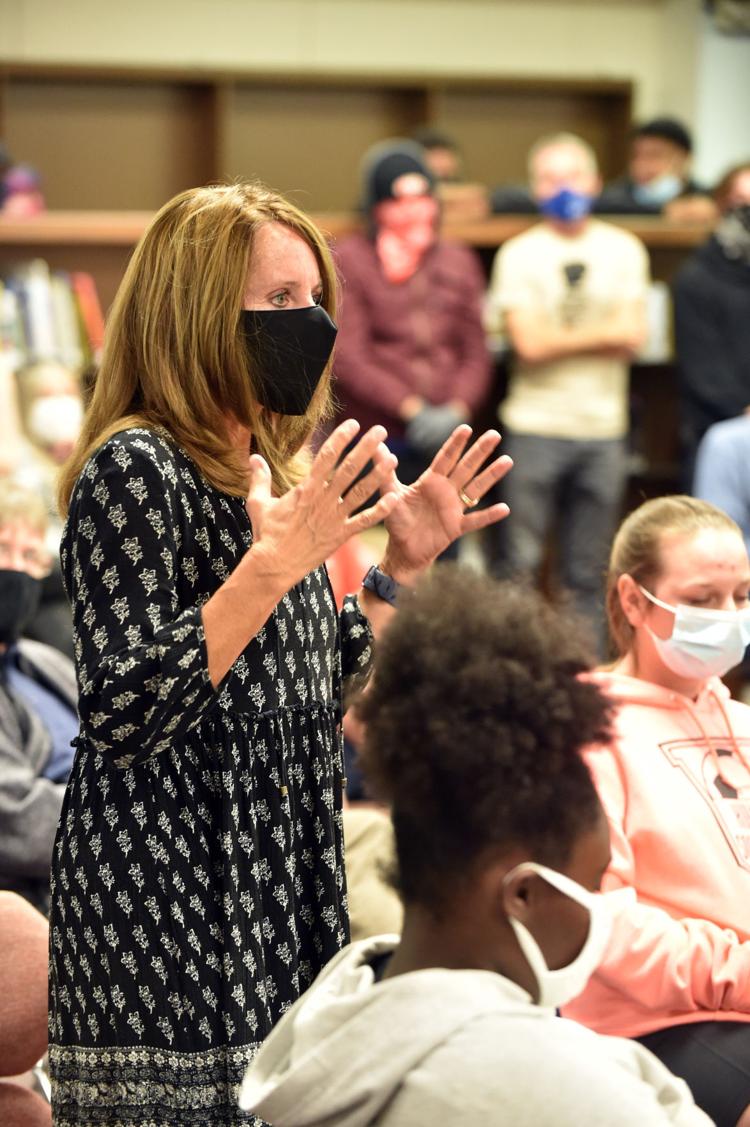 Darnisha Garbade, president of Burlington Coalition Against Racism, speaks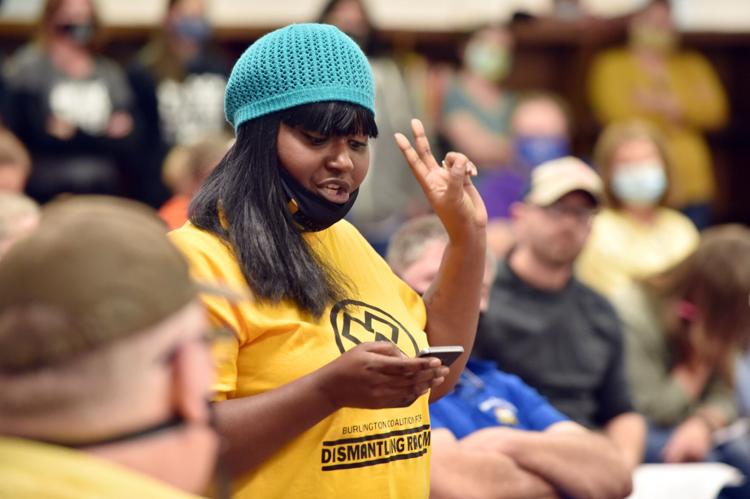 Pointing to his All Lives Matter sign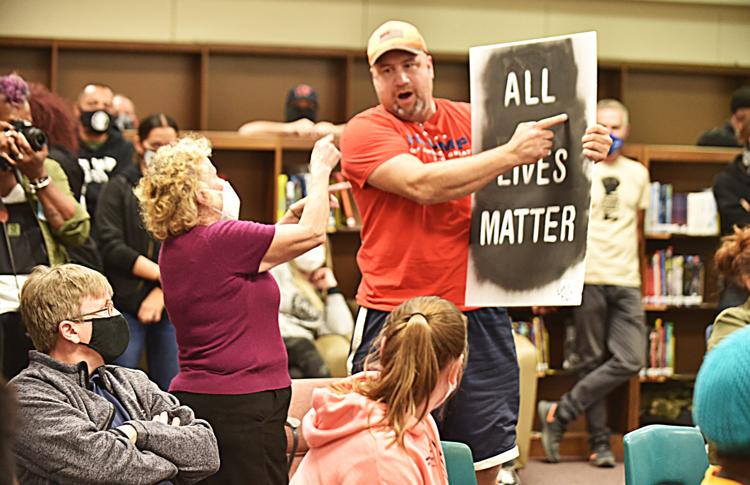 Preston Allred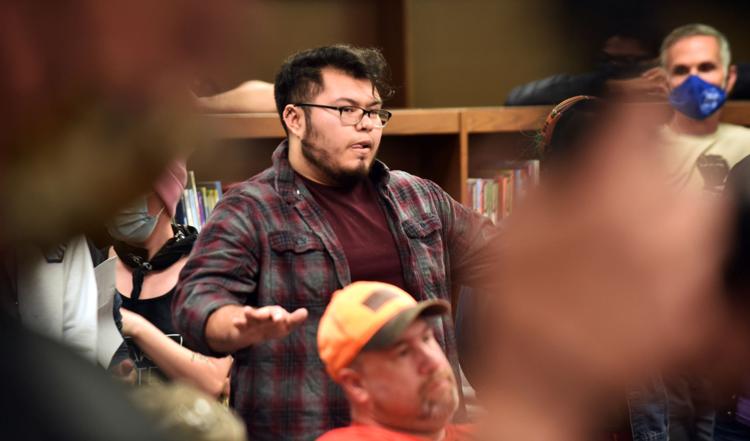 Fists in the air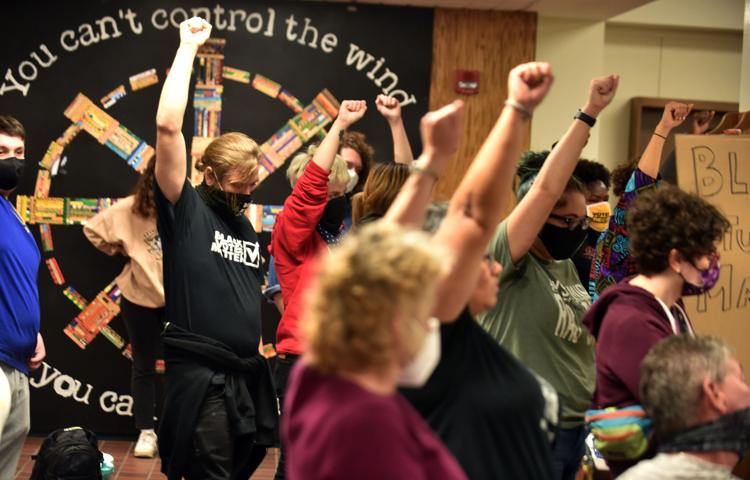 Arguments continue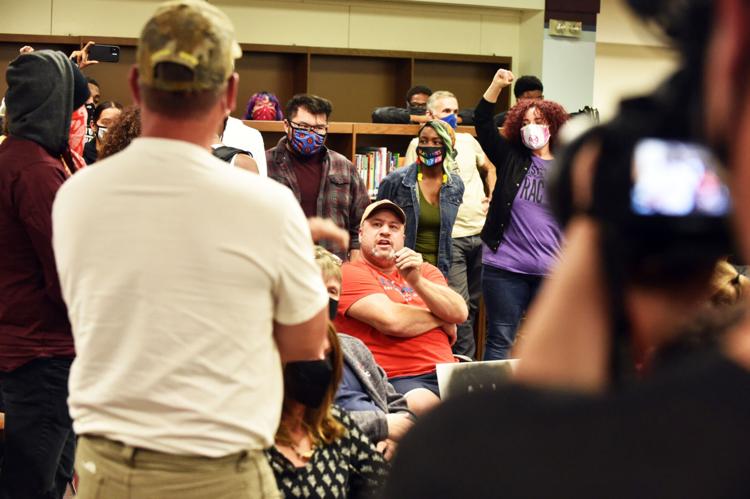 Josh Johnson speaks up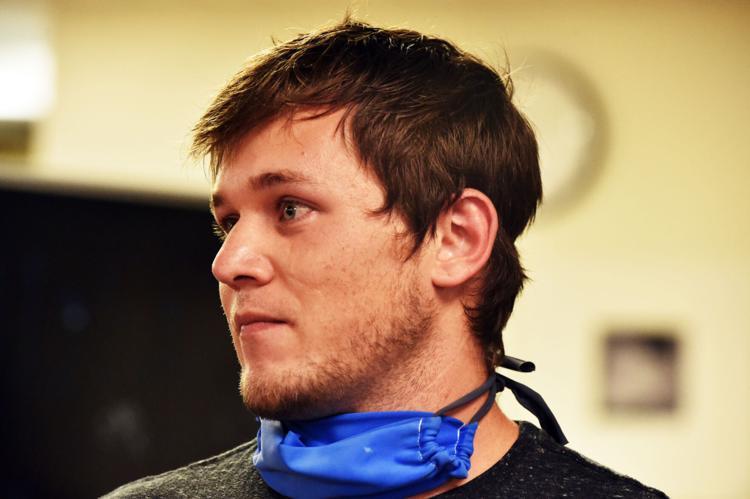 BASD School Board member Susan Kessler listens in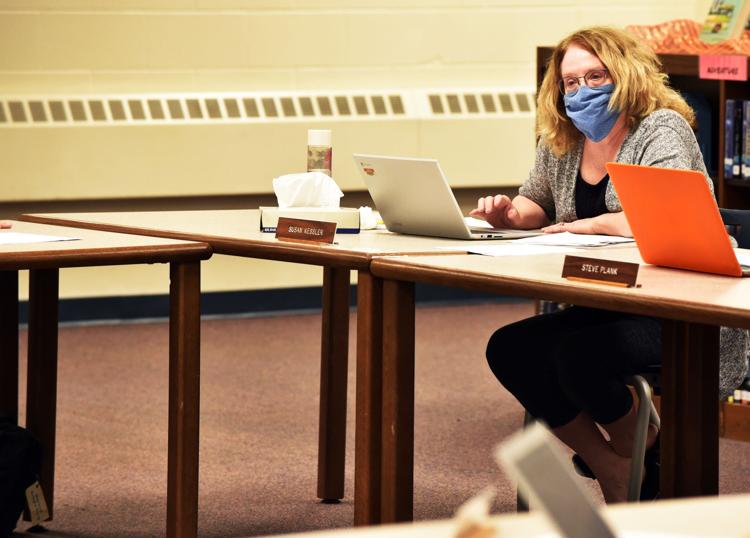 Pointing to his sign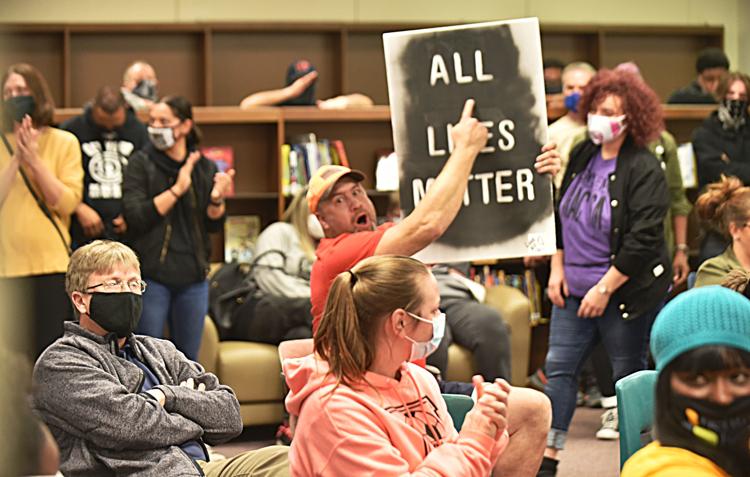 "If we don't get it, shut it down!"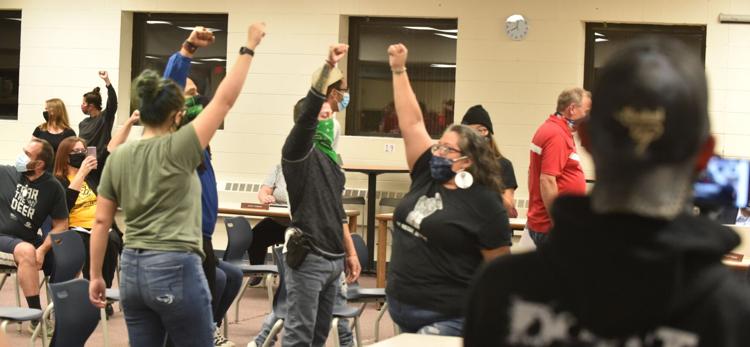 Moments before School Board members exit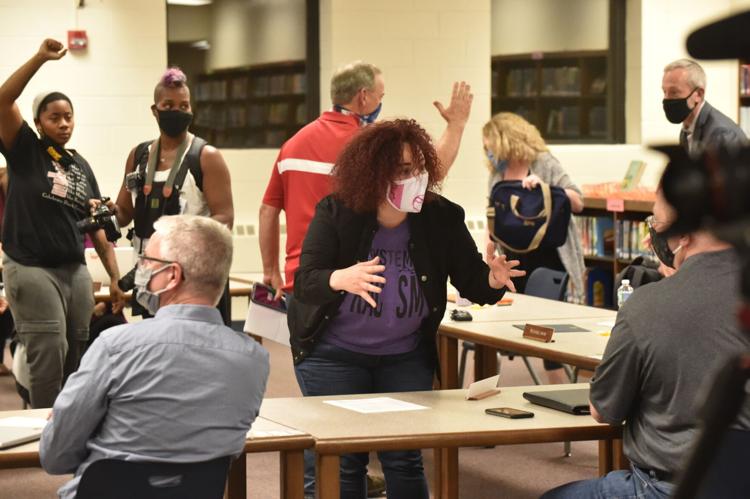 Fists up as School Board meeting has been shut down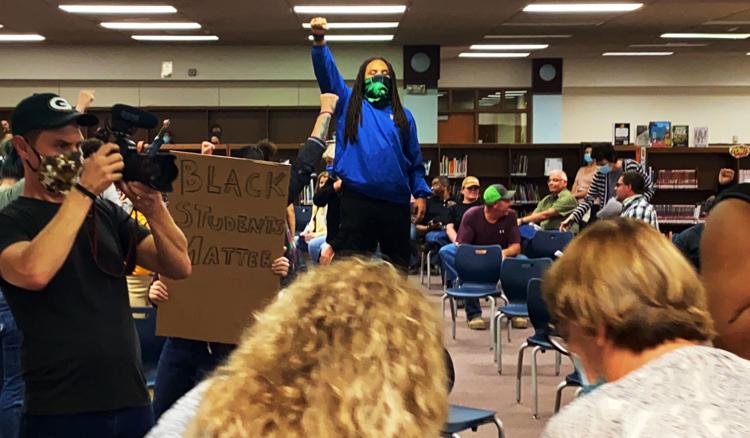 End of the meeting, start of the protest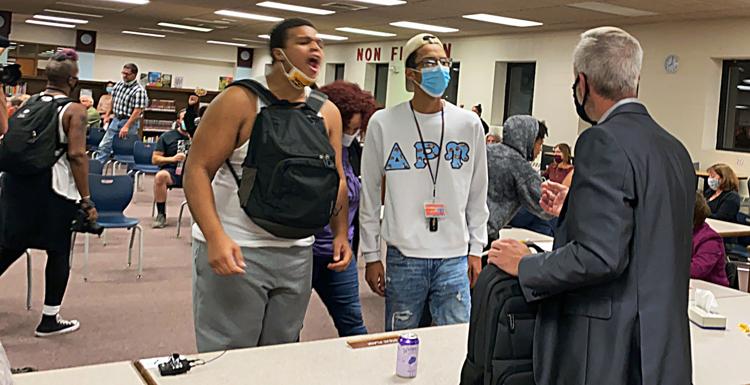 Discussions continue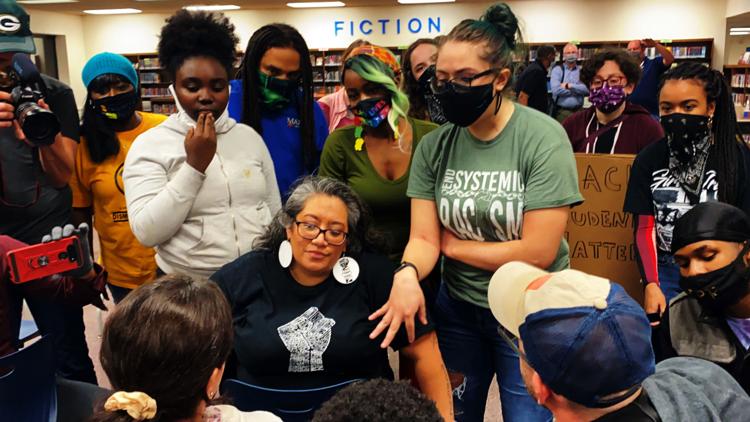 Discussions continue
Law enforcement arrives in the library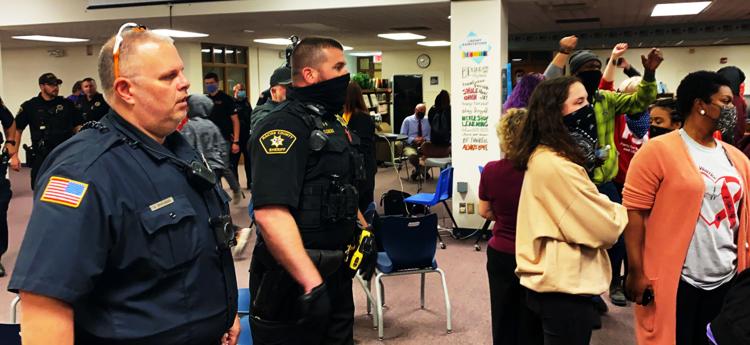 Protesters move outside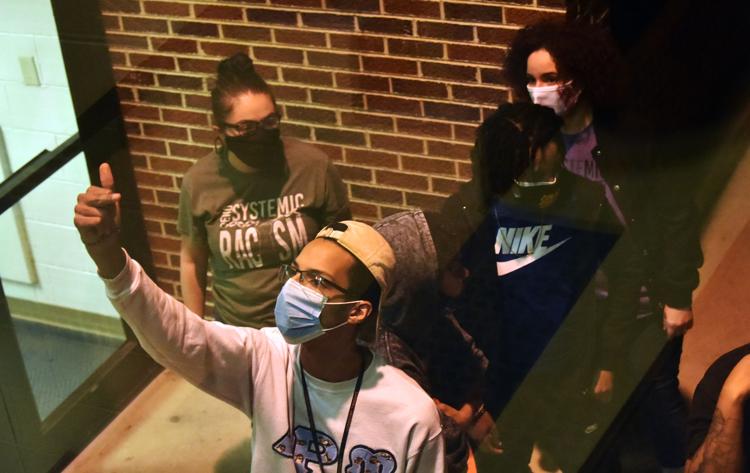 Darnisha Garbade comforts her daughter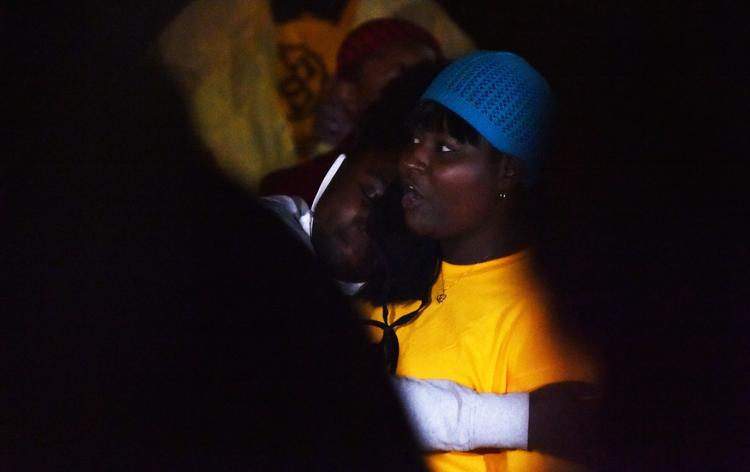 Demonstrators circle up outside Karcher Middle School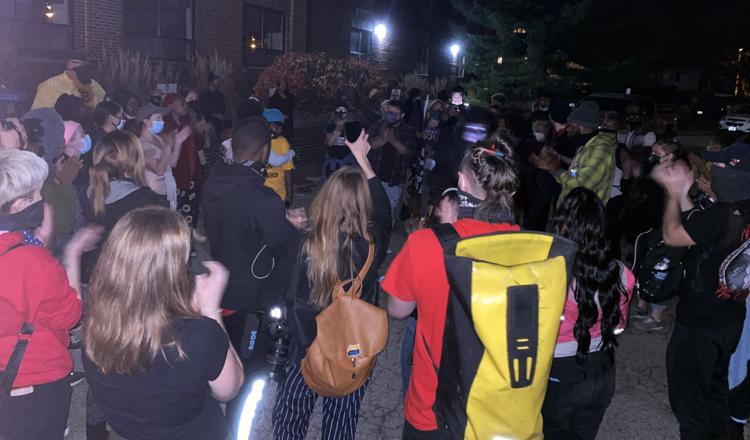 "While most students are able to receive FAPE (free and appropriate public education) effectively through distance learning options, some students with disabilities are not." Wisconsin Department
of Public Instruction
"While most students are able to receive FAPE (free and appropriate public education) effectively through distance learning options, some students with disabilities are not."

Wisconsin Department of Public Instruction
Get local news delivered to your inbox!
Subscribe to our Daily Headlines newsletter.