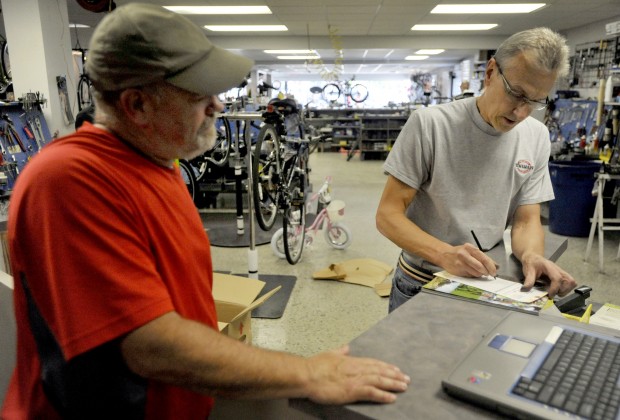 RACINE COUNTY — One of the easiest taxes to avoid is the sales tax; often, all it requires is to shop online.
Perry Oksiuta, owner of Racine Cyclery, 4615 Washington Ave., is painfully aware of that.
"I have been at a 5.1 percent disadvantage for years," he said Thursday, and he's often written his legislative representatives about it.
The day before, the trade organization International Council of Shopping Centers, or ICSC, released a survey it commissioned showing general support for the idea of having online sellers collect state sales taxes. Local shop owners echoed those results, saying they're at a disadvantage to online sellers.
Online shoppers are technically required to keep records and receipts, report their purchases and pay state taxes on their purchases. But in fact, each year billions of sales taxes go unpaid and uncollected.
"Leaving it up to the individual does not work," Oksiuta said.
A 2009 University of Tennessee study projected Wisconsin would lose $126.1 million in state and local sales taxes in 2011 and $142.1 million this year. That was just online shopping — those figures did not include such methods as catalog, mail order and telephone shopping.
You have free articles remaining.
The ICSC survey results are designed to build momentum for legislation that would put the onus for sales tax collections on sellers and take it from buyers. ICSC said the bills in Congress would give every state the power to make sales tax collection by online retailers mandatory, relieving brick-and-mortar retailers of a competitive disadvantage.
"ICSC strongly supports two bills currently under consideration in Congress — Marketplace Fairness Act and Marketplace Equity Act — which are designed to save consumers the burden of self-reporting use taxes and to level the playing field for all retailers," ICSC stated.
It said 65 percent of Wisconsin survey respondents support the effort to require online retailers to collect sales tax at the point of purchase. The survey was conducted in May by Opinion Research Corp.
"Someone should slam the door on the loophole and go out and collect (the taxes)," said Brian Kortendick, part-owner of Kortendick Ace Hardware, 3806 Douglas Ave. "I would think it would really be fair."
Michelle Schimian, owner of RG Natural Babies, 430 Main St., also sells online. She said she'd support mandatory online sales tax collections to help her store — though she didn't relish writing checks to different states for her online sales.
Oksiuta said it's only fair to require online sellers to do what he must: collect and transmit sales taxes each month.
Meanwhile, he sees online shopping eating into his business. "The (people) that really hurt are the ones that try on a pair of shoes and clearly have no intention of buying them," Oksiuta said. "Now they know their size. ... You become a showroom for the Internet."
Revoking the online sales tax advantage, "To me, that would be a dream," Oksiuta said.