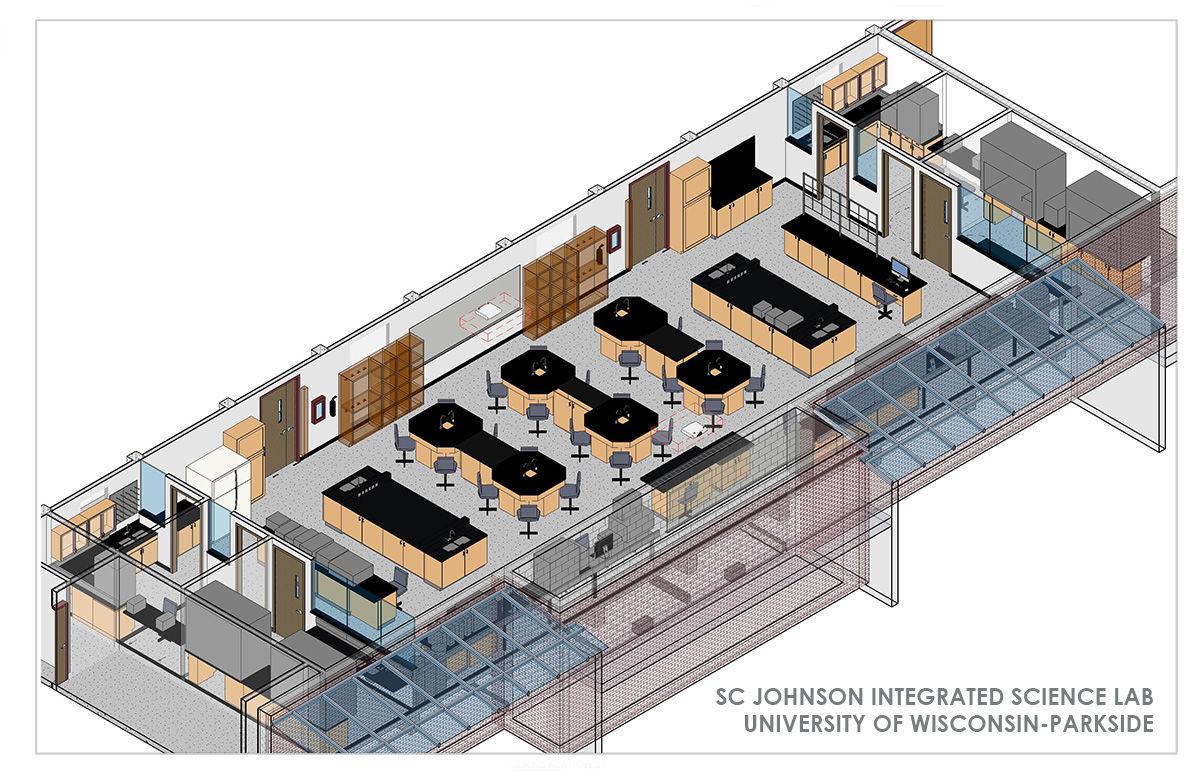 RACINE — Thanks to the generosity of SC Johnson and the Racine Community Foundation, science education at the University of Wisconsin-Parkside is receiving a half-million-dollar shot in the arm.
On Monday, SC Johnson and Parkside officials announced the gift of $500,000 to support science education at Parkside. The donation is the largest single gift to the College of Natural and Health Sciences at UW-Parkside, officials said.
In recognition of the gift, UW-Parkside Chancellor Debbie Ford and her Cabinet approved naming the newly established science learning space in Greenquist Hall on the Parkside campus the SC Johnson Integrated Science Lab.
The lab renovation is part of the initiative the gift will fund that will assist the university in adding opportunities for students, such as research fellowships, scientific career exploration and development activities, SC Johnson officials said.
The building improvements are to include fully redesigned science labs with the most up-to-date technology, similar to what is used in research facilities and scientific workplaces. There are also plans to expand the lab to provide larger spaces for advanced and independent research.
The new instrumentation, combined with course work and undergraduate research, will prepare students for the professional environment they will encounter upon graduation, Parkside officials said.
You have free articles remaining.
"This high-quality lab space will enhance educational experiences for local students and provide students with a collaborative environment," said Fisk Johnson, chairman and CEO of SC Johnson. "We're thrilled the new SC Johnson Integrated Science Lab will help support future science professionals who are better prepared for the workforce, and will assist with meeting future workforce demands of the region."
Ford called the gift "transformational."
"The strength and vibrancy of our communities depend on access to quality education and access to meaningful career opportunities," Ford said. "SC Johnson has provided rewarding careers for hundreds of UW-Parkside graduates and internship opportunities for our students to enhance their educational experience, and helped facilitate community discussions that shape and create an engaged educational experience offered by the university."
Growing interest in science
The number of students enrolling in science and health majors at UW-Parkside has grown to more than 30 percent in the past five years. Today, there are more declared majors in the UW-Parkside College of Natural and Health Sciences than in any other college at the university equal to one-third of all students enrolled at UW-Parkside.
Parkside has gained a strong reputation for its science programs, in particular its pre-med program. Close to 90 percent of UW-Parkside pre-med graduates are accepted to the medical schools of their choice, more than twice the national average, Parkside officials said.
A formal naming and lab-opening ceremony is scheduled for 4:15 p.m Thursday, Aug. 31, in Greenquist Hall on the UW-Parkside campus. Lab tours and equipment demonstrations are to be available at that time. For more information regarding the ceremony, contact Alyssa Williams at (262) 595-2189.
"We're thrilled the new SC Johnson Integrated Science Lab will help support future science professionals who are better prepared for the workforce, and will assist with meeting future workforce demands of the region."

Fisk Johnson, chairman and CEO of SC Johnson