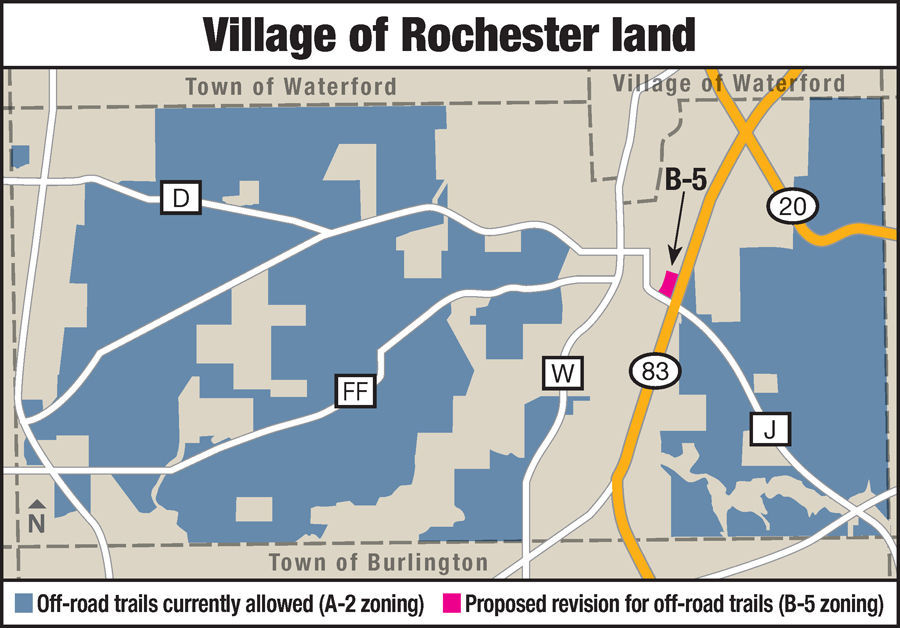 ROCHESTER — A newly proposed ordinance revision would effectively ban non-commercial, off-road trails for off-road vehicles should the Village Board approve it.
The potential revision comes after frequent noise complaints were levied against a landowner who had an off-road track on their A-2 zoned residential property, said Village Administrator Betty Novy.
"It became a quality of life issue for the neighbors, in terms of the noise that was generated for quite a few hours on the weekends," Novy said.
The revision was introduced to the village's Plan Commission on Aug. 28 and is set to come back around for a formal recommendation on Sept. 25.
As it currently stands, A-2 zoned property owners can apply for a conditional-use permit to have an off-road track on their property and to drive off-road vehicles on it. The revised ordinance would move the allowance for the permit to B-5 mixed-use business district zoning, essentially banning the trails from the village under its existing zoning.
The only B-5 land in the village is a small area northwest of the intersection of highways J and 36, adjacent to the existing condominiums off Settlement Drive.
"Somebody would have to rezone (their existing land) and find a suitable place" for any new off-road trails, said Village Zoning Administrator Jonathan Schattner.
You have free articles remaining.
But Schattner cautioned the revision would not ban off-road vehicles in village outright.
"It doesn't mean that a guy can't have a bike and ATV and he comes and leaves from the property, that sort of thing," he said. "What we're trying to avoid is having the dust and the noise and all those issues, and the quality of life that people enjoy in the A-2 area."
Because the ordinance would result in a change to zoning code, a public hearing would need to take place before the Village Board can approve it.
2050 plan
Rochester is also in the midst of putting together its 2050 land-use plan. Most recently, the Plan Commission reviewed results of a community survey that analyzed the village's strengths and weaknesses.
All signs point to residents wanting Rochester to remain largely unchanged. About 5.8% of the village's population, or 214 residents, completed surveys. Eighty-four percent of respondents said it is "extremely important" or "very important" to maintain the small community atmosphere, and 98.1% said the same for maintaining a safe community.
The only new developments survey-takers overwhelmingly said they wanted more of were restaurants, with 63.9% of respondents being in favor of more. Otherwise, most residents want offices, retail, neighborhood services, entertainment, hotels and manufacturing to remain at the same level or decrease.
A majority of survey-takers were against new multi-family and rental units being built, and only 35.4% were in favor of new single-family development.
"People are generally satisfied, and they value the small community feel, so that's something for us to take into consideration as we move forward as far as any changes that we would make to the land-use plan," Novy said.