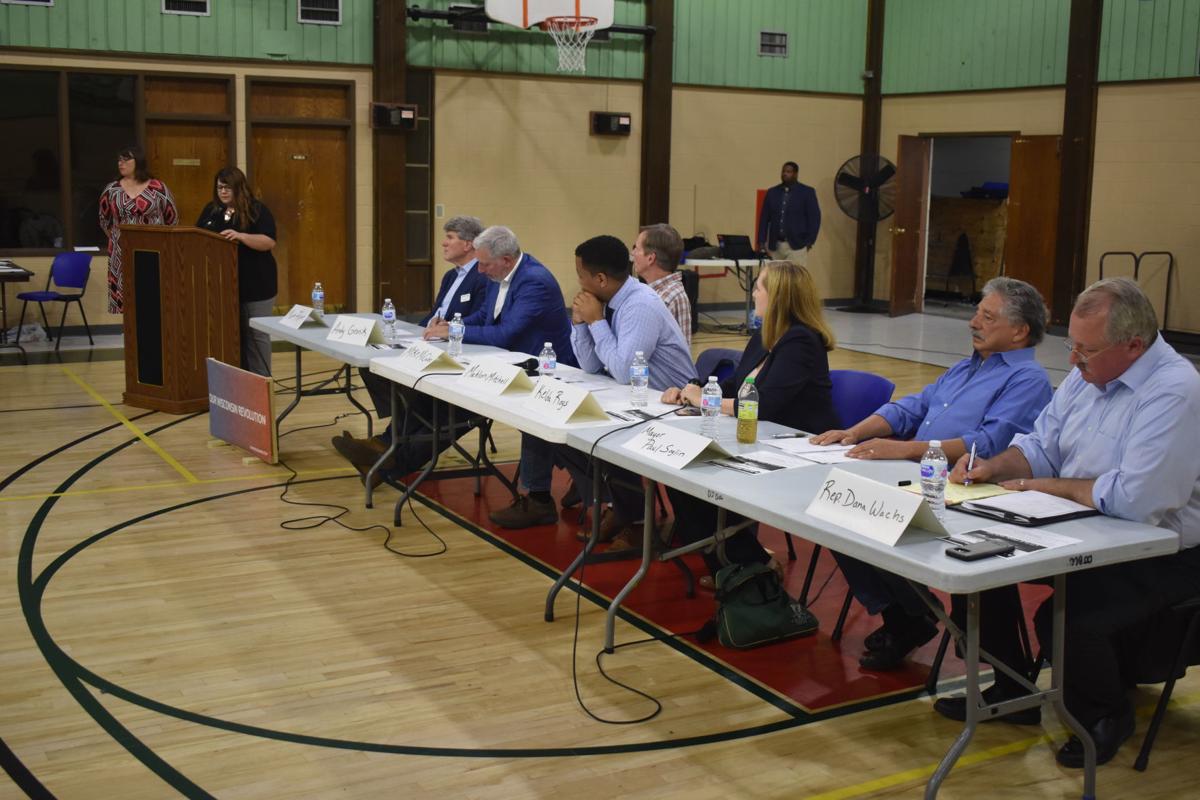 RACINE — Kim Mahoney has been looking for answers from public officials, and she got a few on Wednesday night in front of a crowd of about 100 people.
Mahoney is a resident of the Village of Mount Pleasant and is currently living within Area I of the Foxconn Technology Group area. She made the drive across town to the John Bryant Community Center to ask seven of the Democratic gubernatorial candidates a question at the forum organized by Wisconsin's Choice, a joint project of Our Wisconsin Revolution and Wisconsin Working Families Party.
For weeks, Mahoney said, she has been voicing her frustration with the Foxconn land acquisition process at village meetings and asked three of the candidates: "What would you do to protect homeowners from an abuse of power?"
Candidate, small-business owner and former state representative Kelda Roys said property rights need to be respected and said: "We can create jobs by investing in homegrown innovators."
"This is one of the terrible, unforeseen consequences of the Foxconn deal, which was not negotiated for the benefit of the people of Racine or the people of Wisconsin, but for the benefit of Scott Walker's career," Roys said. "As governor, I will do everything I can to protect your home and others from being taken for the government unconstitutionally and pass state statutes that offer additional protection."
Candidate and Madison Mayor Paul Soglin said that instead of giving the nearly $3 billion of tax credits to Foxconn, he would have used that money to invest in affordable housing, public schools and high-speed internet.
"They have violated every principle that comes out of conservative think tanks as to how to build an economy," Soglin said. "You don't do it by engaging in a race to the bottom, taking that amount of money and putting it into a single large corporation."
Candidate and state Rep. Dana Wachs, D-Eau Claire, said as a member of the Wisconsin Economic Development Corp. he has been "fighting this Foxconn thing since this thing rolled out."
"We've had the money all along," Wachs said. "Why did we cut a billion dollars in K-12? Why did we cut $784 million out of the university system? … We've had the money all along; we just chose not to invest in people. We chose to invest in foreign corporations."
Immigration views
Horlick High School senior Fernanda Jimenez, a recipient of Deferred Action for Childhood Arrivals, asked the candidates what they would do to make Wisconsin more welcoming to immigrants.
Candidate Mike McCabe, former executive director of the Wisconsin Democracy Campaign, said he wants the state to be a place for undocumented children, "and I want our state to be a leader in resisting current immigration policies."
"That's critical to change the overall conversation about immigration," McCabe said, adding that he advocated for drivers licenses for illegal immigrants.
"The small town I grew up in is a little town of 200 people, it is now a majority-minority community because of the immigrant population that work on the farm; they need to drive," McCabe said. "And yet all of us are put at risk … when people feel afraid to pursue driving training, a driver's license and insurance for their vehicles."
Improving public education
Angelina Cruz, president of the Racine Educators Association, asked the candidates what are the biggest challenges facing public education and how do they plan to fix them.
Candidate and business owner Andy Gronik said the biggest issues are a loss of teachers in the state and building infrastructure for schools.
"We put in place best practices that are generally acknowledged nationwide; we restore that local control so that schools have the ability to deploy the best practices that work in their school buildings," Gronik said and advocated for the phasing out of voucher schools.
"We restore teachers to the bargaining table so their voice is heard again. … We make sure we provide the funding, the real funding, that makes public schools the very best choice."
Matt Flynn, a U.S. Navy veteran and attorney, said he would repeal Act 10 which eliminated collective bargaining for public sector unions, and said he would provide "full funding for our public schools."
"I would change K-12 in this state to K-14," Flynn said. "Tuition will be paid for the first two years of instate technical school, two years of college, and the first two years of a university. Kids all over the state, when they turn 18 are too afraid to go to college. … We can afford it."
Racine resident Chester Todd asked the candidates how they would improve racial inequality in the state.
Mahlon Mitchell, candidate and president of the Professional Fire Fighters of Wisconsin, said Wisconsin has the largest incarceration rate of black Americans in the country, which has ripple effects in Wisconsin communities.
Mitchell said he would "ban the box," a reference to a question on a job application asking if a person has been convicted of a crime.
"We have to look at our re-entry programs … we have to get them the help they need to re-enter into society," Mitchell said.