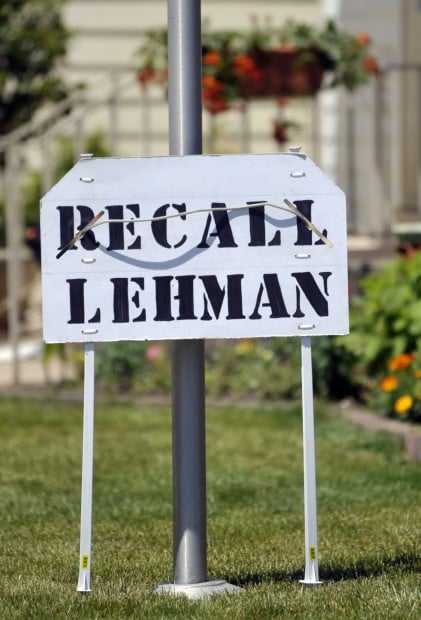 RACINE — The election results from Tuesday's recall have not yet been certified, but already there is some chatter about recalling John Lehman next year.
In Tuesday's recall election, former state Sen. Lehman, D-Racine, narrowly defeated incumbent state Sen. Van Wanggaard, R-Racine. The spread is 779 votes, although final numbers are not in and there is a possibility of a recount.
The very next day after those results came in, there was at least one recall Lehman sign up along the lakefront in Racine and Bill Folk, the chairman for the Racine County GOP, said he has seen comments on Facebook and Twitter about recalling Lehman.
Folk said, "Is it serious? I cannot tell you that."
But, if it does happen, Lehman would be recalled in a new, more Republican-leaning district.
Due to redistricting, the lines of the 21st Senate District are significantly changing. The old district included all of the City of Racine and most of western Racine County except Burlington and Waterford. The new district only includes a small portion of the City of Racine and will extend to include Burlington and a large part of western Kenosha County.
Typically, the district where a person was elected is where they are recalled, but any recalls after the November election will be in the new districts, according to Reid Magney, spokesman for the state Government Accountability Board.
Still, even with the new district, Lehman said he is not worried about getting recalled. He wouldn't be eligible to be recalled for at least a year. Then, it often takes months to collect signatures and certify the election. By the time a recall would be held, it would be near the end of 2013, Lehman said. And his seat would be up for election again in November 2014.
"They didn't recall anyone in the Assembly because the term is so short," Lehman said. The same logic applies to him, he said.
State Rep. Robin Vos, R-Rochester, said he has heard chatter about a future recall and there are a lot of conservatives in western Racine County who are angry they will soon have a senator representing them who doesn't represent their values. On top of that, people in Burlington didn't even get a say in the election. Vos said Tuesday's recalls should have been held in the new district because those are the people Lehman will represent. "The process was wrong," Vos said.
But as far as if Lehman should be recalled, Vos said, "I don't believe in recalling someone just because he is a Democrat." But at the same time Vos didn't say he was entirely opposed to a possible recall, such as if Lehman doesn't represent the wishes of the district or flees the state.
Dan Romportl, the executive director of the Committee to Elect a Republican Senate, said it's too early to say if anyone would try to recall Lehman. That is something launched at the grass-roots level, not at the state level, Romportl said.
Plus, in 2014 with the new Republican-leaning district, Romportl said confidently, "We'll get that seat back."
---
John Bertermann, 70, placed a "Recall Lehman" sign in his front yard at 1656 Michigan Blvd. on Wednesday morning.
"I don't think that there should have been a recall election in the first place," Bertermann said.
According to Bertermann, state Sen. Van Wanggaard has done nothing wrong, and former state Sen. John Lehman did not deserve to apparently defeat him.
Bertermann said that he would not organize a recall effort himself, but he would certainly be involved if someone else led the charge.
"We're just voicing our opposition — just one small little voice," he said of the decision to display this sign so prominently.
Get local news delivered to your inbox!
Subscribe to our Daily Headlines newsletter.