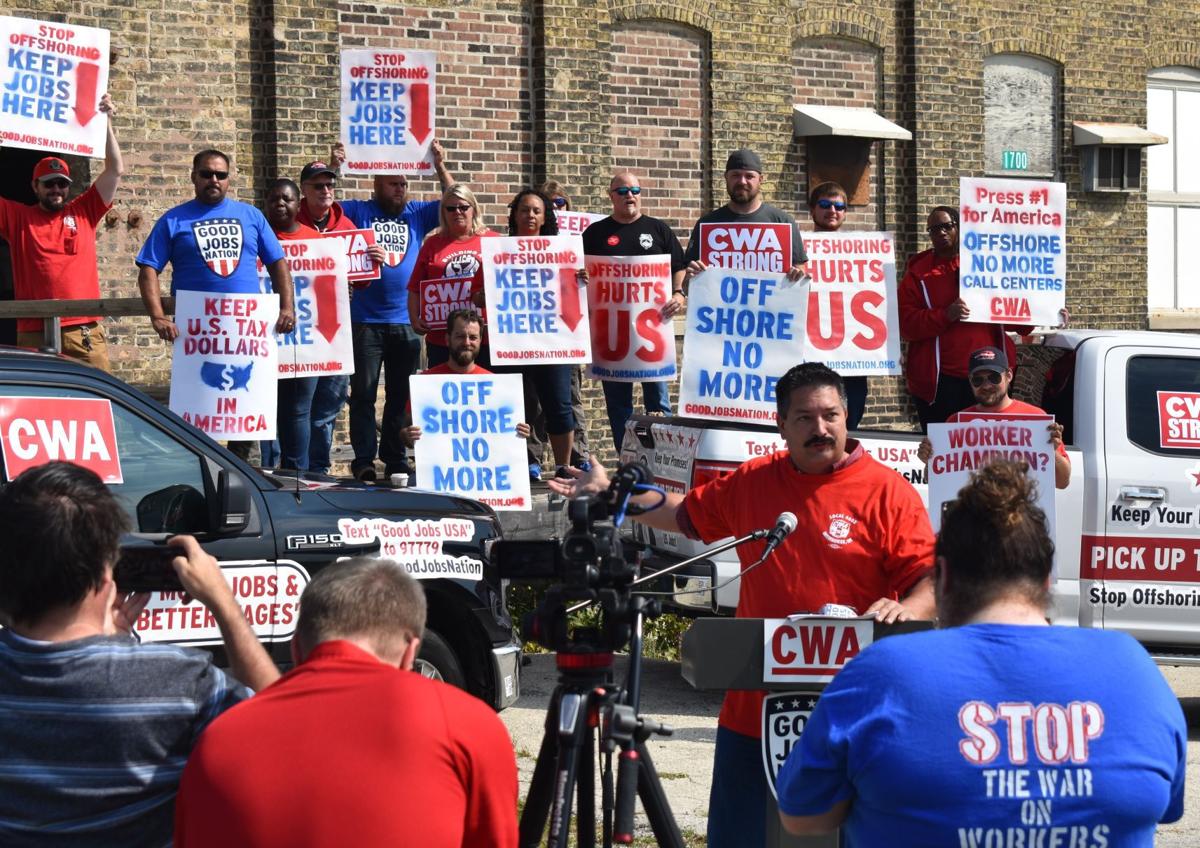 RACINE — A series of speakers at a local rally Monday called for President Donald Trump and House Speaker Paul Ryan, R-Wis., to do more to keep American jobs from going offshore, as they appeared in support of one of Ryan's potential election opponents, Randy Bryce.
The one-hour rally, held at the edge of Southside Industrial Park, was the third stop on a Midwestern tour designed to "hold Trump accountable," according to organizers. It involved representatives of several groups including the Communications Workers of America, Good Jobs Nation, Wisconsin's Working Families Party and Fight for $15.
Speakers decried the loss of call center jobs to other countries such as India and the Philippines. The approximately 45 participants, including organizers, repeatedly chanted "Off shore — no more!"
They were highly critical of Trump and called for him to sign an executive order that would prevent the loss of American jobs to other countries overseas.
Bryce, who is seeking to challenge Ryan for his U.S. 1st Congressional District seat in 2018, said the president has signed 93 executive orders, "and not one has helped American workers." About 200,000 U.S. call center jobs have been lost in recent years — jobs that were supposed to replace lost manufacturing jobs, he added.
Executive Director Marina Dimitrijevic of the Working Families Party said Ryan should use his influence to move H.R. Bill 1300, the United States Call Center Worker and Consumer Protection Act of 2017, through the House of Representatives.
Racine mayoral candidate and state Rep. Cory Mason, D-Racine, was among the rally's 11 speakers. In the past quarter-century, he said, Racine has lost more than 12,000 manufacturing jobs.
"But we certainly have to make sure we're keeping the ones that we've got," Mason said.
Besides Bryce, at least one other Democrat is seeking to challenge Ryan in the 2018 election: Janesville School Board member Cathy Myers.
Get local news delivered to your inbox!
Subscribe to our Daily Headlines newsletter.