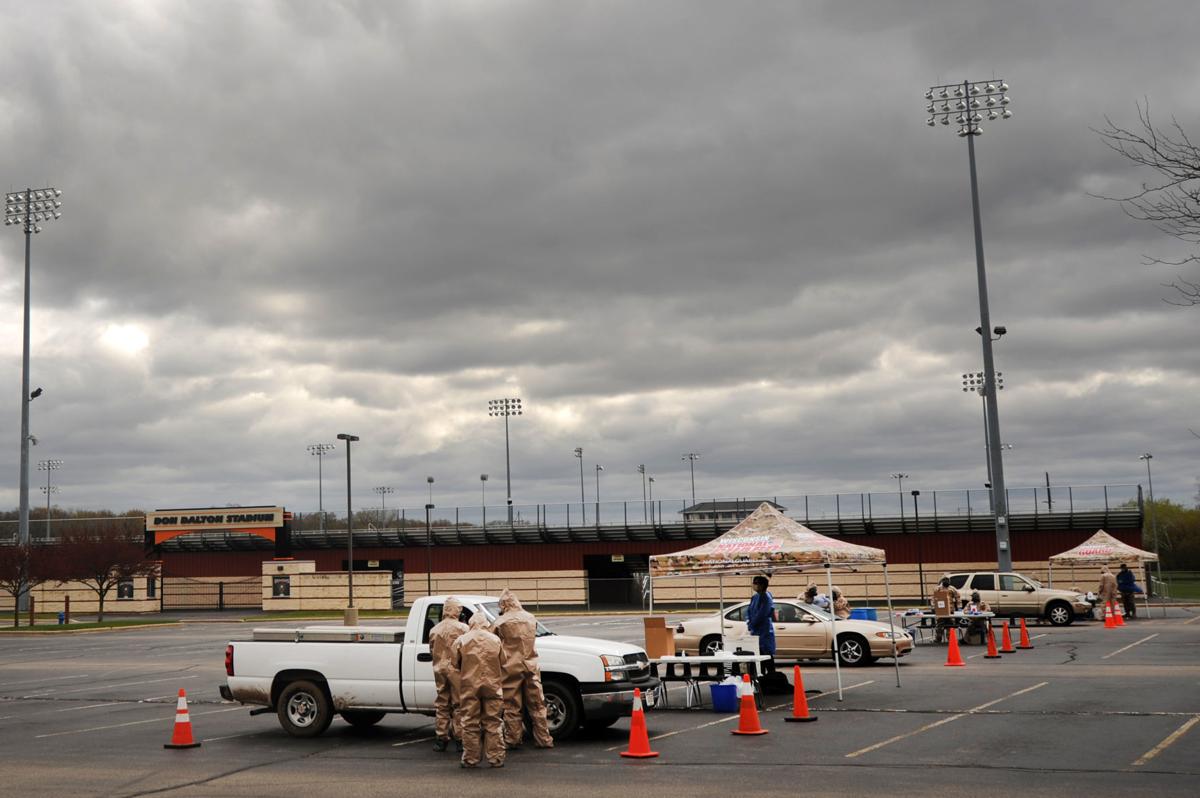 RACINE — While the percentage of people testing positive for COVID-19 is trending downward, the understaffed Racine Health Department is still stretched thin.
During a Board of Health meeting on Tuesday, Health Department Administrator Dottie-Kay Bowersox said hourly employees are still working nine to 11 hours a day, seven days a week; salaried employees are working anywhere from ten to 17 hours a day.
"Sometime next year we'll have a lot of people making up for lost vacation time," said Board President John Berge. "It has really proven to us the passion of those working in the city's health department."
A good portion of that time is spent contact tracing, a process where a health department official interviews someone who has tested positive for COVID-19 to learn who they may have been in contact with. Then they reach out to those individuals or companies and ask that they quarantine and check for symptoms.
Aldermen Maurice Horton and Melissa Lemke, who both sit on the health board, asked what the City Council could do to support the department. Bowersox and staff had one answer: money. Bowersox said that she and Mayor Cory Mason are looking into the funds that have been made available to the state for COVID-19, to see if the city could access some of those funds for contact tracing.
Testing continues
Other than additional funds, Bowersox said the best way to support their efforts is to continue encouraging social distancing practices. The percentage of cases testing positive has gone down recently, which Bowersox said is expected since the community testing sites have been open to people who are symptomatic and asymptomatic.
Horton asked if they've seen signs of an increase after last week's protests. Bowersox said that they probably won't know until sometime next week.
Next week, another community testing site is schedule from 9 a.m. to 6 p.m. Monday through Friday at Horlick High School, 2119 Rapids Dr.
Horton said he went through the community testing site at Festival Hall approximately ten days earlier but had not received test results. Bowersox said she had heard about some test results being delayed due to the state contract with only one laboratory and delays with the National Guard. The Health Department calls individuals who test positive while the National Guard contacts individuals whose tests came back negative.
Bowersox encouraged anyone whose test results have been delayed to contact the health department.
Updated numbers
As of Wednesday, in Racine County, 1,975 cases of COVID-19 were confirmed out of 19,249 tests administered, a confirmation rate of 10.2%
Within the jurisdiction of the City of Racine Health Department, 1,378 cases have been confirmed out of 9,635 tests, a confirmation rate of 14.3%. The Central Racine County Health Department has reported 597 cases out of 9,614 administered, a confirmation rate of 6.2%.
Milwaukee County has confirmed 9,096 cases, Kenosha 1,308, Waukesha 842 and Walworth 456.
Racine County has recorded 51 deaths due to COVID-19, 20 of which within the Racine Health Department's jurisdiction and 31 from CRCHD.
Milwaukee County has recorded 336 deaths, Kenosha 36, Waukesha 34 and Walworth 17.
PPE applications
Racine County has made available details for entities that wish to apply for person protective equipment through the Racine County Private Partner PPE program.
Gloves, surgical masks and hand sanitizer can be purchased (at cost) through the County's program, subject to availability of those items. The program is open to all Racine County businesses.
More information and an order form is available through the county's website. Any questions or concerns can be directed to Marley Uran at Racine Area Manufacturers and Commerce (RAMAC) at muran@racinechamber.com or 262-634-1931.
Concerned about COVID-19?
Sign up now to get the most recent coronavirus headlines and other important local and national news sent to your email inbox daily.