RACINE — A judge is set to consider on Friday whether to temporarily halt Racine's local Safer at Home order, while a suit filed against the city by the owner of Harbor Park CrossFit works its way through the court system.
David Yandel said that business has dropped by more than 25% since the enforcement of the Racine order, according to an affidavit filed May 21.
The original judge in the case, Michael J. Piontek, on May 22 denied Yandel's request to temporarily halt Racine's local Safer at Home order, which would have allowed the business at 3801 Blue River Ave. to reopen immediately.
Also on May 22, the city requested a new judge be assigned to the case. The city did not provide a reason for the request.
On May 26, Racine's new coronavirus restrictions went into effect, allowing gyms in Racine to reopen but restricting them to only 10 customers inside at any time.
Racine County Circuit Court Judge Jon E. Fredrickson was assigned to the lawsuit on May 29. Last week Thursday, Fredrickson issued a motion to reconsider the decision to keep in effect local coronavirus restrictions.
The city, along with co-defendant Public Health Administrator Dottie-Kay Bowersox as well as Yandel, will be allowed to submit briefs to the court on a temporary halt to the local coronavirus restrictions prior to a hearing set for 1:30 p.m. on Friday.
Yandel's lawsuit said that the City's Safer at Home order will "lead to the likely closure of the business" due to "significant loss of revenue and loss of customers due to the Racine order."
The suit asks the court to find the Racine Safer at Home order "unlawful, invalid and unenforceable."
Following a request for comment, City Attorney Scott Letteney said that it would be inappropriate for the city to comment on a lawsuit that is in active litigation. 
Harbor Park CrossFit announced last week its plans to disaffiliate with CrossFit after ex-CEO Greg Glassman made comments about George Floyd, who died after a Minneapolis police officer knelt on his neck. Those comments included, "We're not mourning for George Floyd, I don't think me or any of my staff are."
The goals
Forward Racine has two primary goals.
1. To reduce the number of people who are exposed to and subsequently contract COVID-19
2. To reduce the number of people who are hospitalized due to COVID-19
According to the Forward Racine plan (available here), which was released on Friday, May 22, and went into effect less than four days later, "This strategy is intended to prevent community transmission and protect those most vulnerable, while reducing the economic and social fatigue resulting from the current pandemic. In order to sustain the health and welfare of our citizens it must also ensure that steps are taken to alleviate the strain on public health, health care systems, and emergency response services in order to ensure and preserve their ability to respond in a timely manner to current and future threats, while maintaining capacity to treat those impacted by COVID-19."
Why the city says Forward Racine is legal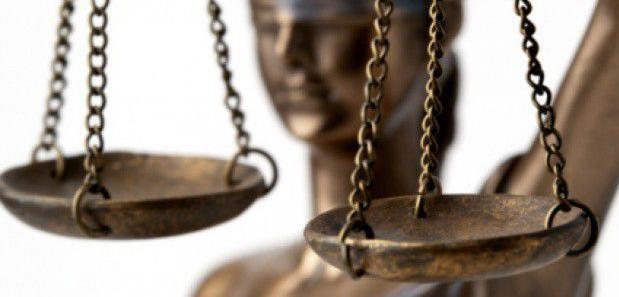 Many have wondered why the city and the health department still think it's legal to have a Safer at Home-like order in place, even after the Wisconsin Supreme Court overturned the statewide order on May 13.
Racine City Attorney Scott Letteney has contended that what the city is doing is legal because there is an active public health threat caused by COVID-19 in the City of Racine. He added that the Supreme Court's ruling that how the statewide order was enforced by the Department of Health Services was unconstitutional; and that the order itself still held water.
Ryan Nilsestuen, chief legal counsel to Gov. Tony Evers, added on Wednesday that the Supreme Court decision indicated that the statewide order should have gone through a legislative rulemaking process and couldn't be issued unilaterally by DHS despite the pandemic.
Nilsestuen has shown disagreement with the court's 4-3 decision. He said that, for local orders like the one still in place in Racine, said "those same rulemaking requirements do not apply to local governments. So the rationale that the four judges used to strike down the state's ability to respond to the pandemic doesn't respond to local health officers."
It is technically a new order
Racine's Safer at Home order expired at 8 a.m. on May 26 — the same time the statewide Safer at Home order was supposed to expire. Immediately after that, Forward Racine went into effect. They are two separate orders, even though they have almost identical goals — although Forward Racine is significantly less strict than Safer at Home.
As such, calling the current rules "Safer at Home" would be inaccurate.
Enforcement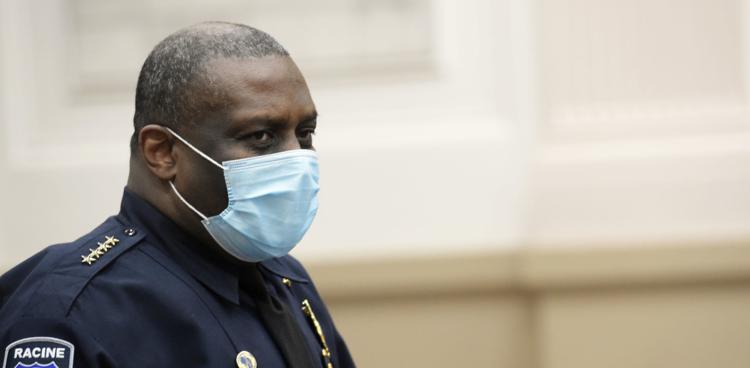 Racine Police Chief Art Howell has shown his department's wholehearted support for the city's plan, even while select other law enforcement agencies — including the Racine County Sheriff's Office — have been less enthusiastic about enforcing restrictions related to COVID-19.
In a statement, RPD Public Information Officer Chad Melby said "As we work together as a community to reopen local businesses, church organizations and other facilities under the Forward Racine plan, we ask for your support in practicing respiratory etiquette, social distancing, and overall social responsibility ... In so doing, we will maintain public safety through flattening the curve and reducing the spread of the COVID-19 virus."
Howell has said that his department is more concerned about large gatherings of people forming as the summer gets underway, more than it is concerned with businesses that might not follow the city's rules.
However, Mayor Cory Mason said that he "will not hesitate" to identify businesses that knowingly don't follow the city's rules while also praise those that adhere to Forward Racine.
Order will be re-assessed on June 30, if not sooner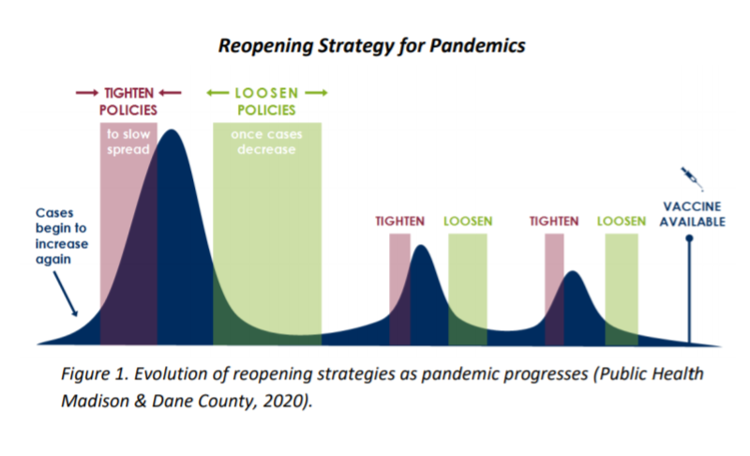 Under Forward Racine, city leaders are planning to reassess the status of Racine's outbreak by June 30. On that date, or on July 1, new rules are expected to be put in place. What the new reality will look like still remains up in the air. Public health leaders and Mayor Cory Mason's administration are expected to work together to develop the new plan, based on whatever the state of the virus is in Racine at that time.
However, if the situation in the city worsens in the coming weeks, Mason and Public Health Administrator Dottie-Kay Bowersox said that they will not hesitate to tighten restrictions.
One of the main things health leaders are looking out for is a feared "second wave," in which a quick increase in the number of coronavirus cases arises in the coming weeks and months.
Four metrics

When deciding how and when Racine's rules will change, the city will look at four metrics.
1. Epidemiology: Is there a sustained decrease in the number of positive tests and/or cases?
If fewer than 10% of COVID-19 tests in Wisconsin come back positive over a 14-day period, then restrictions can be expected to be rolled back.
But if more than 10% of COVID-19 tests in Wisconsin come back positive over a 14-day period, then restrictions can be expected to remain in place or become more stringent.
The daily percentages of positive tests in the City of Racine have peaked over 20% multiple times throughout the month of May, indicating that improvement needs to be made on that front before restrictions can be expected to be rolled back.
On the epidemiological front, the Health Department is also looking for a "decline in five-day rolling average" of positive tests over a 14-day period. Essentially, that means that public health leaders want to see the number of positive COVID cases declining on average over a two-week period.
2. Health care system: Is the health care system able to provide consistent levels of diagnostic testing and maintain surge capacity?
The city wants to hear two things from hospitals:
• Hospitals saying they can continue treating all patients "without crisis standards of care," meaning that care levels are not being diminished because of the pandemic.
• That there isn't a significant increase in health care worker infections over a 14-day period, while sufficient testing for health care workers is still available.
3. Public Health: Are infections contained, e.g. is community spread being controlled?
The Health Department will be looking for these three positive signs before restrictions can be rolled back:
• 85% of positive cases are followed up on with contact tracing. If less than 85% of people with COVID in the city are followed up with, the city will be less confident about the safety of reopening further.
• That all long-term care facilities have protective measures and policies in place. As of the afternoon of Wednesday, May 27, the Department of Health Services was conducting 49 facility-wide investigations in Racine County. Two of them are at nursing homes: the Bay at Burlington Health and Rehabilitation Center, and Ridgewood Care Center.
• That the number of probable cases is "not significantly rising."
4. Resources: Is the PPE (Personal Protective Equipment) supply chain robust enough to meet the needs of the health care system and public health?
Although it's still a concern at the state and national levels, reports of PPE shortages have become of less concern in recent weeks. That is in part thanks to U.S. manufacturers and purchases from overseas that have helped fill American needs.
Rules for restaurants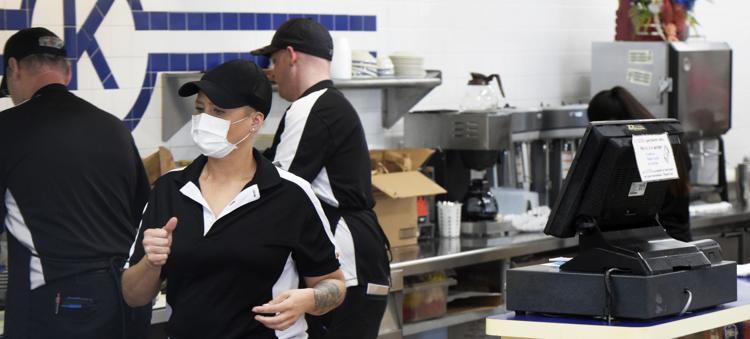 1. Indoor capacity is limited to 50% of the building permit. So if a building's permit allows 60 people, only 30 customers and staff members are allowed to be inside at a time.
2. Outdoor seating is allowed again, with social distancing requirements in place.
3. Takeout and delivery services are still encouraged.
4. There is no self-service or customer self-dispensing allowed, meaning salad bars and soda machines must remain off limits to customers.
5. Indoor play areas, such as those typical at some fast food restaurants, must remain closed.
6. Employees are encouraged to wear masks and gloves, but are not required to.
7. When June 30 comes, rules are likely to shift.
Rules for retail businesses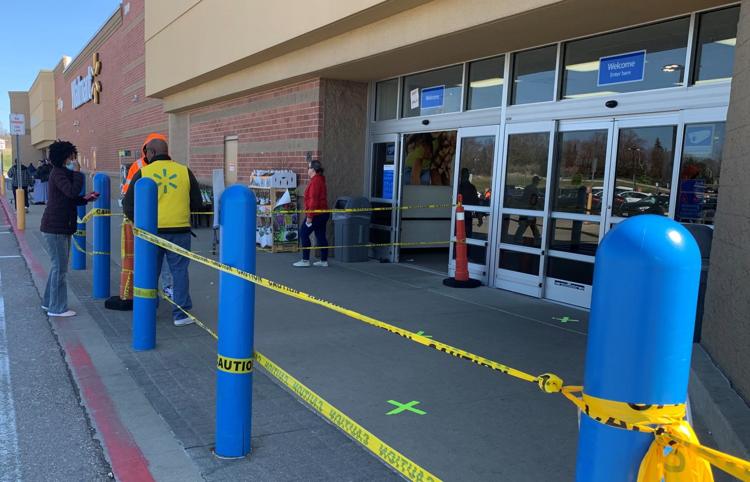 The city's Forward Racine rules simply say that retail establishments can be open, but should follow guidelines from the Wisconsin Economic Development Corporation.
The WEDC's guidelines include:
1. Physical space should be increased between employees and customers to maintain at least a six-foot distance at all times. Sales registers and other points of purchase should also be at least six feet apart.
2. Counters should be wiped down after every checkout.
3. Retailers are encouraged to have a clear plastic barrier between customers and clerks, but the barriers are not required.
4. Stickers or arrows should be placed on floors, indicating customer traffic patterns to reduce contact and enforce minimum distancing at queuing areas such as cash wraps.
5. Changing rooms, lounge areas, locker rooms and other "common use areas" must be closed "if social distancing and sanitizing cannot be practiced."
6. Reusable shopping bags and carts can only be provided if the business is able to sanitize them after every use.
7. Online sales, delivery services and curbside pickup services are still encouraged.
8. As much as possible, workers' contact with cash and credit cards should be minimized. Some businesses have extended credit card machines' cords so that drivers can pay themselves without the credit card ever having to exchange hands.
Rules for gyms and other indoor recreational facilities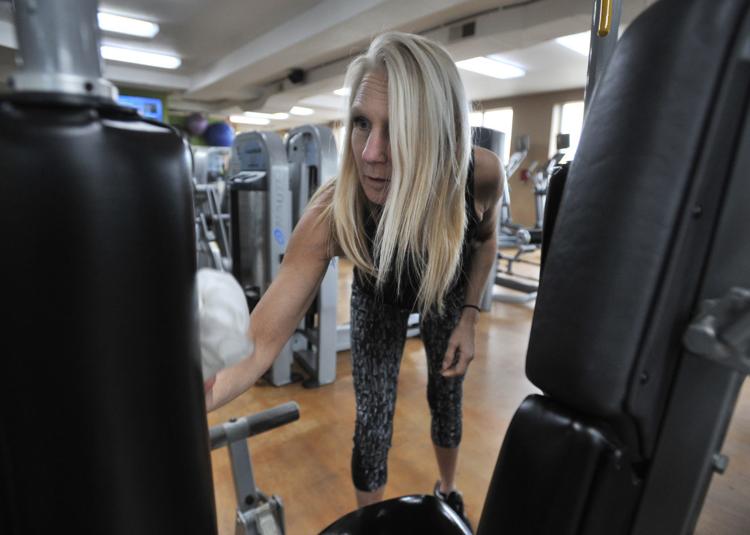 After being forced to close entirely for two months, these facilities are able to reopen with restrictions.
1. Each gym, regardless of its size, is limited to 10 people (staff and customers) inside at all times and only "if social distancing of six feet can be maintained."
2. Single-use gloves should be worn, but that is not required.
3. High-contact areas, such as doorknobs and workout equipment, should be washed after every use.
4. According to the WEDC, "Bathrooms, locker rooms and shower rooms should be cleaned and sanitized frequently."
5. Sanitizing wipes should be near every location guests touch often, such as points of purchase and equipment.
Rules for salons, tattoo parlors, tanning facilities, massage parlors and spas
This wide-ranging group of facilities all had to be closed for months, but now can get back in action.
1. The WEDC advises: "Since the six-foot social distance guideline is not practical in nail salons, minimize facial contact by wearing a face shield or installing a plastic partition between the employee and client with ample space cut out where hands or feet can be slid underneath to conduct the manicure or pedicure."
2. Employees must be provided with "an adequate supply of paper towels, soap and hand sanitizer to allow proper hand hygiene." All employees should also carry a towel or handkerchief with them to sneeze/cough into if it isn't possible to get outside of the building and away from coworkers/customers to sneeze or cough.
3. Employees should wear a mask at all times. They should also wear a face shield if one is available.
4. All tools that come in contact with a customer — such as tattoo guns or hair clippers — must be wiped down and/or disinfected after every use, as well as before and after each shift.
5. All tools for nail care should be disinfected after every use, or be single-use items only.
6. All salon chairs should be disinfected after each use. Point-of-purchase stations should be disinfected after every use too.
7. The WEDC encourages facilities to "Consider covering chairs in a non-porous material for easy cleanup, or use a disposable cover" similar to the ones used in medical offices.
8. Handwashing stations or hand sanitizer should be available near entrances for everyone entering the facility.
9. Capes worn by people getting their hair cut should be clean.
10. Cleaning frequency for bathrooms should be upped.
11. The number of clients allowed inside should be limited based on size of the facility.
12. The use of cash should be discouraged, and prepay or online payments should be encouraged.
13. Clients should wait outside of the building until it is time for their appointment. As such, waiting lobbies should be closed.
Rules for lodging, hotels and bed & breakfasts
1. No housekeeping should be performed in occupied rooms "except on request for extended stays."
2. Make sure the front desk is situated so that employees and guests can remain distanced.
3. Fitness areas should remain closed.
4. Remove or reduce seating areas inside and outside.
5. Transport services should not be offered unless parties can be separated.
6. Events should be limited to 10 people.
7. Once a room is vacated, don't let anyone else check into that same room for at least 24 hours.
8. Remove glassware from rooms, replacing it with disposable cups.
9. Laundry should be conducted "on the warmest appropriate water setting."
10. All bedding should be watched after every guest stay.
12. Pre-packaged grab-and-go-style food services are allowed.
13. Online payments are encouraged to minimize person-to-person contact and points of purchase.
Rules for churches, places of worship, theaters, museums and "social clubs"

1. Facilities with less than or equal to 50,000 square feet of public space can allow in 25% of their max occupancy. So, for a building with an occupancy maximum of 200, 50 people can be inside, including staff/personnel.
2. Facilities with more than 50,000 square feet of public space can allow in four people per every 1,000 square feet, excluding staff/personnel. So, for a building with 60,000 square feet, 240 people can be inside not including staff/personnel.
3. Social distancing and enhanced sanitizing protocols are still encouraged.
Rules for outdoor recreational facilities and activities, farmers markets and zoos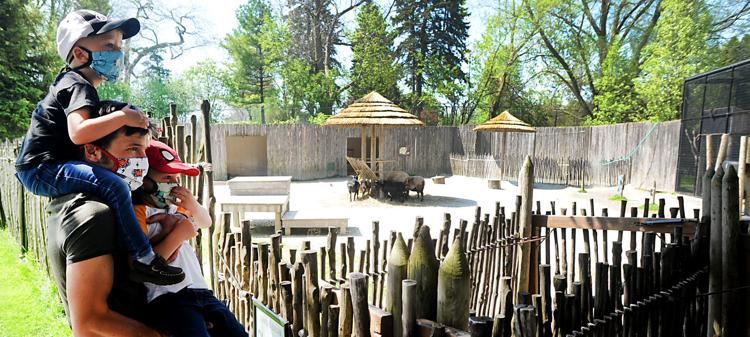 1. While "Low-risk Recreational Activities" such as walking or biking or disc golf are encouraged, "High-risk Recreational Activities" that require person-to-person contact like basketball or soccer or volleyball are still off limits. Dog parks also are to remain closed.
2. Outdoor playgrounds, skate parks and splash pads are remaining closed for the time being in the city.
3. Swimming pools are limited to 10 people at a time, and only "if social distancing of six feet can be maintained."
4. Public beaches and parks are open, but parking lots and restrooms must remain closed.
5. A maximum of 100 people are allowed at zoos and at farmers markets at any one time, including staff and vendors. Social distancing must still be followed. Racine Zoo reopened on Tuesday with masks required for all guests.
Rules for long-term care facilities
Nursing homes, group homes and other long-term care facilities have received much focus from the State of Wisconsin, and nationwide, for being places where the novel coronavirus can spread extremely quickly and be extra deadly, since a higher percentage of people will be elderly or have pre-existing conditions.
The city's rules include:
1. No outside visitors allowed, except for select compassionate care visits
2. Group activities and communal dining are not allowed; many facilities have been delivering meals to residents' doors to make sure people still get their food.
3. Communal gatherings in shared spaces should be discouraged
Rules regarding mass gatherings, auctions and rummage sales
However, private gatherings — such as those at convention centers and banquet halls — are allowed but are limited to 25 people, and only "if social distancing of six feet can be maintained."
This includes weddings and funerals, meaning maximum attendance at those services is 25.
Auctions, estate sales and rummage sales will not be allowed until Aug. 1 at the earliest.
Rules for schools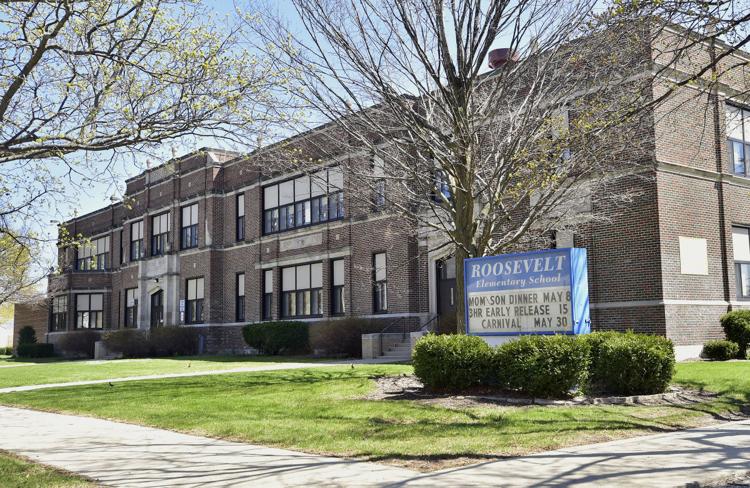 2. Colleges can be open only for facilitating distance learning, performing critical research, and/or performing "essential functions as determined by the institution." The only post-secondary education institution in the city is Gateway Technical College.
Rules for child care centers, day camps and other summer programs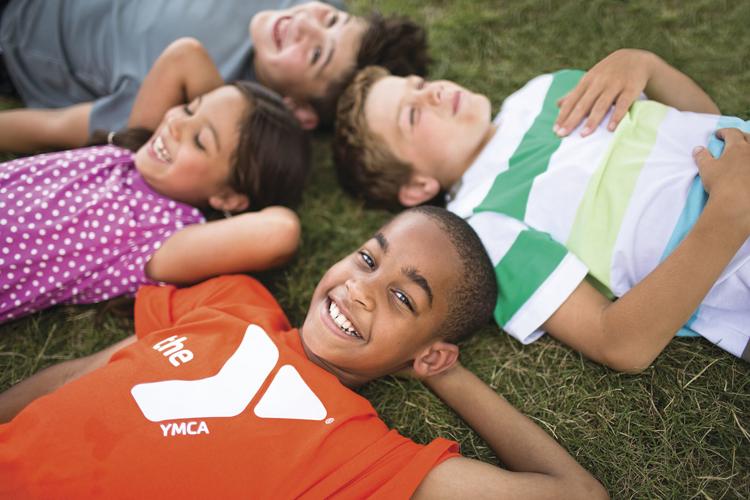 These facilities have never been forced to close entirely, but are facing restrictions.
The city also has the restriction that separate groups and classrooms within camps and child care facilities — such as rooms/groups separated by age — cannot be allowed to intermingle. That way, if a child or adult in one group becomes infected with COVID, the virus is less likely to spread out throughout the entire camp or facility.
Rules for City of Racine government offices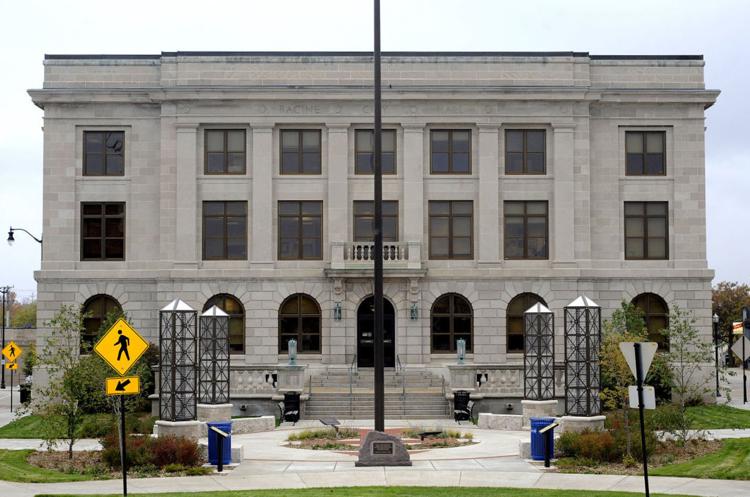 City Hall and other government offices are technically still open, but there is no public access unless it is approved prior.
Concerned about COVID-19?
Sign up now to get the most recent coronavirus headlines and other important local and national news sent to your email inbox daily.