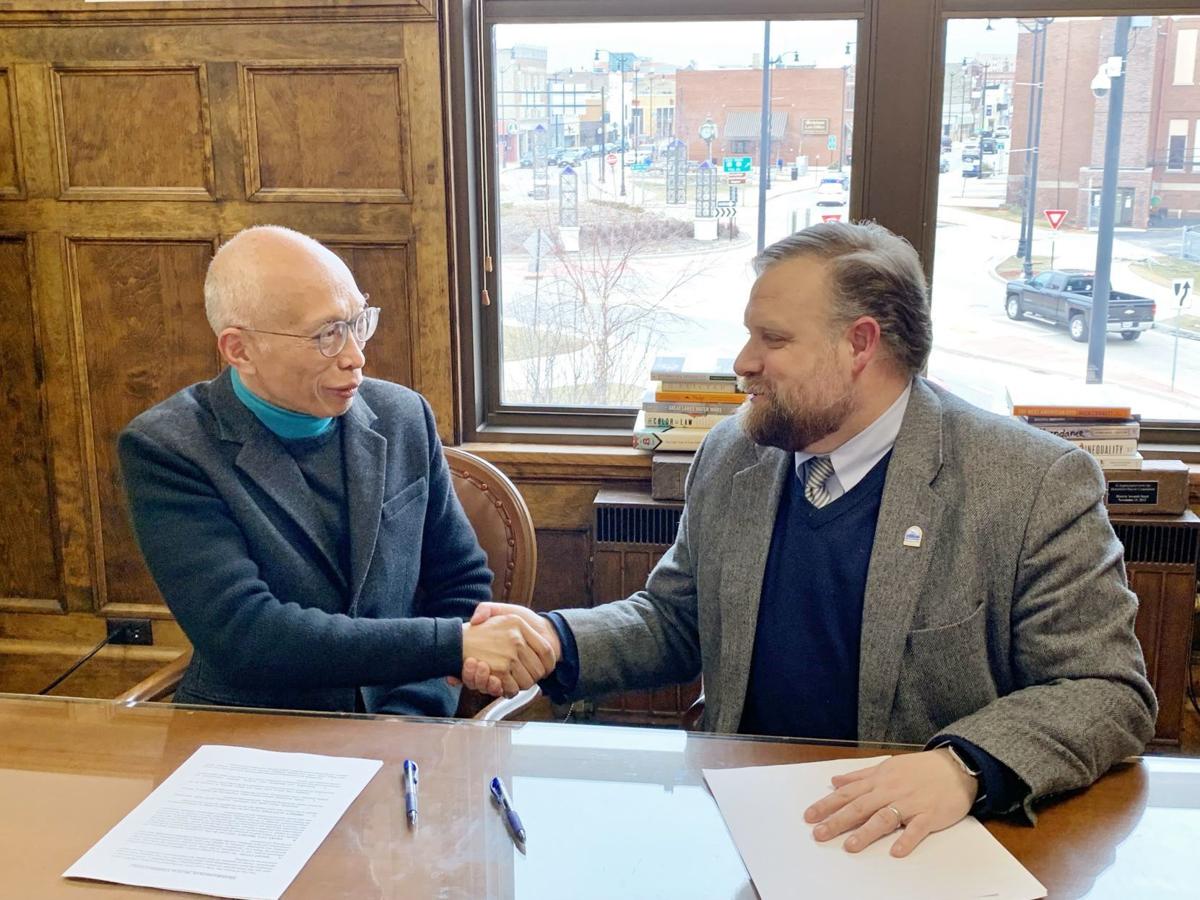 RACINE — The City of Racine has signed a memorandum of understanding with the Foxconn Technology Group to form a public-private partnership with the company. The City Council approved the agreement at its meeting Tuesday night.
According to a release about the agreement, Foxconn and Racine will work on the "development of strategic relationships with public and private organizations, academic institutions, or technology-based companies. Under the agreement, various partnerships will yield solutions for industry sectors such as public safety, transportation systems, public utilities, high-speed networks and related infrastructure."
Racine Mayor Cory Mason announced plans for a private-public partnership with Foxconn on Tuesday and plans for the city to build the framework for the Racine Smart City Initiative.
The intent of the Smart City Initiative is to develop innovative ideas to enhance quality of life, improve working environments, expand transportation networks and living spaces, inspire creative city planning and promote sustainable energy solutions.
"To be successful in the 21st century and continue to innovate, we have to anticipate the needs of future entrepreneurs and create an environment that will attract innovators to the City of Racine," Mason said. "Partnering with Foxconn gives the city a unique competitive advantage. All over the world there is a Smart City movement happening, and both the city and Foxconn want to operate in that space. The city's infrastructure combined with ingenuity of Foxconn sends a clear message to innovators and investors, if you have an idea, you want to be in Racine."
Louis Woo, special assistant to Foxconn Chairman and CEO Terry Gou, signed the memorandum of understanding with the city on behalf of Foxconn on Friday, when he was in Wisconsin meeting with local officials.
"This initiative speaks to the core of what Foxconn is all about, and this partnership will cement a lasting legacy for the next generation of innovators in the City of Racine and beyond," Woo said in a statement. "I am excited to see projects get off the ground and start to take shape. I have no doubt that we will soon see some exciting stories of creativity, discovery and success that will positively shape the future of Racine and Wisconsin as a whole."
MOUNT PLEASANT — Foxconn Technology Group will start the next construction phases by this summer and begin production in the fourth quarter of…
Racine in the running
Foxconn owns two buildings in the city: One is located at 601 Lake Ave., which will be a hub for Smart City projects; the other is One Main Street, which has been renamed Foxconn Place Racine.
According to a media release. Foxconn Place Racine will be home to the Wisconn Valley Innovation Center, part of the AI 8K+5G ecosystem that Foxconn plans to build in Wisconsin.
AI refers to artificial intelligence; 8K resolution refers to any screen or display with about 8,000 pixels width; and 5G is defined as the fifth generation of wireless technology.
The city hopes to be designated as a Smart City and applied to the Smart Cities Readiness Challenge, sponsored by the Smart Cities Readiness Council.
Racine was selected as one of 10 finalists. The five winners are set to be announced on April 16 at Smart Cities Week conference in San Diego. During Tuesday's City Council discussion of the memorandum of understanding, 8th District Alderman Q.A. Shakoor II pointed out that Racine is the only finalist in the Midwest.
Shakoor spoke in favor of the memorandum, framing the Smart Cities initiative as a way to move the city forward and address issues around unemployment.
"I believe this initiative will move the City of Racine to an active place of action," said Shakoor. "What's really important is the MOU does not commit the city to any spending of money and this document does not legally bind us in any way."
Alderman Melissa Lemke of the 15th District asked about a provision in the memorandum about confidentiality. City Administrator Jim Palenick said that provision stated that the city would not make public any proprietary information about Foxconn's business.
"When we're dealing with a tech corporation, there a lot of different criteria of information, including patent information, that they have to keep confidential," said Palenick.
The council approved the memorandum by a vote of 14-2. Alderman Sandy Weidner of the 6th District, who cast one of the votes in opposition, said she wanted the motion sent to committee for more discussion.
"I understand we sometimes have to take action on things, but for something this important I think it warrants discussion," said Weidner.
Joining Weidner in opposition was and Alderman Carrie Glenn of the 10th District. Aldermen Jeff Coe, Mollie Jones, John Tate II, Tracey Larrin, Steve Smetana, Maurice Horton, Terry McCarthy, Mary Land, Henry Perez, Jason Meekma joined Shakoor and Lemke in voting in favor of the memorandum. Alderman James Morgenroth was not present.
Mason said he is excited about the opportunities that a partnership with Foxconn can bring to the city.
"For our residents, my goal is to use data and new technologies to make more informed decisions and deliver better services," Mason said. "When it comes to entrepreneurs, we want to be the city of choice for inventors and innovation. There is a lot of work to still be done, but we are making fantastic progress."
If Racine is not selected as a smart city, it was unclear as of Tuesday how that would affect the agreement.
"To be successful in the 21st Century and continue to innovate, we have to anticipate the needs of future entrepreneurs and create an environment that will attract innovators to the City of Racine." Racine Mayor Cory Mason
"To be successful in the 21st Century and continue to innovate, we have to anticipate the needs of future entrepreneurs and create an environment that will attract innovators to the City of Racine."

Racine Mayor Cory Mason