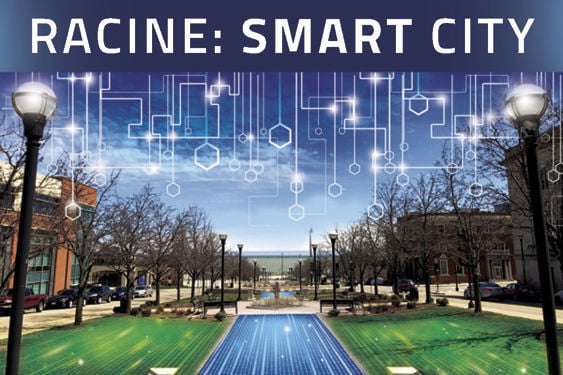 RACINE — U.S. Cellular plans to roll out 5G wireless internet in Racine in early 2020.
That announcement was made Wednesday as part of the city's Smart Cities conference, which continues Thursday.
Jim Anetsberger, vice president of sales business channels at U.S. Cellular, announced that Racine was going to be one of the company's first deployments of 5G technology.
Over 100 people from Racine and beyond filled the auditorium at Memorial Hall, 72 7th St., for the first day of the conference, a day of networking, announcements and discussions about the future of information, infrastructure and work.
The city did not make specific announcements about what Smart City project it will undertake as one of the winners of the Smart Cities Readiness Challenge, which grants city staff access to expertise and financing.
But peppered throughout the day were a few announcements regarding public-private partnerships that will bring or expand smart technologies into the region.
The panel discussions went into topics such as infrastructure, sustainability and how to train people for the jobs of the future. Some also got into the harder conversations about how this technology could impact the community.
Announcements
Another announcement, which Mayor Cory Mason said was a surprise to him when he entered office, was learning that the city already has 3,000 strand miles of fiber-optic communications cable already laid out and will roll out more into residential neighborhoods.
Paul Ancona, I.T. Director for the City of Racine said the city has been installing fiber wherever road construction was taking place to facilitate the Department of Public Works, police and fire operations.
"When we first decided to put the fiber in that we have, nobody knew about smart cities," said Ancona. "We thought of it as a way to save money for the city to connect buildings."
Ancona said 70% of the fiber is "dark," meaning mostly unused, which could make it available for public-private partnerships.
The remaining announcements pertained to current public-private partnerships. As part of its support of a zero waste initiative the city passed earlier this year, InSinkErator is offering a $25 rebate for City of Racine residents who install InSinkErator garbage disposals in their homes.
Garbage disposals can reduce the amount of food waste that goes to Kestral Hawk landfill, which is estimated to have three to five years before it reaches capacity.
The city is also looking into installing kiosks that would provide information on transportation, events and local businesses.
Citypost designed the kiosks that were installed in Kansas City in 2016 and is currently rolling them out in Milwaukee.
Citypost's Chief Marketing Officer Mike Mainthow said in Kansas City approximately 30,000 people interact with the devices daily during the high tourism season.
You have free articles remaining.
Training the future workforce
Some of the panel conversations touched on some difficult topics such how to ensure the digital workforce is as diverse as the general population.
During a break, Michael and Dulcevita Brock, founders of the nonprofit Dream Hustle Code, spoke with two teen girls of color about how important it is for them to get involved in the tech industry.
"They need your voices in those spaces," Michael told them.
Karl McNeil, who helped bring Dream Hustle Code to Racine (the organization is based in Chicago) to organize the Hour of Code at Racine Unified schools, stressed the importance of women and people of color becoming part of the creative process.
"We are the main consumers of technology but are not the creators of it," said McNeil. "You'll find out that those communities have things to offer as well."
Some tech employers state the issue is due to the pipeline, and a lack of women and people of color being properly trained to work in those positions. Michael said their goal is to see that change.
"You can't say that if I've got 100 women trained and ready to go," he said. "Some of those women might have the next big idea."
Michael and his son Ian sat on the panel to discuss training the workforce of the future alongside representatives from Gateway, UW-Parkside and Carthage College.
He pointed out that while it was great to have so many programs available in higher education, it was important to lay the foundations of success much earlier, during a student's K-12 education.
Michael stated that it was important for higher education to partner with K-12 to ensure they're setting students up for success.
"As a nation we're behind other nations in training our students," said Michael. "We need to do more in order to catch up. We need to make sure those relationships, those partnerships, are more robust."
Protection and privacy
Another panel discussed questions around privacy and security.
Michael Pegues, the Chief Information Officer at the City of Aurora, Illinois, said that before working for the city, he had worked at a private company.
A major difference between the two experiences is the amount of resources available to devote to cybersecurity.
One solution, Pegues offered was a public-private partnerships. But those raise another crop of questions around whether that data could or should be monetized.
Pegues said the subject is still relatively new in the court system, so there's not much legal precedent to guide governments on best practices.
"Data privacy is one of the most immature areas because it's stalled in the legal realm," said Pegues.
The Smart Cities Conference continues Thursday at 8 a.m. at Memorial Hall, 72 7th St.