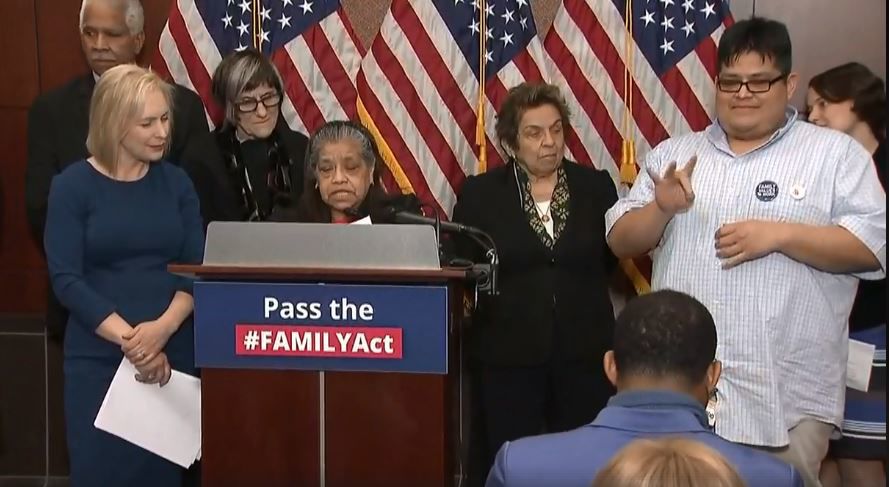 While many workplaces offer paid vacation or sick leave, not as many offer paid family leave for an employee to take time off to care for a loved one.
On Tuesday, the FAMILY Act was introduced in Congress by Democratic presidential candidate U.S. Sen. Kirsten Gillibrand, D-N.Y., and U.S. Rep. Rosa DeLauro, D-Conn., which if passed would offer paid family leave.
With them in Washington, D.C., for the announcement were Racine residents Maria Hernandez and her son Fidel. Both of them work at the Amazon fulfillment facility in Kenosha.
Maria works for a company that contracts with Amazon to clean the facility at Interstate 94 and Highway S (Burlington Road).
One day while working Maria, who has diabetes, passed out due to low blood sugar and was taken to a hospital in Kenosha. Her recovery was going to take months.
"I asked (my employer) if I could use my vacation days for medical leave," Maria told The Journal Times. "They said I couldn't use vacation time for medical leave."
With bills, food and other expenses continuing to come in, Fidel, who is deaf, wanted to help out.
Fidel works full-time, 10 hours a day, four days a week, in the Amazon fulfillment center. But Fidel said he was only able to get unpaid time off to care for his mom.
"I had to keep working to make money to cover our living expenses," Fidel said. "With only my income, for five months, we had to eat from food pantries and use emergency income."
Maria said they got some financial help through their church but it was not enough for Fidel to stay home.
"We're living by a little thread," Maria said. "It was hard on our (financial) situation."
In response, Amazon officials said the company just recently became aware of Fidel's situation and are working with him to find a solution.
A spokesperson from Amazon stated: 
"Amazon already offers its hourly and corporate employees various industry-leading paid leave options. We have egalitarian flexible and unique maternity and parental leave programs, which includes up to 20 weeks of paid leave, a Ramp Back program for returning primary care givers, and adoption assistance. For employees who are facing other family needs, we offer various personal, vacation, and holiday paid time, as well as accommodations and leave options that can be worked through with their managers or local HR teams."
When in the nation's capital, Fidel used sign language to tell his family's story and his mom read a statement in English.
Ellen Bravo, co-director of the Family Values at Work organization, called the moment "moving."
"Seventeen percent of employees get paid family leave through their employer," Bravo said. "There are many Fidels. There are many people who want to honor thy father and thy mother and get punished at work if they do."
Movement growing
Bravo said four states — California, New York, New Jersey and Rhode Island — have approved and implemented paid family leave at the state level and Washington state, Massachusetts and the District of Columbia have approved measures but have not yet implemented them.
Similar legislation was introduced in Wisconsin in 2015 but failed to make it to a vote.
"If we're going to do this, we have to make sure that we value all care and value every family and have paid leave for everybody," Bravo said.
Bravo believes momentum on the issue is building and believes the FAMILY Act will pass the House of Representatives.
"There are a lot of new members that ran on this issue and there is tremendous public support across the political spectrum," Bravo said.
Bravo said small businesses support the legislation because "it helps them compete."
"They can't do it on their own," Bravo said. "And this way they can compete with large organizations."
With the 2020 election season approaching, Bravo said she believes family leave will become an issue nationwide.
"I had to keep working to make money to cover our living expenses. With only my income, for five months, we had to eat from food pantries and use emergency income." Fidel Hernandez, Racine resident
This story has been updated to include the Amazon statement.
"I had to keep working to make money to cover our living expenses. With only my income, for five months, we had to eat from food pantries and use emergency income."

Fidel Hernandez, Racine resident