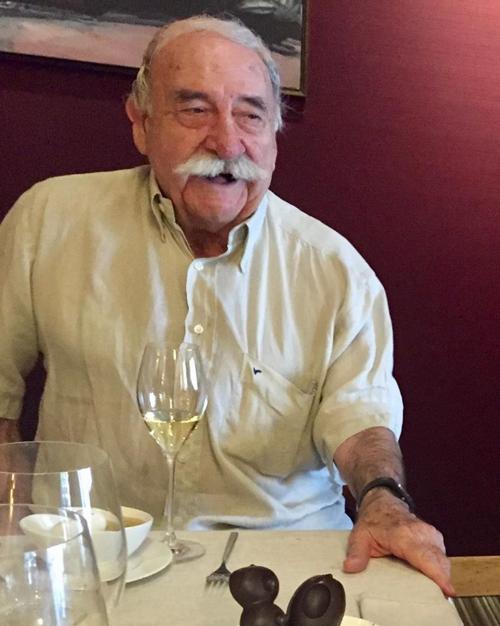 RACINE — Father Ricardo Martin was always close to his godfather and only uncle, even after Martin moved an ocean away.
Growing up with his parents and three sisters in Barcelona, Spain, Martin lived only a block away from his uncle, Joan Monfort, and aunt, who passed away four years ago; she was Martin's mother's sister.
Their families spent summers together in Lloret de Mar along the Mediterranean Sea and got together for family gatherings often.
Monfort died over the weekend, less than 48 hours after being diagnosed with COVID-19, the potentially deadly infectious disease caused by the novel coronavirus which is related to SARS.
"It was very quick," Martin said Monday, speaking on the phone from the rectory at Sacred Heart Parish in Racine, where he is the pastor.
Martin had been planning a trip to visit home this spring and would have seen his godfather — Joan is the Catalan language equivalent for the English name John — but had to cancel it because he was concerned the pandemic would have prevented him from returning to the U.S.
Joan fits the demographic of those who COVID-19 is most likely to kill. He was 85, he had respiratory problems and he was living in a nursing home.
Martin and his sisters are now turning their attention to their parents, making sure they stay home as much as possible so they don't become the next victims.
"We are being very strict with them," Martin said. "I want people to take this seriously … We have to adapt to the new reality."
Martin — who preached to an empty church on Sunday, but was seen by hundreds who watched the livestreamed mass on Facebook and YouTube — doesn't think Americans or Spaniards or most everyone else have taken COVID-19 seriously enough.
It had killed 637 people in the U.S., including five in Wisconsin, as of Tuesday afternoon. Joan is one of more than 2,800 to have been killed by the virus in Spain as of Tuesday, the second highest total in Europe behind Italy.
The death rate for people under the age of 54 is less than 1%. But for people between the ages of 75 and 84, the chance of death could be as high as 1 in 10. For those over 85, it could be higher than 1 in 4, according to the U.S. Centers for Disease Control and Prevention. For people like Joan, who already had a breathing problem, death is even more likely.
Awareness is a silver lining
The obituary of Dale Witkowski, a Fond du Lac man who died from the virus, includes the following: "We ask you to be serious about COVID-19. Please do not panic, rather educate yourself and your family ... We responded too slowly as a country and now we are seeing devastating effects in our country, state and community and for us, our family."
After Joan found out he had COVID-19, Martin said the doctors told him, "There isn't anything we can do."
In a Facebook post, posted Sunday afternoon, Martin told his friends: "If his (Joan's) passing has any silver lining, let it be that he helps us to take this seriously. Stay home, be kind to one another, wash your hands."
Coronavirus in Racine County: Here's what you need to know
Stay up-to-date on the latest Racine County coronavirus coverage.
Get local news delivered to your inbox!
Subscribe to our Daily Headlines newsletter.