RACINE — Leaders of the City of Racine Public Health Department are worried about a recent small uptick in COVID-19 cases locally and across the state.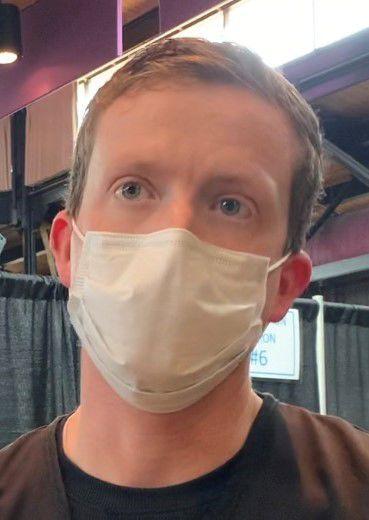 Cody Pearce, the city's epidemiologist, told the City Council that as of Monday, the Public Health Department confirmed another 94 cases over the past week.
"While that may not sound like a lot in comparison to the overall number of cases," Pearce told the council Monday, "it's an increase of almost three times the cases we saw a month ago where we saw just 27 cases in a seven-day period back in March."
Likewise, hospitalizations have ticked upward — from a low of 194 statewide on March 21 to 357 as of Monday, nearly a month later, according to the Wisconsin Hospital Association — even if they're nowhere near the spike of more than 2,000 hospitalized patients seen in mid-November. Deaths attributed to COVID-19 have not seen a similar spike, although throughout the pandemic spikes in death rates are usually 2 to 8 weeks behind spikes in cases, according to Harvard research.
As of Monday, the city's case rate (i.e., how many people tested positive for COVID-19 per 100,000 residents over the past 14 days) is 224. That's nearly triple the rate on March 19, which was 70.
The current positivity rate in testing is 14%, according to Pearce.
"Just a few weeks ago we were at 5% positivity rate," said Public Health Administrator Dottie-Kay Bowersox. "We were jumping up and down and having a great day ... and now we're seeing this increase."
On vaccines
Pearce said while 40.2% of people in the state have had at least one dose of the COVID-19 vaccine and 36.9% of county residents have had at least one dose. But within the City of Racine, only 29.7% of city residents have had at least one dose and only 19.3% were completely vaccinated.
Bowersox encouraged the public to get vaccinated.
"We have over 200 appointments available right now, this week, at Festival Hall," she said. "And many of the other organizations within the city of Racine have appointments available … In order for us to get control of this, we need to be vaccinated."
She told the council the entire state of Wisconsin experienced a significant drop in vaccinations after issues related to blood clots with the Johnson & Johnson vaccine hit the news — Wisconsin canceled all Johnson & Johnson vaccinations on April 13 — even though the city is currently offering the Pfizer vaccine.
"We had a lot of cancellations and no-shows at the clinic last week," Bowersox observed.
This local observation appears to break from national trends. According to polling from YouGov, overall trust in COVID-19 vaccines continues to grow in the U.S. even if belief that the Johnson & Johnson vaccine is "safe" fell sharply over the last week.
Bowersox said she hoped good information would be released by the CDC in the near future and people would again consider vaccinating themselves against COVID. Dr. Anthony Fauci, chief medical adviser to the president, said he expects the Johnson & Johnson to begin being used again "in some form"by Friday.
The blood clot concerns connected to the vaccine, the least effective of the three that had been OK'd by the FDA, had arisen in a mere six documented cases out of nearly 7 million doses administered. That level of risk is far below the threshold for many other approved drugs; the use of birth control pills, for example, approximately quadruple the risk of blood clots in women, according to Cleveland Clinic.
However, as "Health" reported, the type of blood clot the J&J vaccine had been linked to forms in the brain and could cause a deadly stroke.
Reminders
While vaccines reduce the chance of getting COVID, they don't eliminate it. According to clinical trials reported by ABC News, the Pfizer vaccine is 95% effective, Moderna 94% effective, and J&J between 72% and 86% effective, depending on the metric used.
As such, Bowersox reminded the public to stay diligent. Everyone — even those who have been vaccinated — is called upon to continue to follow CDC guidance: social distance, wash your hands, wear a properly-fitting mask, stay home if you're ill, get tested if symptomatic, she said.
Bowersox pointed out there are 34 states in an "acceleration mode" for COVID.
"Two weeks ago," she said, "we were not one of the states. And now we are one of those states."
PHOTOS AND VIDEO: Getting vaccinated at Festival Hall
Free parking near Festival Hall for those getting vaccinated
Vaccinations at Festival Hall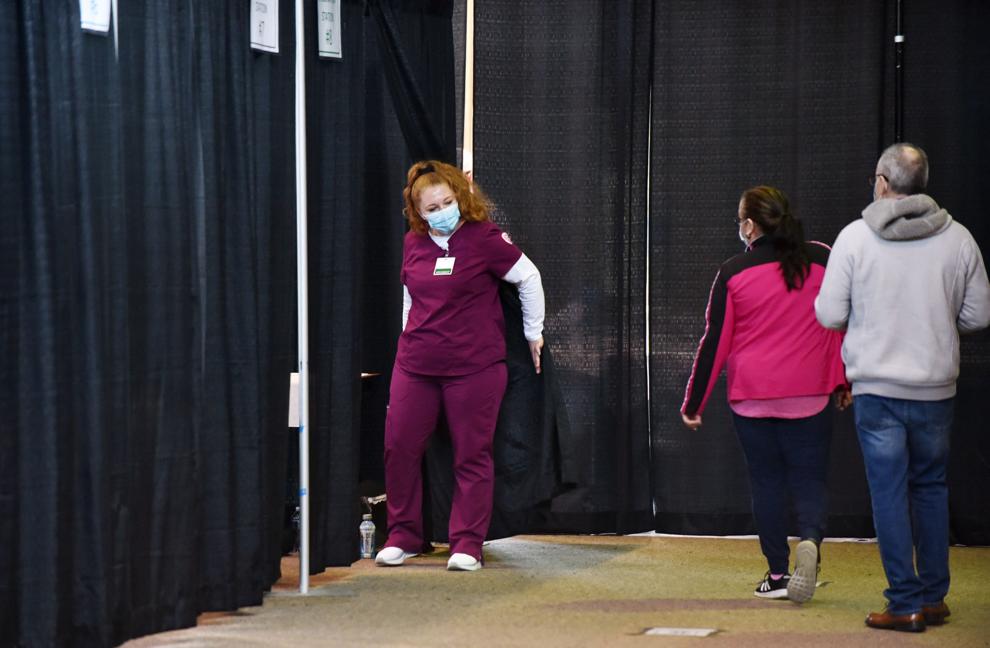 Temperature check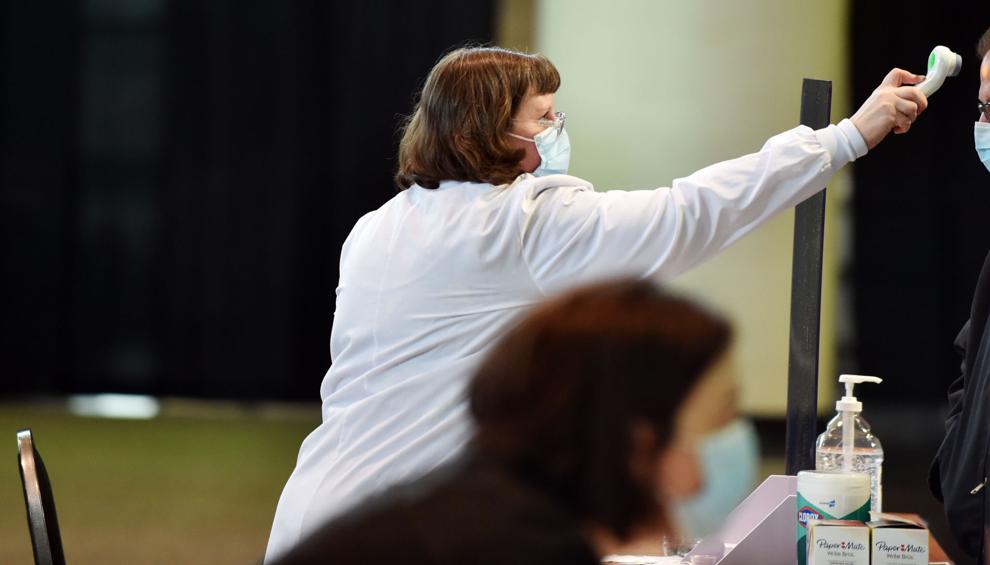 Vaccinations at Festival Hall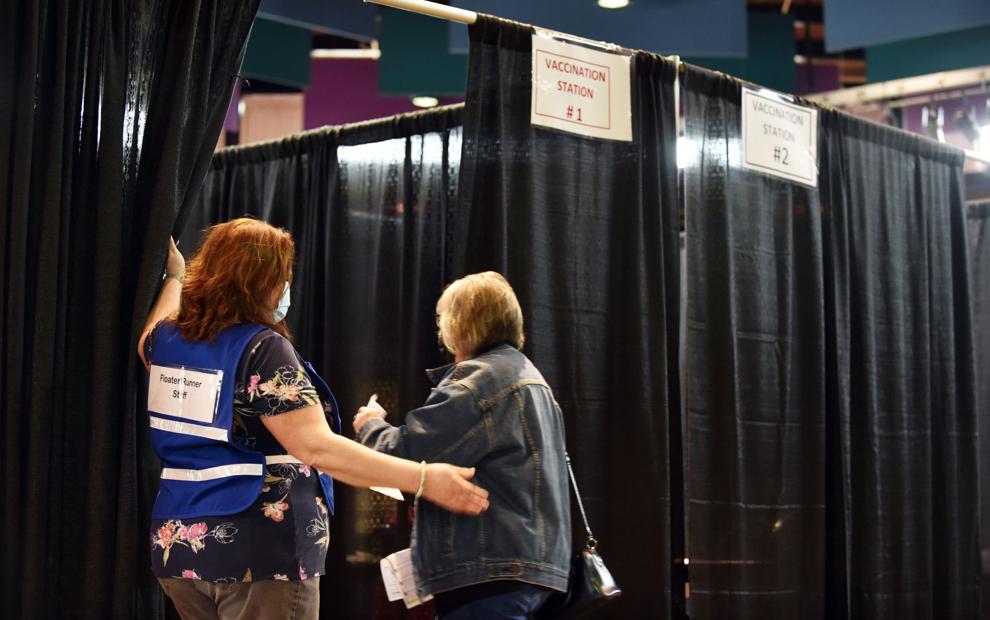 Cleaning before the needle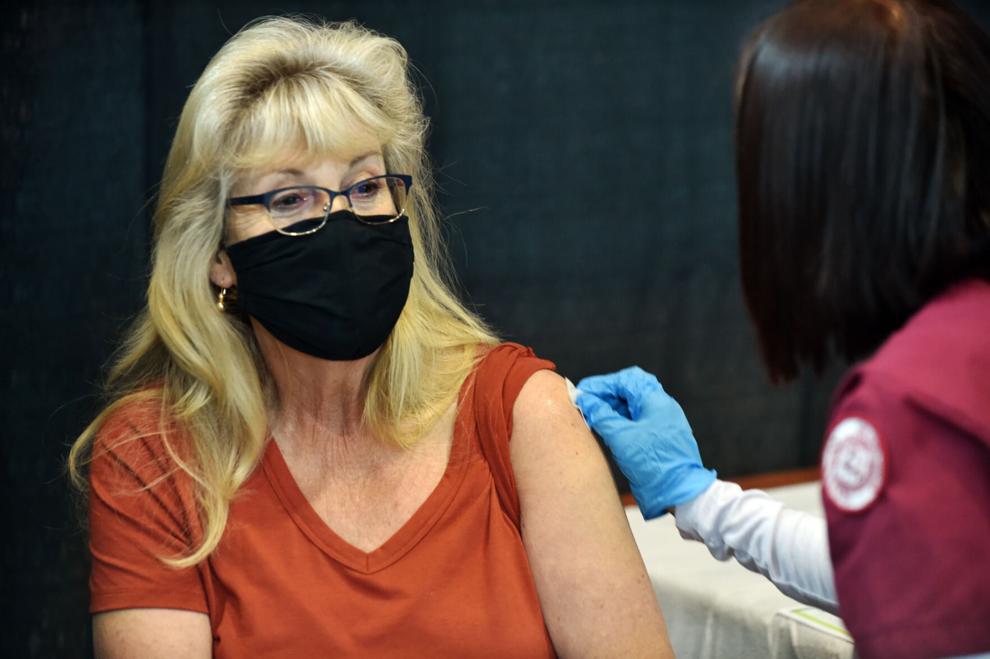 Watch now: Cindy Evans says "I want life to be back to whatever normal will be"
Vaccinations at Festival Hall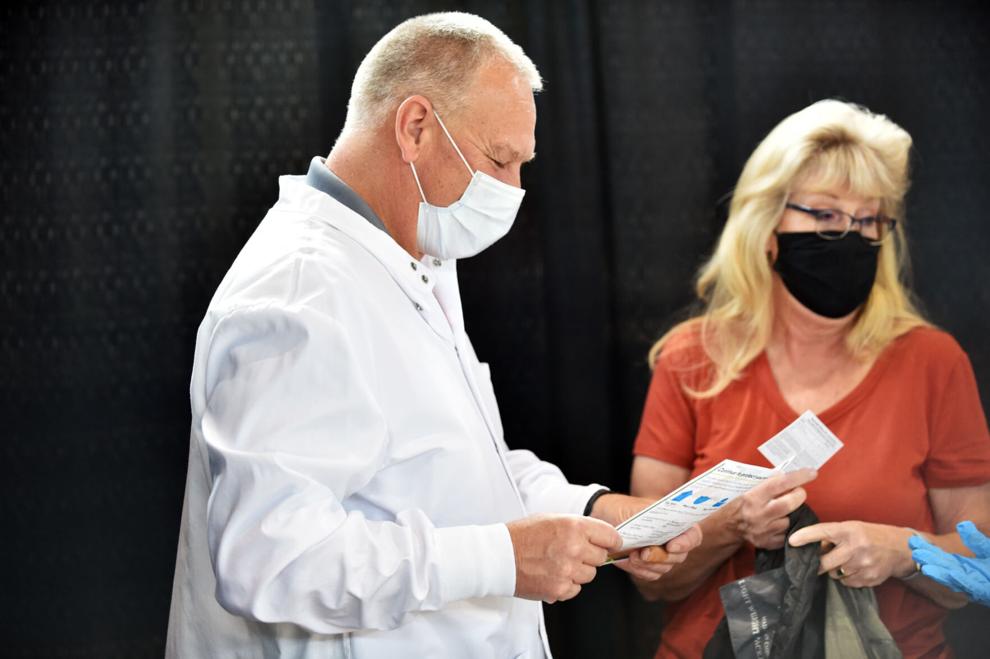 Vaccinations at Festival Hall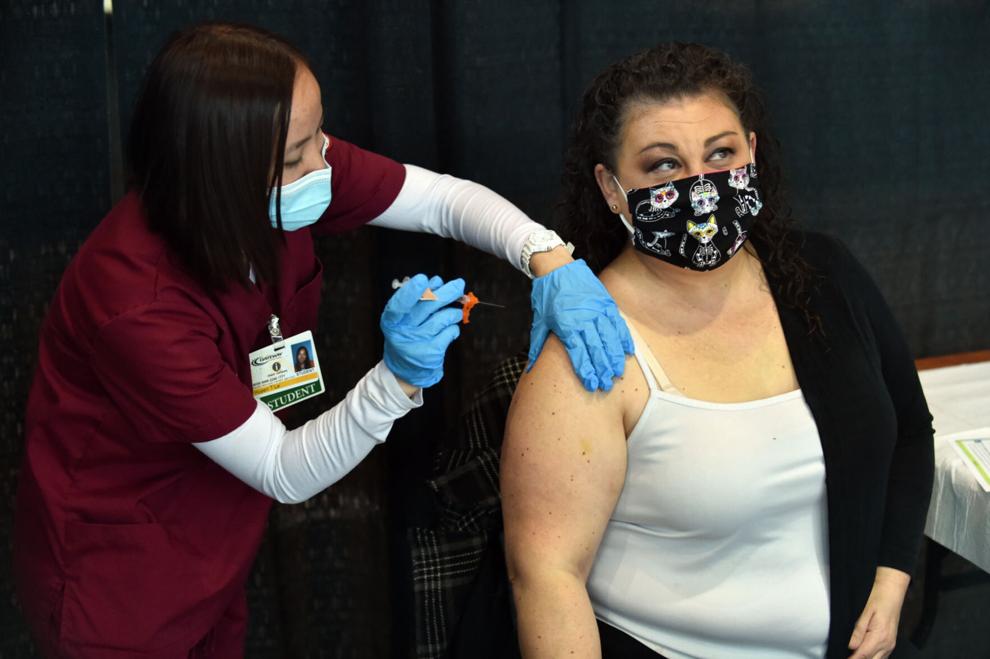 Watch now: "I'm really, really relieved," says Roxanne Shuebel of Racine after getting her second COVID-19 vaccine shot
Trapp Goldbourne after getting his first dose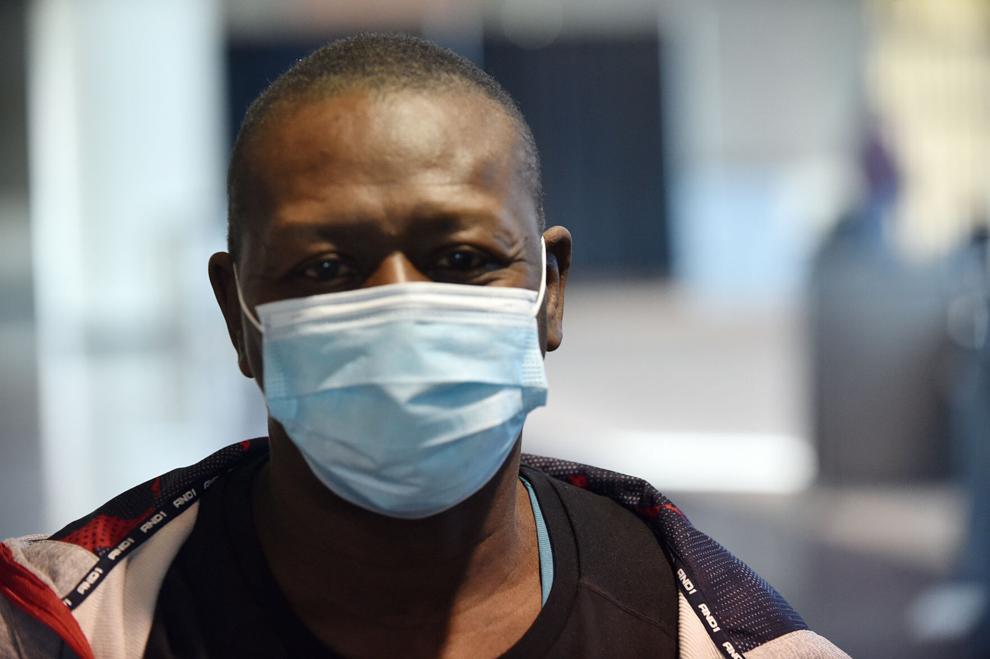 Candies and stickers for the vaccinated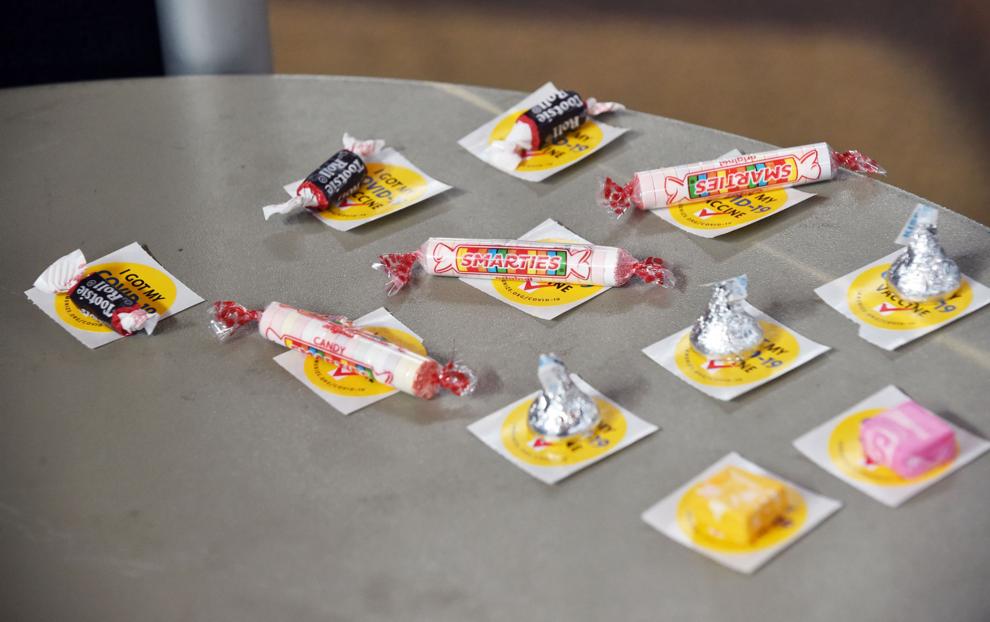 Vaccinations at Festival Hall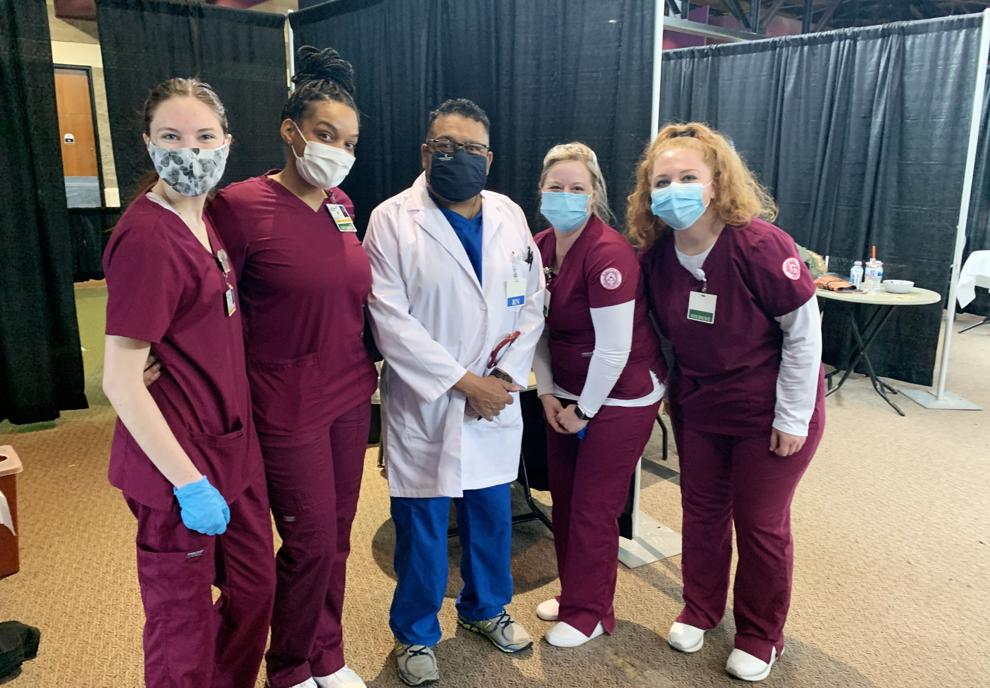 Larry Bannister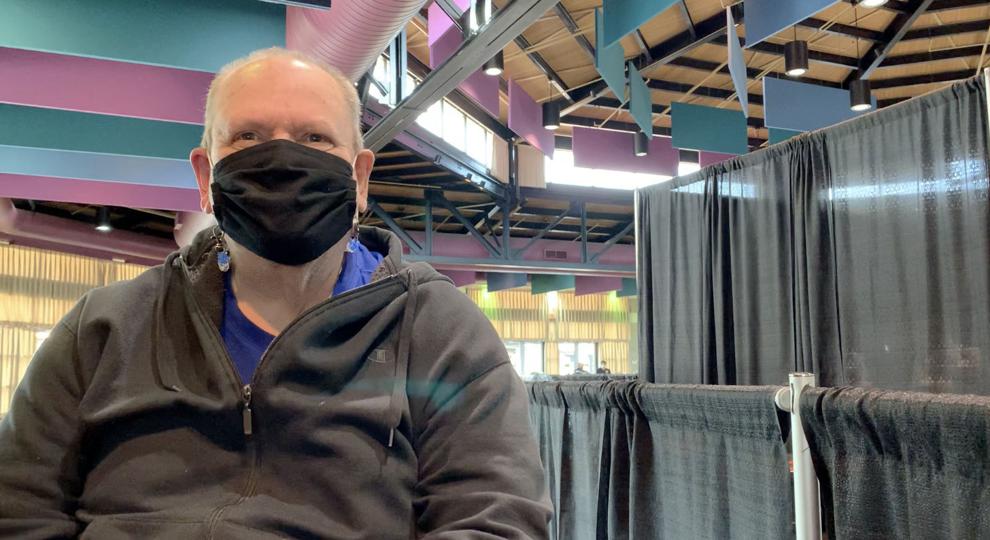 Watch now: Larry Bannister, who survived polio as a youngster, tells young people "Don't be stupid" and to get vaccinated against COVD-19
Vaccinations at Festival Hall