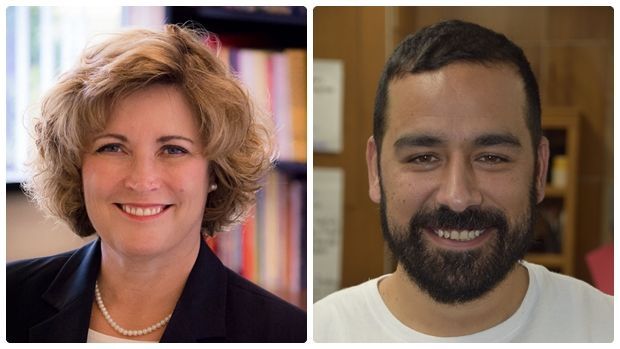 RACINE — The long-fractious relationship between Racine Education Association and the Racine Unified Superintendent Lolli Haws appears to have come to a head after a meeting this week between the district chief and a union leader.
In the Monday meeting, Haws alleges Aaron Eick, president of the REA, implied that she would lose her job after the election of a new Racine Unified School District Board this April. Eick, however, has denied the claim.
The allegation, and other concerns about the brief meeting, were detailed by Haws in a four-page letter obtained by The Journal Times. The letter was addressed to Eick, but also sent to members of the School Board.
Letter
In the letter, Haws gives her account of what happened at the meeting. The first page of the letter talks about the fact that Eick brought a student to the meeting, which she said she believed was supposed to take place just between her and Eick. The student had apparently wanted to ask questions about block scheduling, which Haws did not believe was supposed to be a topic of discussion of the meeting. The student did not take part in the meeting, however.
It is in the second page of the letter, Haws states that Eick continued to push discussions toward the topic of block scheduling, in which students have four 90-minute classes every other day rather than seven or eight classes daily.
It was during that exchange that Haws claims Eick asked her what she would do if the new board tells the district to stop block scheduling, and then implied she might no longer have her position following the April election.
"You questioned the notion that I would follow the direction of the board. Then, without remembering your precise words because I was stunned and appalled by your tone and meaning, you clearly implied that once the election for Board members occurred, the Board would rescind everything and I would lose my job," she states in the letter.
Eick's response
Eick, who has been union president for roughly two months, has said he and Haws have a very different recollection of what occurred during the meeting that was less than 20 minutes long, and that he did not say or imply anything remotely close to what Haws' claims.
"On that specific question, the answer is: Not even close. I didn't say anything about her job being less secure with a new board," Eick told The Journal Times. "As union president my goal with the leader of RUSD, Dr. Haws, is to rebuild a working relationship, for the good of the schools that I love and grew up and attended."
In an emailed response sent to Haws on Wednesday, Eick wrote: "You have violated the spirit of labor/management cooperative relations by your misrepresentation of what was said at our meeting. We have very different views of what was said and what was intended at our meeting. Sadly, as a working class Latino it is not new that such an aggressive tone would be wrongly assigned to me. I will not dignify your lengthy allegation with a response."
Eick goes on to say that he will continue to reach out to Haws "to build a meaningful cooperative relationship."
You have free articles remaining.
Frustration
Haws' response to Eick's email is primarily a request for the REA to send her a written response regarding professional development and teacher planning time, which reportedly is what the Feb. 29 meeting was supposed to have been about.
In a statement sent to The Journal Times on Friday, however, the district leader was vocal about her frustrations with the union.
"REA leadership has consistently and publicly condemned the District's efforts to collaborate with our employees. I have sincerely reached out to REA leadership on topics of concern to teachers in an effort to get REA's input," Haws wrote. "I felt it necessary to document the content and tone of our most recent meeting and share it with Board members so they have a better understanding of the challenges we have faced in working with REA leadership."
At the end of the statement, Haws states that the district and the REA have many topics of "mutual interest and importance to our teachers."
"I truly wish we had a relationship with the REA that would move us forward more quickly," Haws said
Speaking to The Journal Times about Haws' statement, Eick said: "It is really unfortunate that a disagreement could be conveyed to the community as a threatening environment."
He went on to say that while it was his intention to establish a working relationship with Haws upon becoming president, and renew the practice of the REA president and the district leader having one-on-one meetings, "it is probably not possible to continue" those meetings.
"I would certainly be okay with having a board member involved with these discussions, but the discussions have to happen," Eick said.
Likewise, in her letter to Eick, Haws sets forth expectations for future meetings with REA leadership, including have a "set agenda of no more than three topics and the demonstration RUSD Core Values."
Board members react
Asked about the letter this week, School Board President Melvin Hargrove said he did not have a reaction because the conversation described in Haws' letter took place between Eick and Haws.
He added, however, that if Eick did make comments to Haws implying that her job would be in peril following the election that would be "very troubling" to him as School Board president.
School Board member and former board president Dennis Wiser declined comment when asked about the letter.
"You questioned the notion that I would follow the direction of the Board. Then, without remembering your precise words because I was stunned and appalled by your tone and meaning, you clearly implied that once the election for Board members occurred, the Board would rescind everything and I would lose my job."

-- RUSD Superintendent Lolli Haws, in a letter to Racine Education Association President Aaron Eick

*****

"I didn't say anything about her job being less secure with a new board. As Union president my goal with the leader of RUSD, Dr. Haws, is to rebuild a working relationship, for the good of the schools that I love and grew up and attended."

-- REA President Aaron Eick's response to The Journal Times