OAK CREEK — On Wednesday, Feb. 6, Milwaukee Police Officer Matthew Rittner was at work, serving a search warrant on a south-side home suspected to be a base for drug dealing.
As he swung a battering ram against the front door of 26-year-old Jordan P. Fricke's home, Fricke allegedly fired a gun through the front door, striking and killing the 35-year-old officer and Marine, according to the Milwaukee Police Department.
Rittner's funeral was Wednesday at the Oak Creek Assembly of God church, just 5 miles north of the Racine County border. The day of his funeral would have been Rittner's 36th birthday.
Hundreds attended the service, with more than 1,000 reportedly stopping by during a public visitation at the church. Parking lots were filled with police, fire and civilian vehicles. The funeral service, which began at 1 p.m., was standing-room only. Hundreds of viewers tuned in online via livestreams.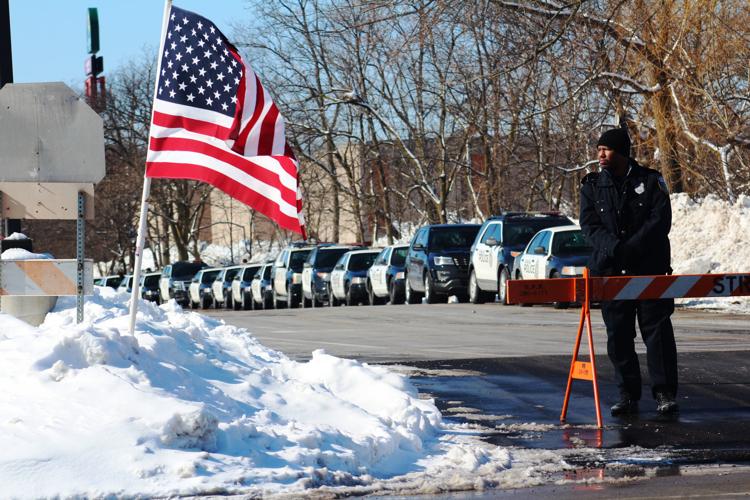 The mission
Rittner is the third active Milwaukee Police officer who has died in the last eight months. He left behind a wife and young son.
"As a law enforcement executive," Milwaukee Police Chief Alfonso Morales said during a eulogy Wednesday, "we are tasked with developing the crime strategy that fits the community, and we swear to keep it safe. For the City of Milwaukee, our strategy is to focus on addressing the 10 percent of the community that poses a threat to the rest ... Our goal is to go after them before they are able to re-offend."
Morales said that he anticipated added resistance from criminals in the community after the police force ramped up investigations since he took over as chief in February 2018. But he didn't anticipate "losing three valuable, God-fearing individuals in the process."
"It hurts in ways you cannot imagine," Morales continued. "However, it comes with the job. Nobody forces us to be cops. We volunteer to do this job because we believe we make a difference. We believe we are part of the greater good. We do this because it is the right thing to do — not the easy thing to do."
Honor
Multiple Racine County law enforcement agencies sent honor guards to Wednesday's funeral service.
Honor guards provide watch over a fallen officer's remains, can offer pallbearer duties, sometimes can provide musical salutes, and present flags to families, among other duties.
"The honor guard serves at these funerals as a show of respect and honor," according to the Racine County Sheriff's Office's website.
Being seen
Six times in the past year, Oak Creek resident Timothy Nelson has attended funerals for first responders in Wisconsin and Illinois. Three of them have been for Milwaukee Police officers, including Wednesday's service for Rittner.
Nelson works at a senior care facility on the east side of Milwaukee. When a firefighter or a police officer loses a life in the line of duty, Nelson wants to make sure that other first responders know that they are still remembered and noticed by the people they are sworn to protect.
On Wednesday, Nelson stood on the west side of Highway V (South 13th Street) while holding an American flag against his chest. His silent vigil started in the morning and went on into the early afternoon as his flag waved rapidly, buffeted by gusty winds in freezing temperatures.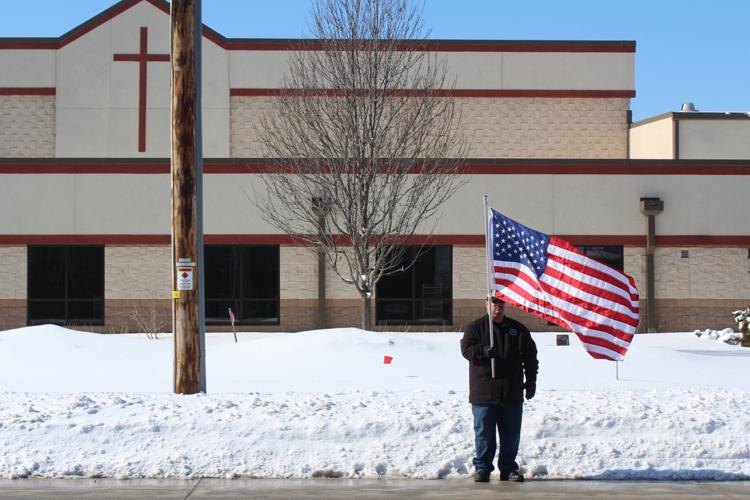 Hundreds of cars drove past throughout the day, some slowing as they passed the church. Others turned into the parking lot.
Alongside Nelson, several other American flags had been placed in the snow, easily seen by passing drivers against tall snowbanks.
Nelson was also wearing a baseball cap embroidered with an American flag depicting the "Thin Red Line of Courage" and "Thin Blue Line," representing the perceived barrier police and firefighters provide between chaos and order.
"I'm here to show support not only to Officer Rittner, the Rittner family and the Police Department, but also to show that there's people who still appreciate first responders," Nelson said.
Fricke is being held at the Milwaukee County Jail with a $1 million cash bond set against him. He has been charged with first-degree intentional homicide with the use of a dangerous weapon, first-degree recklessly endangering safety with the use of a dangerous weapon and maintaining a drug trafficking place.
"Matthew Rittner died," Morales said, "serving a search warrant on a person who was involved in selling guns to people (who) harm others." Referring to all three officers who were killed recently, "They died going after the problem that affects our community. They died moving the mission forward."