RACINE — Since 2014, multiple individuals have sought restraining orders against 13th District City Council aldermanic candidate Christina Seaman, alleging harassment, rumor-spreading and threats.
Other allegations have arisen surrounding Seaman since the start of her election campaign, including the use of a pseudonym to send campaign-related text messages and the use of a racial slur in a message sent from the same phone number.
Seaman, who works in retail, will be on the April 2 ballot for alderman against Natalia Taft, an assistant biology professor who also serves as vice president of the city's Water Commission. The two are running for the seat on the southwest side of Racine that is currently represented by Alderman Jim Morgenroth, who decided not to run for re-election. It is roughly bordered by 13th Street to the north, 21st Street to the south, and West Street to the east and Illinois Street to the west.
After Seaman initially agreed to an interview regarding the restraining orders on Friday afternoon, The Journal Times has unsuccessfully attempted to contact her several times in person and over the phone. She did not appear to be home when reporters stopped by to talk to her in person.
The Journal Times has called two phone numbers that Seaman has used, but they have both been deactivated since Friday evening, even though texts were sent from at least one of the phones earlier in the day. And her Facebook account, which had been active last week, appears to have been deleted.
Texts and a complaint
Some of the recent allegations center on texts that were sent from a phone number that had appeared on Seaman's campaign material, although the person who texted identified herself as Breanna. It remains unclear who Breanna is.
On Feb. 2, someone who identified themself as Breanna sent a mass text message to voters in the 13th District, encouraging them to vote for Seaman.
Beth Pramme, a friend of Taft's, texted back the number that the mass text was sent from. As a result of the ensuing conversation, Pramme has accused the sender of the text of sending inaccurate information regarding how the phone numbers of 13th District voters were acquired by Seaman's campaign.
After doing a "reverse search of the phone number," Pramme said she found that the number was registered to Seaman.
Pramme said she filed a complaint with the Wisconsin Ethics Commission on Feb. 15.
The complaint states, "I can confirm respondent (Seaman) is the likely owner of the phone number, that all messages were sent by respondent, using a pseudonym to conceal her true identity and commit multiple violations."
According to state statute 12.05, it is illegal for anyone to make or publish a false representation pertaining to a candidate, which is intended or tends to affect voting.
In an interview with The Journal Times on Feb. 17, two days before the primary, Seaman said she was not the person who texted, saying that she was at her home with someone named Breanna when some of the Feb. 2 texts were sent. She told a Journal Times reporter she is friends with Breanna, although a separate Facebook comment coming from an account named Christina Seaman said, "Breanna is my friend's daughter."
When asked, Seaman declined to share Breanna's last name.
Seaman provided a personal cell phone number for Breanna to The Journal Times. A reporter who called the number was greeted with an automated message that said the phone does not accept incoming calls.
The Journal Times received a copy of Pramme's complaint, although the Ethics Commission is legally prohibited from confirming or denying whether the complaint is currently being investigated, according to a commission spokesman.
If the complaint has been received, however, it could be discussed at the next commission meeting on Tuesday.
Texts and screenshots
The same phone number used in the Feb. 2 campaign-related texts was also used to text one of Seaman's neighbors on Feb. 9 — a text conversation that became heated and involved a person identifying herself as Breanna making racist remarks.
Register for more free articles.
Stay logged in to skip the surveys.
Local real estate agent Angelo Selmon, who is black, made a post on Facebook on Friday with screenshots of those texts.
In the texts, the person who said her name was Breanna accuses Selmon of playing music too loudly at his home in the 1900 block of Grange Avenue, less than a block from where Seaman lives.
That person wrote to Selmon: "You are a (expletive) piece of (expletive) neighbor. Yes you be respectful of your neighbors. We live in a quiet neighborhood and don't need ghetto (expletive) like you."
"Ghetto? Lol," Selmon replied.
Selmon received the following response, according to screenshots of the messages: "Yes you are ghetto. You are a n****r."
The texter then accuses Selmon of being a drug dealer, which Selmon said is not true.
"I'm far from ghetto & a drug dealer," he wrote in a Facebook post Friday. The post was shared approximately 350 times within six hours after it was posted, but has since been deleted. Selmon said on Monday that the post was removed by Facebook, not by him.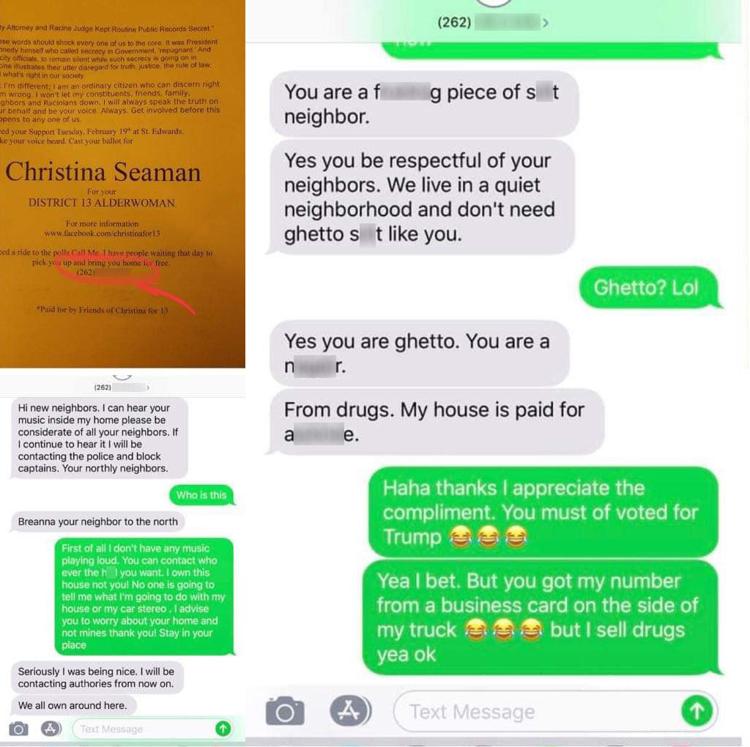 After the texts were sent on Feb. 9, Selmon said that two police officers arrived at his home regarding a noise complaint, but left when they didn't find anything illegal occurring.
Dick Carravetta, captain of the Neighborhood Watch on the block, told The Journal Times that he spoke to Seaman on Friday afternoon but has not seen her since. He added that the noise complaint incident was discussed at a Neighborhood Watch meeting on Feb. 11.
"(Seaman) told me she was not the one that called (the police on Selmon). She said that she knew who called," Carravetta told The Journal Times. "I just didn't know what to make of it."
Past restraining orders
According to court documents dating back to 2014, at least three different people have sought restraining orders against Seaman. One of them succeeded in getting a temporary restraining order, and at least two more entered court-mediated agreements in which Seaman agreed to not call them or contact their family members, as she had been accused of doing.
In two of the incidents, Seaman claimed that she was being harassed, not the other way around. She has requested restraining orders at least four times since 2014 and wrote in requests that she has previously had to delete her Facebook account and change her phone number because of harassment.
The woman who successfully received a restraining order against Seaman in 2014 alleged that Seaman had repeatedly called her at home and at work from a blocked cell phone number.
When asking the courts for a restraining order, the woman wrote that Seaman "has been calling my job, threatening the loss of my job. She calls friends and family members as well (as) myself, at all hours. She continued to call me, again with number withheld or unknown, after I called Kenosha PD to ask her to stop … This has been going on occasionally for, roughly, the past six months and became more intense and more frequent in the last 24 hours."
The following year, two women who were involved in a Girl Scout troop Seaman used to run, attempted to get separate restraining orders against Seaman, according to court documents.
The documents indicate one of the women claimed Seaman drugged her after she asked for Tylenol, although Seaman denied that allegation and requested a restraining order against that woman.
The third woman also requested a restraining order against Seaman, claiming that Seaman blamed her for getting Seaman's then-boyfriend thrown in jail the previous month, and started harassing and threatening to have her thrown in jail.
Seaman requested a restraining order against this woman as well, saying that the woman had shown up at her home multiple times and was sending harassing Facebook messages and making phone calls to Seaman's friends.