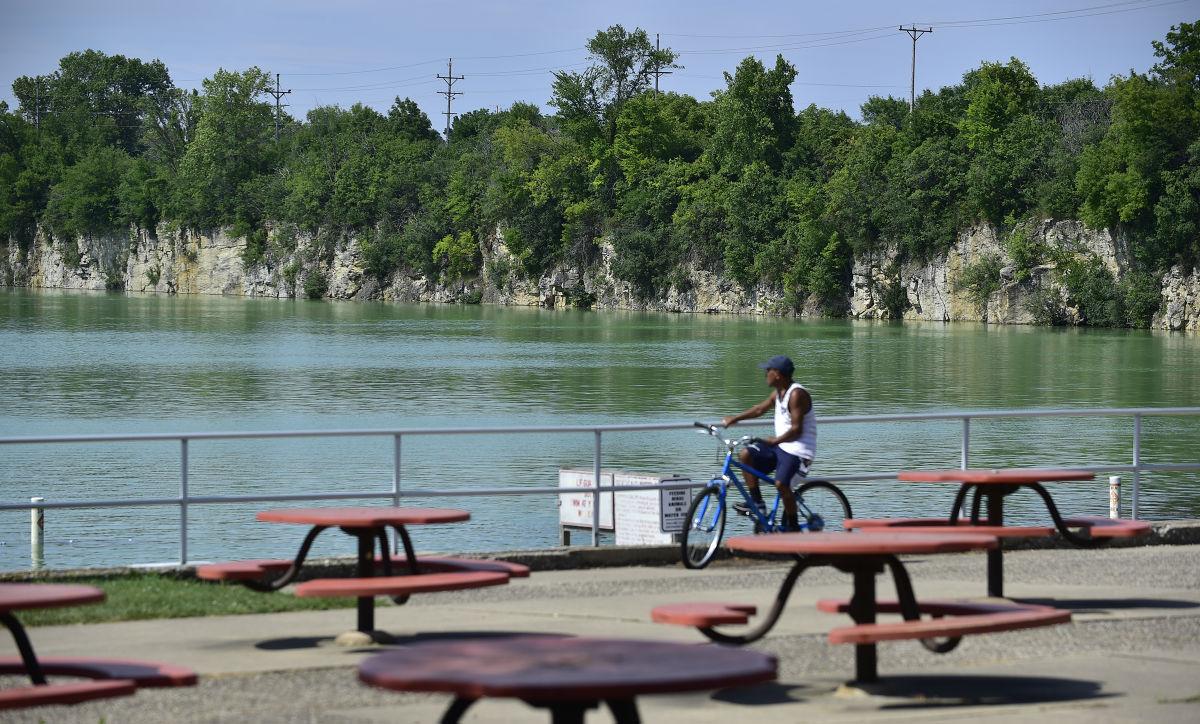 MOUNT PLEASANT — Enjoying a swim at Quarry Lake Park is not a crime. But it is if you're starting your swim from the overlooking cliffs.
A total of 18 people received citations over the weekend for trespassing at the park, jumping from the fenced-off cliffs framing the lake, said Lt. Steven Sikora, spokesman for the Racine County Sheriff's Office. A sheriff's official said another 14 were cited on Monday.
Sheriff's deputies cited six individuals on Saturday and 12 on Sunday for trespassing at the park, Sikora said.
The individuals caught were 16 to 18-year-olds, with some coming from Milwaukee or Kenosha, Sikora said.
"Cliff diving simply isn't worth becoming paralyzed or losing your life over," Racine County Sheriff Christopher Schmaling said in a statement, adding that there may be hazards under the water that divers are not aware of.
Quarry Lake Park has seen injury and death before. In 1996, Travis H. Peterson, a junior at Horlick High School, died at the park after diving off the cliffs. In 2010, a boy had jumped off from 30 or 40 feet, hit his head and was unconscious in the water for a few seconds before someone pulled him out.
The Mount Pleasant Police Department, which also serves the park, 3800 Northwestern Ave., has been dispatched to the park 12 times in July, five times in June and once in May, said Mount Pleasant Police Chief Tim Zarzecki.
"We usually get calls from citizens who are on adjacent streets who see the cars starting to park," Zarzecki said.
After talking with individuals caught jumping at the park, Zarzecki said the station learned that some people from out of state heard about jumping from the cliffs from social media.
Quarry Lake cliff jumpers are cited for trespassing, which is an ordinance violation that gives rule-breakers a $263.50 ticket, Sikora said.
On the path to the cliffs, individuals receive clear indication from warning signs that they are entering the closed-off portion of the beach, Sikora said. The area is closed to prevent falls or drownings.
Cliff jumping at the park has become so common that Quarry Lake Park has become a regular stop on the route patrolling deputies take to stop crime, Sikora said. The Sheriff's Office also has individuals call in to report cliff jumping and trespassing, he said.
"It's kind of hard not to be seen if you're in the water," he said.
Pete Wicklund contributed to this report.
Pete Wicklund contributed to this report.
Get local news delivered to your inbox!
Subscribe to our Daily Headlines newsletter.