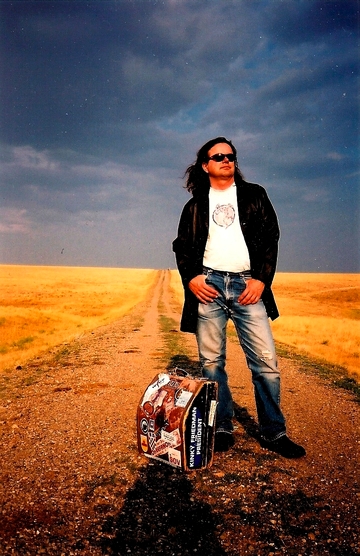 RACINE — Listen closely and you'll hear everything from basic blues to jazz, Tex-Mex, Zydeco, soul and classical music when Radoslav Lorkovic puts his fingers to the keys.
The Croatian-born pianist/accordion player has his own distinctive style, with influences ranging from the music and culture of his family to that of Muddy Waters and Pinetop Perkins. And he will bring all of it to Racine's Sixth Street Theatre, 318 Sixth St., when he performs an intimate concert there on Friday.
Lorkovic has performed in just about every kind of venue, from house concerts to Carnegie Hall and with artists including Odetta, Greg Brown, Bo Ramsey and the Ribbon of Highway Woody Guthrie Tribute. His show at the theater won't be his first in Racine, but it will offer an up-close-and-personal musical experience with Lorkovic, who concert-organizer Jerry Horton says is "not to be missed."
Joining Lorkovic on stage will be Chicago's Juli Wood on sax (www.juliwoodsax.com) and local bassist Jim Yorgan. Here's more about the man behind the music to be heard that night.
What was/is it about the blues that captured your attention at age 14, and has kept you involved in that genre ever since?
My high school friend John Ceretta was playing blues piano quite well during my sophomore year. I loved rock and pop but knew little about playing them.
When I heard John's piano blues I was astounded. He showed me the scale and the left-hand bass pattern and that led to six hours a day of gleeful, voluntary practicing. Shortly thereafter I started learning music by ear. Then my buddy had a ticket to the Grateful Dead concert and, well, the rest is history.
How much of a role do your early, family musical influences still play in your music today?
More and more each day. Without my maternal grandmother, Antonija, I would not be a musician. She had me singing at age 1, and I had an entire show memorized by age 3 which consisted of amazing Eastern European folk songs.
My famous pianist grandma, Melita, was out in the world performing. Her influence became more pronounced later in my life. I threw myself back into a steady diet of Mozart piano concertos and Bach preludes and fugues some 20 years ago, and I stick to that today as well.
When Melita first heard my blues at age 15, she was a bit skeptical. Upon my first appearance on a recording she mailed me a copy of "Rhapsody in Blue," holding out hope that it might stick.
With so much time spent on the road, when and where do you find time to write music?
I often do my best writing on the road. Songs creep in at the most inconvenient times — often while I am driving on a dangerous stretch of road at night or at 5 a.m. in a dream in a motel room. I never write in a normal setting like a desk at home.
Your tours take you all over the world. What keeps you coming back to small towns and cities like Racine?
Racine is a special town for me. My late friend Cam Waters turned me on to a gig there in the early '90s at a terrific club called the Yardarm. I have played the Yardarm for years and years. I just kept coming back. I think it was the Fisherman's Platter with those sand dollars!
Your website features your photography, as well as your music. Has visual art always been part of your creative expression?
As I was exploring music in high school, a fortuitous thing happened. An arrogant, big bully hotshot photographer had a huge argument with the yearbook staff and walked out in a huff.
I was quietly observing. He would have thrown me out of "his" darkroom in a merciless manner, but suddenly I had access to it. I grabbed the nearest Pentax Spotmatic camera in the lab and began photographing everything. I lived in that darkroom.
Iowa City High's 1975 yearbook is 85 percent my photo work. My oddball friends dominate its pages — a true revenge of the nerds!
I went on to study photography under the great John Schultze at the University of Iowa.
It was just by chance that I chose music as my job. I love both equally. I come at music and composing from a imagery-driven perspective. Similarly I seek musicality and humor in my photographs.
WHAT: Radoslav Lorkovic in Concert
WHERE: Sixth Street Theatre, 318 Sixth St.
COST: Tickets are $20 and can be purchased in advance by calling (262) 770-6858.