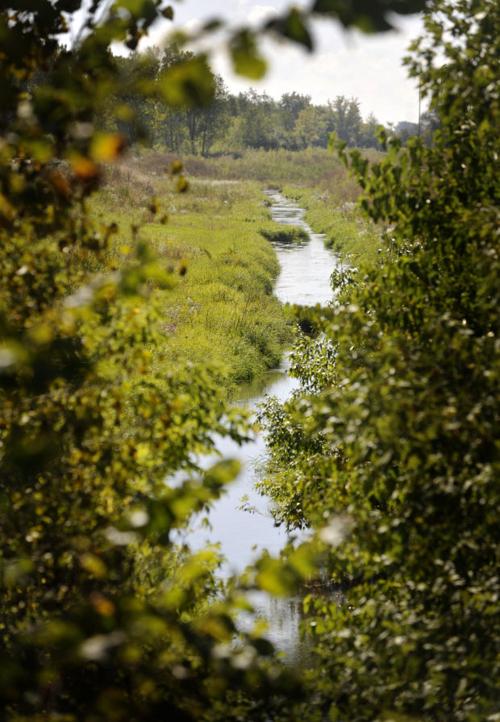 MOUNT PLEASANT — A new plan calls for restoration of the Pike River and its watershed area in part to reduce pollutants, like nitrogen and phosphorous, found in the water.
The plan, to be formally presented today, comes from the Root-Pike Watershed Initiative Network, a nonprofit that tries to protect and restore the Root and Pike river watersheds.
The plan includes 10 "critical" recommendations. Five of those are in the Somers area of Kenosha County, and five are in the Mount Pleasant area of Racine County.
According to the plan, the Mount Pleasant recommendations are:
• Stream bank and channel restoration along the Pike River between highways 11 and KR.
• Ravine restoration along Lake Michigan just east of Racine County Opportunity Center Park, 4214 Sheridan Road.
• Prairie restoration at the 97-acre former CNH plant and foundry near highways 32 and 11.
• Detention basin and pond retrofits to bring back native prairie and wetland vegetation in 9.7 acres southwest of Loni Lane.
• Wetland restoration in 113.5 acres near the Pike River south of Highway 11.
Those five projects could cost the Village of Mount Pleasant and other owners of involved properties upward of $3.3 million, the plan estimates.
But the payoff would be a healthier, more natural environment and reduced water pollution, said Susan Greenfield, executive director of Root-Pike WIN.
"The parts (of the Pike river that are) not restored have banks scoured out every time we have a big storm," Greenfield said. "Lots of soils are carried into the stream, trees come down (and) that's then carried to Lake Michigan."
The Pike River starts along Spring Street, near Shady Oak Trail, and continues south through Somers and Kenosha before emptying into Lake Michigan, Greenfield said.
After the Pike River plan's formal presentation today, Root-Pike WIN will bring it to involved municipalities for endorsement or approval. The hope is those bodies can then address the plan's critical recommendations, Greenfield said, adding having a formal plan legitimizes those projects and should help municipalities secure funding, like grants, to complete them.
Mount Pleasant's engineering director, Bill Sasse, said the village would likely be interested in tackling some of the recommendations.
"We certainly agree with the plan and the proposal being put forth," he said. "However, we will need to take the plan … back to our committees and our Village Board."
Root-Pike WIN's plan took two years to create and cost the nonprofit $148,150, an amount paid for using funding from various groups including the state Department of Natural Resources and the Wisconsin Coastal Management Grant Program, Greenfield said.