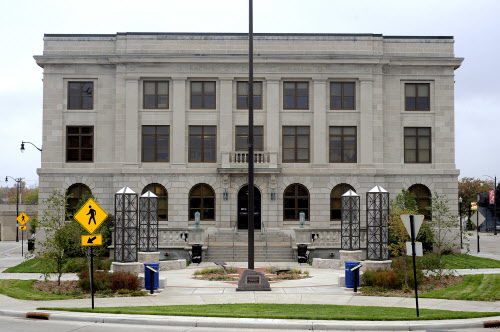 RACINE — The proposed 2019 budget for the City of Racine includes two new seasonal positions, four new full-time positions and one currently part-time position that would transition to full time, all of which would cost about $500,000.
During Wednesday's budget hearing before the Committee of the Whole, City Administrator Jim Palenick walked the council through some of the big changes in the city's budget, including hiring.
The city's workforce has been steadily shrinking since 2004, when the city had 822 employees, including fire and police positions. By 2015 and 2016, that number had dropped to 718; it has slowly risen to 727 employees by this year.
Palenick said the new positions were created to help the city prepare for the Foxconn development.
For example, the code enforcement and property inspector positions were added to address growing complaints from residents about dilapidated houses in neighborhoods. Mayor Cory Mason discussed improving neighborhoods to attract Foxconn employees and become the "community of choice" in his initial budget address.
The proposed positions:
The two seasonal code enforcement positions for $32,000.
One full-time property maintenance inspector for $82,000.
One full-time assessment clerk for $79,000.
You have free articles remaining.
One part-time database technician increased to full-time for $75,000.
One communication coordinator moved from an outside consultant to a full-time employee for $101,000.
One strategic initiatives and community partnerships officer for $120,000.
Strategic initiatives and community partnerships
Alderman Jeff Coe of the 1st District expressed skepticism about the strategic initiatives and community partnerships position.
Based on the descriptions he has heard of the position, Coe said he is wondering if it wouldn't make more sense to have it under City Development instead of Administration. He said he also wondered if the city wouldn't be better served to put the $120,000 budgeted for the position toward more direct, service-based positions.
Mason told The Journal Times on Friday that the strategic initiatives and community partnership officer would be tasked with project-managing collaborations between entities such as Gateway Technical College, Racine County or UW-Parkside.
"The city is being invited to participate in moving the community forward," said Mason. "If we're serious about moving forward, about partnering (with outside entities), someone needs to be tasked with managing those tasks and relationships."
Those collaborations could address issues with housing, transportation, workforce development, city services, inclusion and more.
"The big priority for this position is to get at some structural inequalities in this community," said Mason. "There's nobody tasked with doing that now."