CALEDONIA — Village officials are being accused of treating business more kindly than residents because at least 12 property owners may be forced to pay $31,000 to $156,000 each for improvements tied to a business park.
At least three Four Mile Road homeowners could be charged more than $100,000 because of water mains and sanitary sewer connections they didn't ask for. The other nine face charges of more than $31,600, if special assessments are approved by the Caledonia Village Board on Monday. Two other properties on the north side of the road that don't have homes on them face similar charges.
"You need to get your act together," Bill Hurtienne told village officials during a May 6 public hearing. "You have to think about us, the little person, too. Not just the big business coming in."
Several Four Mile Road residents have already contacted attorneys, planning to fight back against the assessments if they are approved.
"You've ruined my property, and now you've handed me this bill," said Darlene Daines, a 69-year-old retiree who has lived on a farm on Four Mile Road since 1991. "You went ahead and did this for the benefit of a few people to make money. ... You guys forgot about all of us."
"You guys should be ashamed of yourselves," added Shirley Lochowitz, one of Daines' and Hurtienne's neighbors who has already given up hope that the Village Board might reject the special assessments.
'Police power'
The 12 homes facing the assessments are on the north side of Four Mile Road, just east of Interstate 94. To the south side of the narrow two-lane highway is the DeBack Farms Business Park. It currently has one manufacturer in place, sold a second parcel to a storage company last July and has four more parcels for sale, ranging from 5.35 to 65.19 acres.
Village Engineer Tony Bunkelman said the village plans to reconstruct Four Mile Road next summer, but it will remain at two lanes.
Those living on Four Mile Road say the costs of the new assessments excessive for water and sewer access — they currently use wells for water and mound systems or septic tanks for waste. They also say the charges don't account for the possibility that their property values should have decreased because of the business park across the road.
"I don't believe anyone in this room said, 'I need sewer; I need water,'" Hurtienne said May 6, a statement met with murmurs of agreement from his neighbors.
Bunkelman said the village hasn't considered reassessing entire properties; the new assessments are only considering the new water and sewer infrastructure. When asked why not, Caledonia Utility District Attorney John Bjelajac explained: "This has been done under police power, which is the inherent right of the village to do things."
According to a 1986 Supreme Court decision, Shreveport v. Restivo, "police power" allows states and local governments "to impose laws and regulations which are reasonably related to the protection or promotion of a public good such as health, safety or welfare."
The changing face of Four Mile
Semitrailers move constantly along the once-quiet road, and they often have to park along the road, making driving more difficult for the residents who live there.
"This is a new life, I tell you," retiree Louise Kerkman said, standing in her driveway as a semitrailer barreled past.
If the board approves the special assessments, Daines will be the homeowner with the biggest bill to pay: at least $156,293.32. Her increased cost is apparently because she has the most land on the north side of Four Mile Road: 32½ acres.
With interest on the proposed special assessment over 20 years and other fees, her cost could exceed $180,000 — even though she would be getting the same water and sewer access as her neighbors.
Daines said there's no way she could afford that, even if she takes the 20-year payment plan the village offered. That would still amount to over $600 a month, far more than she says she would be able to pay.
"That's a car payment or more," homeowner Thomas Michaels, who faces the minimum $31,625.18 in added assessment, said at the May 6 hearing. "Some of us are going to struggle keeping our homes because of this."
"They're forcing us out," accused Daines, who has been trying to sell her property since September.
The potential financial damage from the business park doesn't stop with the new assessments. Since construction and landscaping began on the business park two years ago, Daines said that flooding and standing water have prevented her from renting out as much as half of her farmland, further impacting her pocketbook.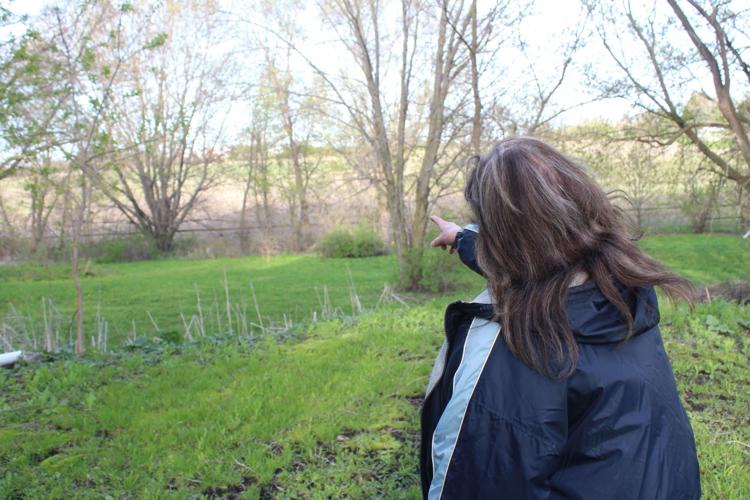 Even though the water and sewer access could be seen as a benefit, residents think that their property values should have shrunk overall because of the semitrailers, construction, nearby factories and water damage.
Several people living on the road got some answers at the hearing but left largely unsatisfied and livid about the prospect of lost land from the coming road widening and potential costs that could force them out of their homes.
When Lochowitz, a former Caledonia police officer, accused Village Trustee Fran Martin of going back on her campaign promise to protect the village's green space, Martin replied, "I haven't voted yet, have I?"
If the Village Board rejects the new assessments at its Monday meeting, Bunkelman and Bjelajac said they don't know what they would have to do next.
"This is the proverbial 'one step at a time.' We'll figure it out," Bjelajac said.
Businesses vs. people
Combined, the owners of the 12 homes along the north side of Four Mile Road may have to pay $658,382.82 in special assessments. Meanwhile WisPark, the majority owner of the 126-acre DeBack Farms Business Park, would only be paying $348,066.57, even though the improvements were made because of the business park. Two other businesses on the south side of Four Mile face $76,197.37 combined in added costs.
RACINE — Reinvigorating the Regency Mall area, possibly with the inclusion of new housing, is the goal of a new city initiative.
"The whole village is going to benefit a little bit from doing this (business park) because now they will have a better tax base. So why do only 14 people out of the whole village have to pay for this?" Daines wondered aloud.
Bjelajac responded by saying that Daines and her neighbors are "not subsidizing WisPark at all."
The 12 property owners in question are paying for less than one-fourth of the total cost of the pipes. The village is taking on approximately 81% of the total cost as part of the tax-increment financing district that was set up in 2014 to help establish the business park.
If the Village Board approves the special assessments, residents will be required to connect to the sewer line but can choose to not connect to the water main. They would then face the following major costs:
Paying off the new assessments. They can be paid in one lump sum within 60 days of connecting to sewer, or in installments over 20 years at 4.5% interest;
Required sewer connection, approximately $5,100; and
Optional water connection, minimum of $1,550.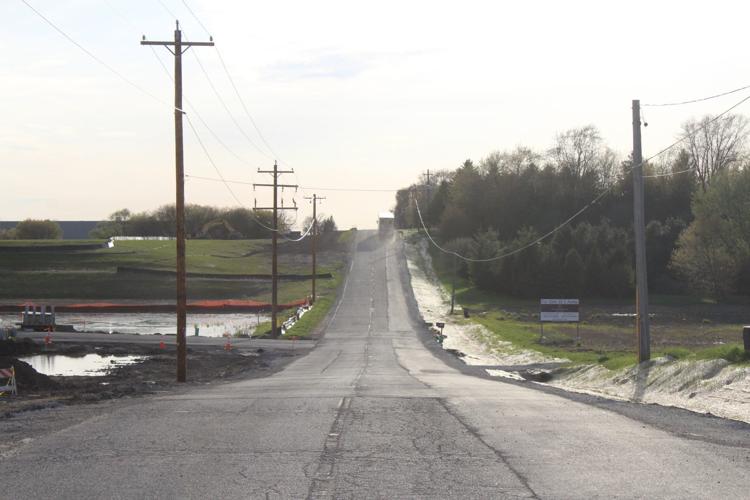 Questions of transparency
Several property owners said they asked how much the work would cost them last fall but got varied responses.
Hurtienne said he was told it would only cost him about $5,100. Daines said she asked the same question but wasn't given any firm numbers. Michaels said he was told a new assessment was coming, "but they wouldn't give me any numbers," which is part of why he was so upset when he found out it was more than $30,000.
"They were never forthcoming about this," Daines added.
Bjelajac admitted the documents informing residents about the special assessments, delivered via certified letter in mid-April, were "confusing to say the least."
Residents also asked why they're hearing about the assessments now, after the water and sewer pipes are already set up and ready for connection.
Updated: Four Mile Road is expected to be rebuilt next summer, but will remain as a two-lane highway, not a four lane as previously published. The Journal Times apologizes for the error.