SOMERS — The University of Wisconsin-Parkside doesn't want to live in stereotypes. It wants to be engaged and relevant, and set its graduates up to actually succeed.
"We are working class. We can't afford to go on luxurious spring break trips because we have bills to pay and homework to turn in," Julia Alberth, a graduating Parkside senior and recipient of the Chancellor's Award, said in a speech during Saturday's graduation/commencement ceremony.
As the first college graduate in her family — Alberth's maternal grandparents are Mexican immigrants — Alberth praised her now-alma mater as the most diverse school in the UW System, and also the school with the highest voter turnout the UW System. Alberth, who grew up in Union Grove, is on the path toward becoming a medical doctor and has a full fellowship (i.e., tuition-free ride) to UW-Madison for her post-undergraduate studies.
"We are the change the world needs right now," Alberth said of herself and the rest of the Class of 2019. "We will restore the environment, fight injustice … and prevent disease. Education is power."
That confidence is something that Parkside and UW System leaders are banking on. Last year, Parkside announced the "bold goal" — as Chancellor Debbie Ford called it — of increasing its graduating class size by 50% by 2025. Nearly 500 graduated Saturday. In December, Parkside had nearly 400 graduate, the highest number the school has had in a winter commencement.
The "bold goal" seems attainable, considering there have been more Parkside graduates in the past decade than there have ever been over a 10-year span in the school's 50-year history.
"You guys have momentum going on here and it's awesome to be a part of it," said Robert Atwell, the founding CEO of the Nicolet National Bank and a 2017 appointee to the UW System Board of Regents.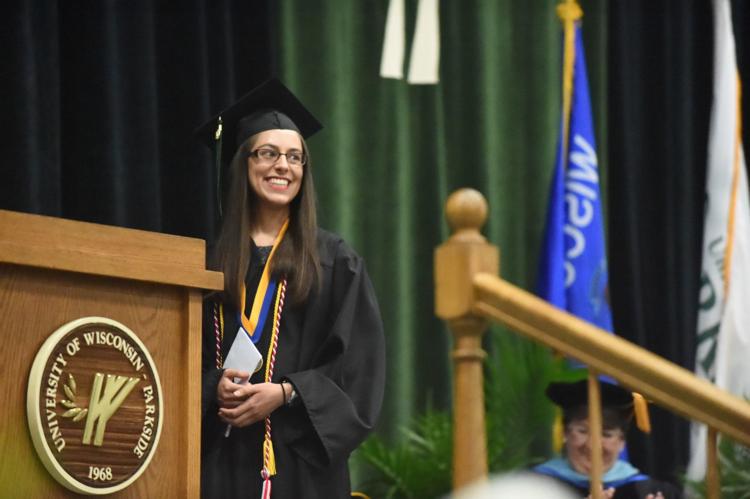 WIND POINT — Alan Mills still remembers those chocolate pretzel sticks.
Best and brightest
The university gave out six Outstanding Graduate Awards on Saturday, each one highlighting a different facet of the Class of 2019.
There was Anna Cotto, a political science major who is pursuing a law degree, who maintained a 4.0 GPA while working more than 30 hours a week and raising a 3-year-old.
There was Chloe Calderon, a woman in the male-dominated field of physics who has twice been published in international journals and has earned a full-tuition waiver to Northwestern University's Ph.D. program.
Bryan Malek Jr. has been involved with Greening Greater Racine and Eco Fest, and is going to be working in habitat restoration with the Wisconsin Department of Natural Resources.
Nicholas Bielski was one of only five Wisconsin college students to receive the prestigious Barry M. Goldwater Scholarship for his work in molecular biology.
Bianca Ruffolo amassed more than 400 hours of service work during her college career, including work with Tiny Homes for Veterans, the Shalom Center (serving Kenosha County's homeless), Feed My Starving Children (a Christian nonprofit that distributes food to developing nations), and working with the GEMS (Girls Empowered by Math and Science) conference.
Justin Van Ee's double major in environmental studies and mathematics allows him to continue seeking "statistical solutions to environmental problems," as Vice Provost Tammy McGuckin put it. He'll be studying statistics at Colorado State University next year.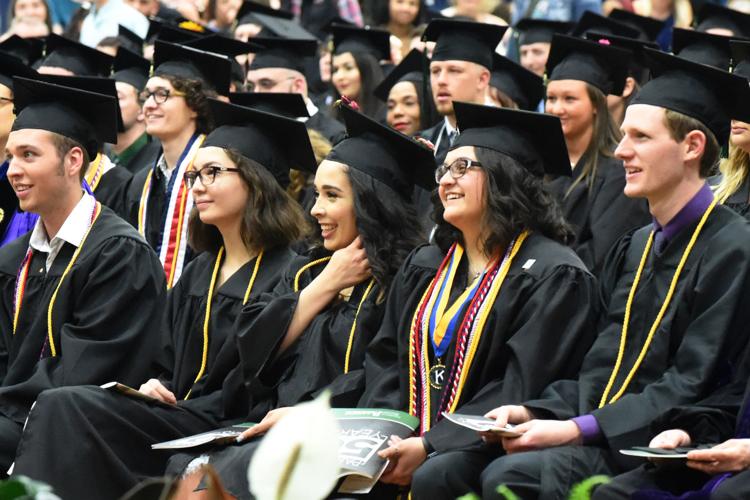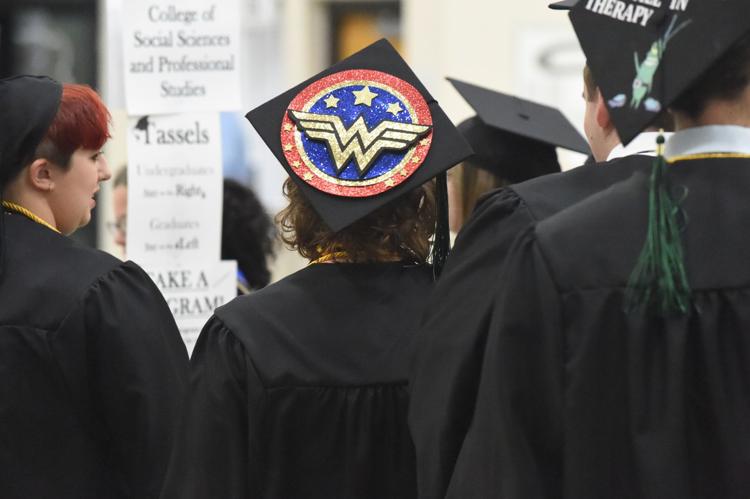 Parting words
Saturday's commencement speaker was Thomas M. Krummel, a 1973 Parkside grad who has gone on to become a "medtech pioneer" in the field of pediatric surgery. He's helped revolutionize surgery by developing new training and integrating surgical robotics over the past 20 years, which has earned him two ComputerWorld Smithsonian Awards. He now co-directs the Byers Center for Biodesign, which helps train and support Stanford University students in California.
For their post-graduation lives, Atwell gave this advice to the Class of 2019: "Whoever gives the most, lives the most … the most enduring skill is perseverance."
Ford told the graduates: "Congratulations in being ready to contribute to our communities across Wisconsin and across the globe. The dream is the same, the dream of being a valued contributor to the world around us … you will succeed. And you will make the world a better place."
Get local news delivered to your inbox!
Subscribe to our Daily Headlines newsletter.