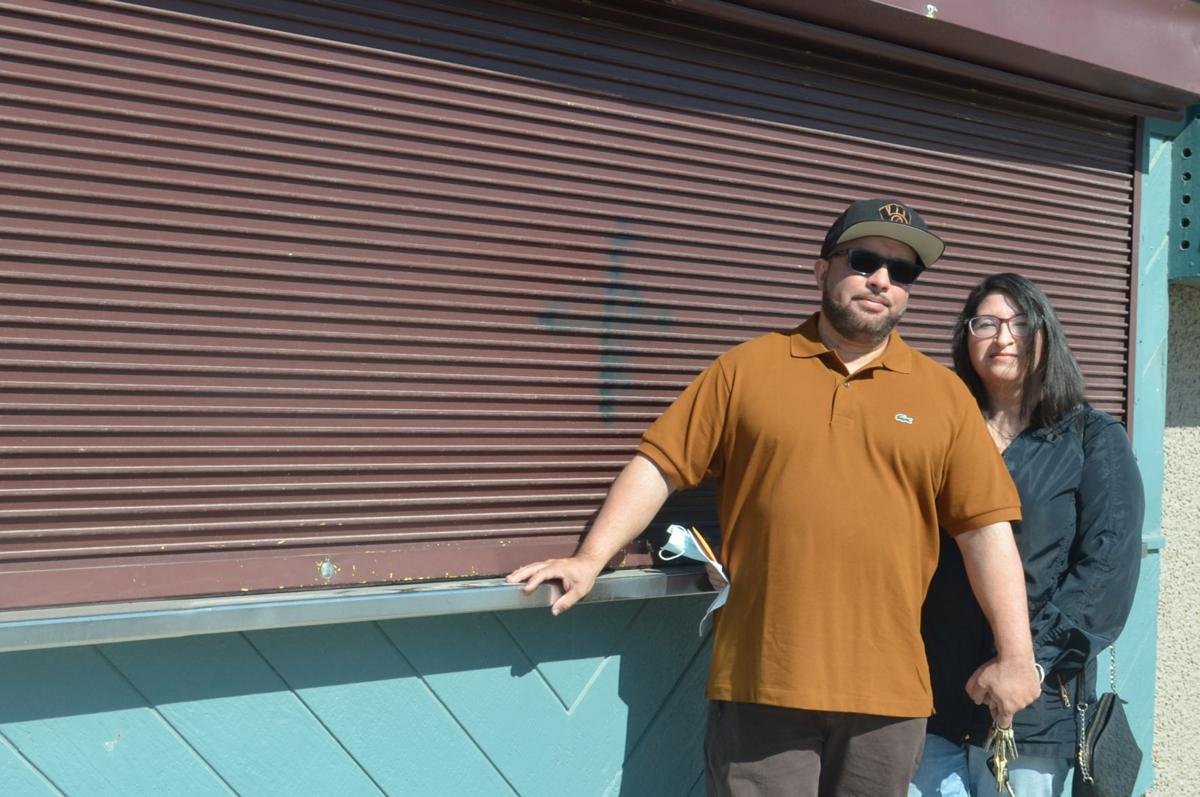 RACINE — Hot dogs. Nachos. Fries. Ice cold soda and beer.
Walking tacos made with barbacoa, Puerto Rican rice and a never-before-tasted pork sandwich.
Both fares — all-American concessions and authentic Mexican cuisine — will soon be found at the Beachside Oasis at North Beach when it opens for the summertime on May 29.
Felix is set to own the oasis from May 2021 to December 2023, with an option to extend for two additional one-year terms if Felix and the City of Racine agree.
José, alongside his brother Art, opened Gato's late last summer. José saw the Beachside Oasis up for bidding and took the chance.
"It's close to the restaurant we already have, and why not take advantage of situations like that?" José asked.
José said he doesn't want Gato's and the oasis to compete. He'll be offering traditional concessions at the beach and is planning to offer more unique menu items as weekend specials.
José Felix points to a space right by the Beachside Oasis at North Beach on Friday. He said he hopes to bring hula hoop contests, volleyball g…
José said he hopes offering some Mexican cuisine to beachgoers will encourage them to go around the corner and try Gato's out.
"We're hoping it brings more business to our restaurant, too," Maria Felix, who is José's wife and also works at Gato's.
Just as Gato's is a family-and-friends effort, José will be enlisting the help of his loved ones and be giving some of the teens in the family their first job. It's set to be a great summer, José said.
"I've always called this the gem of Racine," Maria said.
To now be a part of something as iconic as the beach "feels great and surreal," José said.
Pointing out a wide area in the sand, José mentioned he's planning on bringing activities like hula hoop contests and volleyball games near the oasis to provide families with more things to do.
Other beaches in the list included Simmons Island Beach in Kenosha, Riviera Beach in Lake Geneva and Kohler-Andrae State Park Beach in Sheboygan.
During opening weekend, a DJ will be playing music at the oasis and kicking off the season. José said he has also booked a few bands throughout the summer.
José and Maria know locals and visitors are anxious to visit Wisconsin's number one beach, as ranked earlier this month by Family Destinations Guide.
"People just wanna get outside," José said. "It's going to be a place for special moments of people coming outside and enjoying the sun, not just being home."
José Felix opens up the back entrance to the Beachside Oasis at North Beach on Friday. It was the first time Maria, his wife, saw the space th…