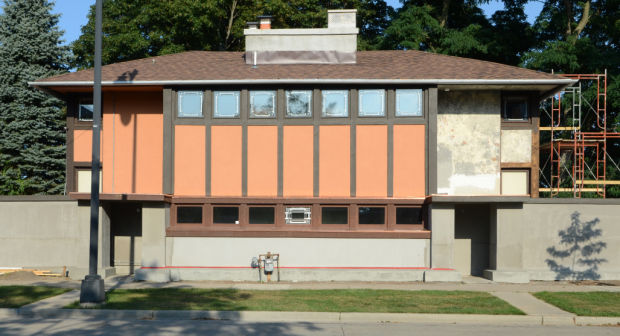 A year is generally not a significant time in the history of a 110-year old house. However, this past year has been perhaps the most important, if not dramatic, year in the history of the Frank Lloyd Wright house at 1319 Main St.
Thomas P. Hardy, a Racine attorney, moved into the house that Wright designed for him in 1906. Hardy was 73 when he lost his beloved home, first at sheriff's auction in 1937, and then by order of the Wisconsin Supreme Court in 1938. The house has had six owners since then.
You have free articles remaining.
The newest steward of the house, Eugene Szymczak, bought it a year ago from Jim and Margaret Yoghourtjian, who owned it since 1968. Szymczak undertook a full restoration of the house. Some of the work, including replacing aging wood and refinishing the house in its original colors inside and out, is relatively routine. Other work required solutions unique to the house. An example was the placement of four floor-to-ceiling columns in the sub-basement to stabilize the Main Street side of the house.
Interest in the house has increased greatly recently, according to the craftsmen working on it, as passers-by see the finish color of terra cotta applied. Reflecting on the past year, Szymczak said, "I am happy to see that many people enjoy seeing the house come back to its original intent of being part of nature and an inspiration."
Editor's note: Mark Hertzberg is the author and photographer of three books about Wright's work in Racine, including "Frank Lloyd Wright's Hardy House" (Pomegranate, 2006). More photos of the restoration are at www.wrightinracine.com. Hertzberg was Director of Photography of The Journal Times until his retirement in March 2012.