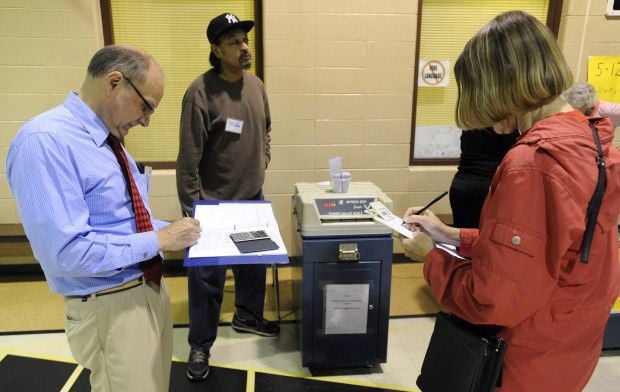 RACINE COUNTY — Local election officials are planning a major upgrade at the polls.
Racine County is working with communities to purchase new voting machines, replacing equipment that's about 20 years old and aging, County Executive Jonathan Delagrave said.
The new machines, which take voters' completed ballots, should make for more efficient nights at the polls and allow election results to come much faster, he said.
The project also took on urgency because voting machines in the county will no longer be supported with maintenance agreements or certified parts by the end of 2018, Delagrave said.
The equipment is expected to be in place by the 2018 elections.
"We will train the clerks on the equipment and make sure that we have the best equipment for the sanctity of a transparent election," Delagrave said.
Under the plans, municipalities would pay $9,500 per machine, one of which is at each polling place.
That means costs vary per municipality. Several communities have only one polling place, but larger municipalities face a higher cost.
Most notably, that includes the City of Racine, which has 18 polling places. City Administrator Tom Friedel said more information about the expenditures will be part of a city budget presentation this week.
Mount Pleasant is requesting eight machines and budgeting about $80,000, Village Clerk Stephanie Kohlhagen said.
Other clerks said money has been allocated in their respective budgets.
"We've known this was going to be coming down the pipeline," said Burlington City Clerk Diahnn Halbach, who said the city has purchased two machines.
Racine County, meanwhile, has $175,120 for voting equipment in its proposed 2017 budget. The money would pay for two voting machines, software, hardware implementation and computers.
Antiquated machines
As it stands now, Racine County poll workers print out results on paper similar to a grocery receipt, with those results taken to the municipal hall and then faxed to the county.
In large voter turnout elections, it can mean for a lengthy lag time for results to be made public. By contrast, poll workers in Kenosha County send results through a wireless Internet connection, making for a much shorter Election Night.
"We will train the clerks on the equipment and make sure that we have the best equipment for the sanctity of a transparent election."

— County Executive Jonathan Delagrave