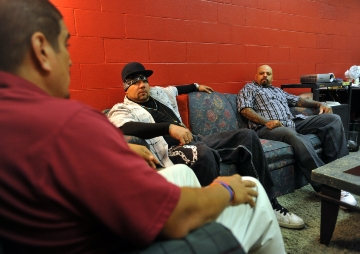 RACINE — The way Racine Vocational Ministry Executive Director Jim Schatzman sees it, most of the felons he works with have already been entrepreneurs.
The problem is, the businesses they ran were criminal ones.
So, RVM, which provides case management to help paroled felons re-enter society, recently started a new effort that aims to rechannel some ex-cons' knack for entrepreneurship. The program, so far unnamed, will help interested paroled felons pursue a path toward starting their own businesses — legal businesses.
"A lot of this demographic ... they've been using good business skills for illegal activities," Schatzman said recently at RVM, 214 Seventh St. "They've learned their market, they've learned how to cost their product, they've learned how to supervise and manage the people that work for them, they know how to manage themselves in crisis situations — they have developed some really solid business skills — but they've been pointed into antisocial activities."
Schatzman added, "But if you could take those antisocial behaviors, antisocial thoughts, and move them toward — the buzzword is prosocial thinking, you have the potential for a fairly developed business mind."
With any candidate for the program, the first task will be: getting them to think like a law-abiding citizen instead of antisocially, Schatzman said.
With a potential ex-con entrepreneur, he said the next step will be: "Building their social networks, because their social networks are corrupt, they're criminal." The RVM staff is the start of that new social network.
Program entrants will likely do most of their business course work through SCORE, formerly the Service Corps of Retired Executives, which is working in partnership with RVM.
Each parolee will be assigned a SCORE mentor as he works on his business idea and business plan and assesses its viability. Mentors will remain involved through the launch of a business.
Six interested parolees attended the first SCORE training session, Schatzman said, and all six signed up for the second session.
"This (effort) is more than theory now."
As for financial resources, Schatzman said the program can be carried out with existing RVM funding, because SCORE courses have only modest costs and mentoring is free.
In the shorter term, he said, if a business plan looks promising they can apply to Wisconsin Women's Business Initiative Corp. for a loan.
"We hope in the end to bring in enough private money to set up our own loan program," Schatzman said. It will be run by the Racine County Economic Development Corp., using the same criteria it would use for any loan. "And it's another layer of accountability," Schatzman said.
As ex-cons work on business ideas, Schatzman said RVM's critical role will be case management. During years behind bars, he said, nearly all decisions are made for prisoners.
"The ability to make decisions without anxiety, you lose that ability."
"And if you're not being case-managed, you're not going to be able to do all these things and start a new business on your own. It's way too much to ask. ... I think that's the key to making this happen."
Schatzman said parolees might logically start such businesses as auto repair shops, neighborhood ethnic restaurants, clothing shops, beauty shops and janitorial services.
RVM Board Chairman Bill Matelski cited one felon who started a drywall business that's still going strong at least 10 years later.
"He has employees, a house; he pays taxes."
---
Program could be 'transformative'
RACINE — Racine Vocational Ministry says its new entrepreneurship program for ex-cons could have some positive long-term implications for the inner city.
It's also stirring up early excitement among parolees in RVM's re-entry programs, said Executive Director Jim Schatzman.
"There's an initial excitement because so many people are closing doors in their face," he said.
"If we could take three to five felons (a year) and set them up in their own businesses," said RVM Board Chairman Bill Matelski, "they'll be hiring three to five people (each) ... and they're more sensitive to giving people a second chance."
Both men say the benefits of parolees opening legal businesses could be far-reaching.
"Historically, this population doesn't leave their neighborhoods," Schatzman said. So their new businesses could provide the inner city with valuable goods and services.
But he thinks it goes beyond that.
"If we can develop three to five successful businesses a year that serve the communities where these folks live ... we're going to change the feeling that nothing happens in the inner city," Schatzman said.
He continued, "It would be good for the identity of young children who get up every day and walk past five businesses on the way to school — instead of walking past empty lots and people selling drugs.
"I see this as transformative over the long haul," he said. "... It's not just the idea that we're helping one or two people get a business started — it's the impact it has on a family and a neighborhood."
---
Racine Vocational Ministry has been doing community re-entry work with parolees since 2005. In that time, 236 felons have gone through the program and their recidivism rate, through June, was 16.1 percent.
That is half the state's overall average recidivism rate of 32.4 percent — and RVM until recently only worked with higher-risk felons such as those convicted for gun crimes or batteries. Now it can work with felons of all types, although it will still work with those most likely to re-offend.
Some other results, according to RVM:
• 56 ex-cons have successfully completed supervision. That is, they are no longer on parole and did not go back to prison or do anything that extended their parole supervision.
• Twelve of the 130 felons who had a gun-related crime were convicted for a new gun crime, a 90.4 percent reduction.
• 178 have had at least a 90-day job.
• 78 have completed or are in counseling.
• 76 completed alcohol/drug abuse treatment.
Get local news delivered to your inbox!
Subscribe to our Daily Headlines newsletter.