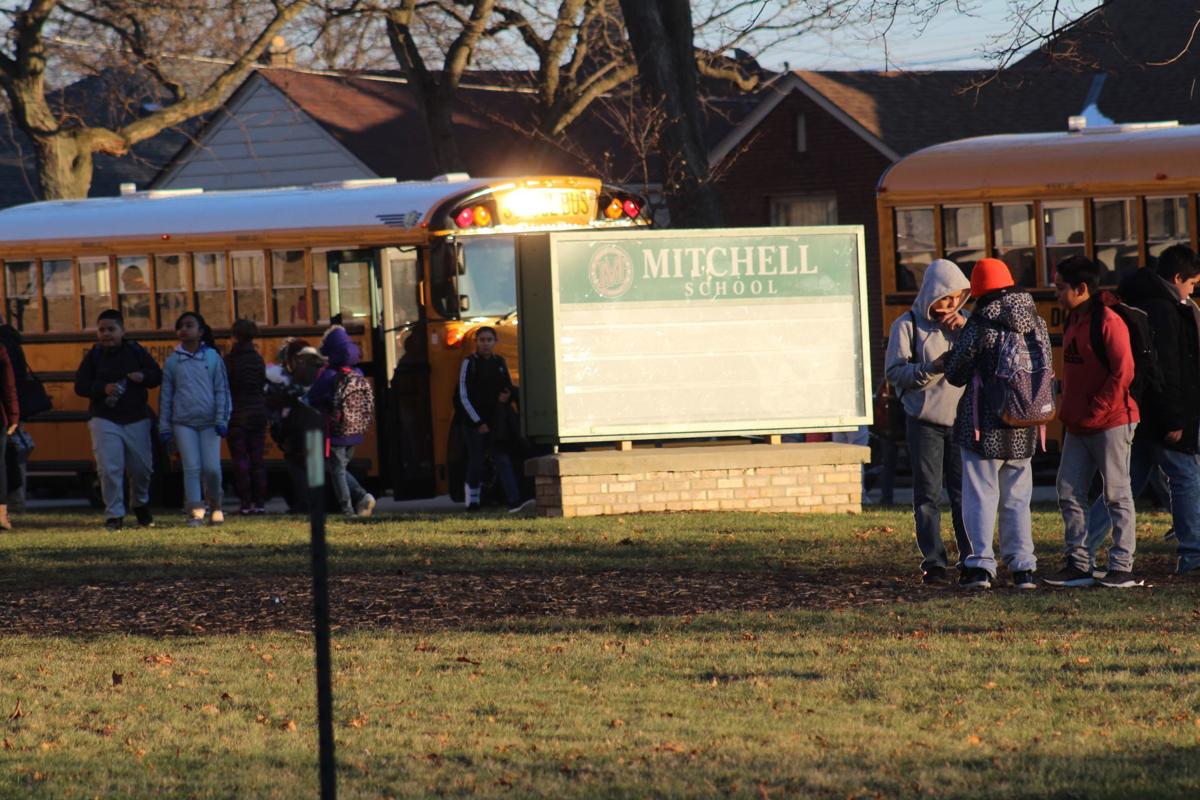 RACINE — The new directing principal at Racine Unified's Mitchell K-8 school, 2701 Drexel Ave., is working with parents and staff to turn things around.
Mitchell's middle school was the target of a grievance filed Oct. 11 and signed by more than 70 staff members that described hallways in chaos, a generally unsafe environment, overstuffed classrooms and equipment shortages. As a result of Unified's middle school transformation, Mitchell saw an influx of 300 students this fall.
Demetri Beekman, previously the directing principal at Julian Thomas Elementary School, was moved into the same position at Mitchell at the end of October as the district worked to address the what the grievance described as a crisis at Mitchell. Beekman, who was so beloved at Julian Thomas that a group of around 70 people protested his move to Mitchell, has been credited with increased test scores, safer hallways and a positive environment at Julian Thomas.
Since coming to Mitchell, Beekman has won over some of the parents who were most vocal about problems at the school, including Tabatha Cruz, who called him, "kind of a godsend."
Although Cruz said safety is still an issue at the school, especially when it comes to the monitoring of those who enter the building, she believes it's making baby steps in the right direction.
Her son, who Cruz described as a quiet student, said the atmosphere in the hallways has improved somewhat in the past few months.
"He still thinks it's a little chaotic," she said.
Upon arrival at Mitchell, Beekman immediately went to work, implementing regular hallway sweeps and a zero-tolerance policy when it comes to violence toward teachers.
"I just wanted to make this the safest, most welcoming and nurturing learning environment possible," Beekman said. "Before any learning can go on, there has to be a sense of calmness and peace within the building."
In the first few days of hallway sweeps, the school was netting around 70 students per sweep, but three weeks later, that number shrank to six or seven. During these sweeps, staff walk the hallways and redirect any student found without a hall pass.
New staff
Since Beekman's arrival, Mitchell has hired three new behavior interventionists and filled two teacher vacancies in the special education department. Beginning Jan. 7, a full-time staff member will be posted at the school's main entrance to monitor guests at the building.
The school has also implemented a zero-tolerance policy for students putting their hands on teachers. The grievance claimed that 15 staff members were injured by students between the start of the school year Sept. 4 and the filing of the grievance Oct. 11.
The consequence for a student putting his hands on a teacher is a disciplinary hearing during which school officials will decide whether or not that student can remain at the school. Beekman said his ultimate goal is to ensure that students stay in school, but for those who are suspended, parents must now meet with him before their child returns to school
"I think we have the support staff to deal with students if they have problems on how to handle their anger, instead of lashing out at teachers and other students," Beekman said.
Working with parents
Soon after Beekman started work at Mitchell, he began meeting with Cruz, who is one of the founding members of a new parent group at the school. Mitchell does not have a parent-teacher association and Beekman said the school hasn't had any sort of parent group for the past four or five years. Now Beekman meets with the group once a week.
The core parent group of three Mitchell middle school mothers and one community member, along with Beekman, sat down with The Journal Times recently to talk about their work together and hopes for the future. The women believe parent involvement is crucial to the school's success, said group member Cassandra Fleury.
"The issues here do not just affect my child," she said. "It's affecting every child in the school. In order to fix those issues, we need all of the parents to come together and support each other and support the school."
The one non-parent member of the group so far, Linda Stephens, recently retired as assistant to the superintendent in the North Chicago, Ill., school district and her husband is the pastor of Lutheran Church of the Redeemer, two blocks from the school.
"We're very concerned and passionate about what goes on at this school," she said.
She repeated the importance of parent involvement but added she'd like to see school security increase dramatically, in addition to better communication between administrators and parents. Stephens also wants teachers, parents and the district to do more to support Beekman.
"He cannot attain his vision without the support of all of us around him," she said.
Plans for the future
Beekman said it was difficult to implement new systems and structures at a new school, two months into a new school year.
"I have to get to know the strengths and weaknesses of the staff, and put them in a position where they're going to be successful," Beekman said. "Being here four to five weeks, I'm able to build some relationships with my team and just really plan on the future."
Beekman would like to implement a culture of positivism at Mitchell, much like he did at Julian Thomas.
"I want to really celebrate the students for their academic achievements, for their behavior," Beekman said. "I'm big on rewards and also celebrating the teachers for working hard and making that transformation from September to June."
Beekman said in the next year he wants to bring in music, art and performance studies that are culturally relevant to Mitchell's large African-American and Hispanic populations.
"I think it's going to be an asset for our school next year," he said.
The core parent group members agreed that they're excited about the future at Mitchell.
"It's going to take patience," Fleury said. "The stuff didn't get as bad as it got overnight and it's not going to be fixed overnight."
She added that she's confident the group can accomplish its goals of more parent involvement, better security and an improved school climate. In her eyes, if Mitchell improved its climate, students would treat each other with respect and interactions between staff and parents would improve.
The next parent group meeting is scheduled for Jan. 30 from 5-7 p.m. in the library on the second floor at Mitchell. Cruz was disappointed with a small turnout at the last parent meeting on Wednesday and hopes to see more participants at the next one.
Beekman believes having a strong parent group will have a positive impact on the school.
"RUSD is very supportive in the transformation that has taken place at Mitchell K-8 campus," he said. "I just want the parents and community to know that things take a little time."
"The issues here do not just affect my child. It's affecting every child in the school. In order to fix those issues, we need all of the parents to come together and support each other and support the school."

Cassandra Fleury, Mitchell Middle School mother
Get local news delivered to your inbox!
Subscribe to our Daily Headlines newsletter.